Do you enjoy consuming helpful content from craft blogs? 🤔
Does the idea of starting a DIY craft blog fascinate you?
Craft websites like Pinterest get over 1 billion visits from people keen to find ideas and inspiration about various artistic works [1]. Not only do DIY craft blogs drive a lot of traffic, but they can also generate a decent income if monetized correctly. Craft blogging can develop from a hobby into a lucrative full-time gig.
📚 This roundup of the best craft blogs to follow will give you tips, ideas, and best practices for running a successful craft blog.
Let's jump straight in. 🦘
---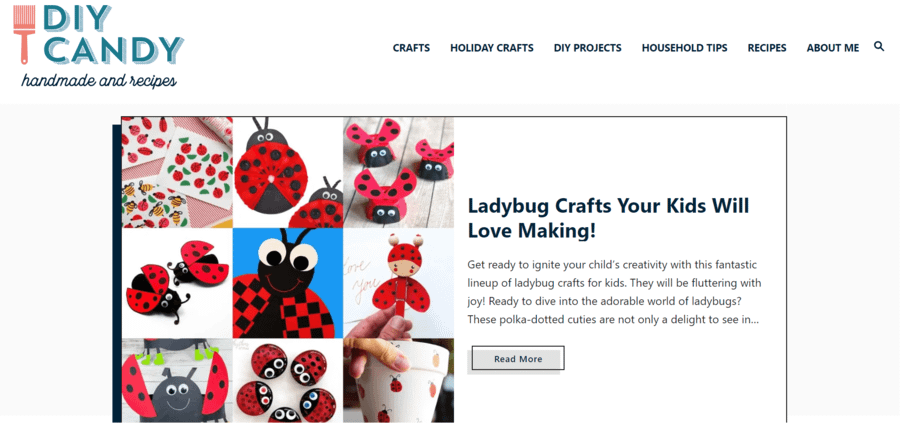 DIY Candy is a general craft DIY blog. It covers many practical skills and DIY topics, including cooking, sewing, knitting, plastic handiwork, beading, paper artistry, painting, ladybug art, home decor, and recycling.
Whatever craft topic you can think of, this blog has it.
---
⚙️ Why it's excellent for craft website ideas
DIY Candy is unique because it's an all-embracing blog that caters to varied artistic interests.
You will get plenty of blog ideas, no matter which crafts you want to focus on in your upcoming blog.
Also, DIY Candy earns a good amount of money through sponsored posts. There is an advertising link on the blog's footer that brands can click to learn more about public relations opportunities. The blog owner, Amy, also advertises her services naturally on her about page. Another striking thing about the blog is that it uses many visuals to simplify complex craft-making processes.
---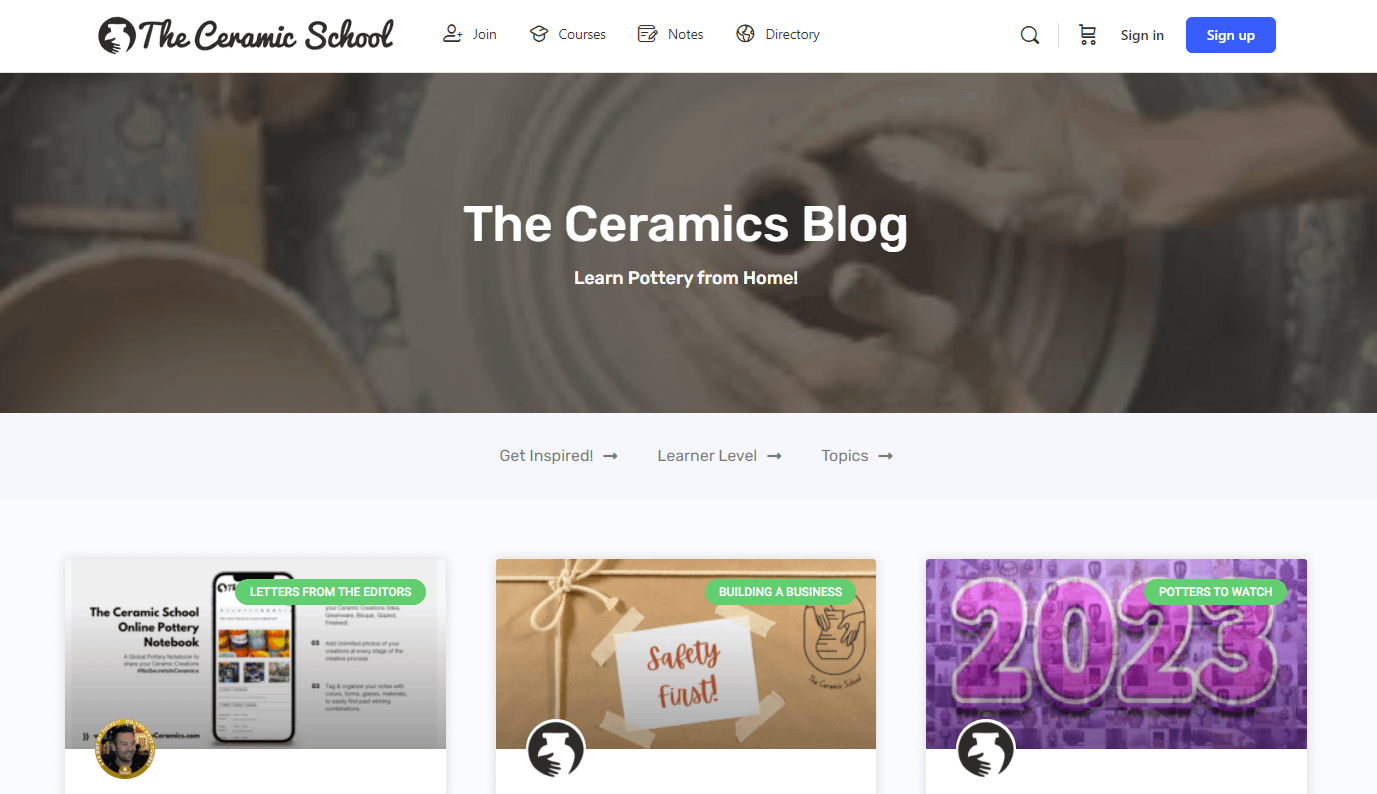 One of the best craft blogs to follow in 2023 is The Ceramics Blog. As you can tell from its name, it's a niche craft blog focusing exclusively on pottery.
You will find topics such as pottery wheel costs, Halloween-themed pottery ideas, glazing techniques, best pottery podcasts to listen to, and how to sell ceramics on craft websites like Etsy.
---
⚙️ Why it's excellent for craft website ideas
A star feature of The Ceramics Blog is that it serves the entire range of its target audience, from beginners to advanced potters.
Moreover, the blog accommodates all learning styles of its target market by adding video to its content offering. It has a vibrant Instagram page as an extension of the blog and regularly shares Instagram reels on the blog.
One more powerful aspect of The Ceramics Blog is the Meet the Maker posts. These interview types of blog posts humanize the blog.
---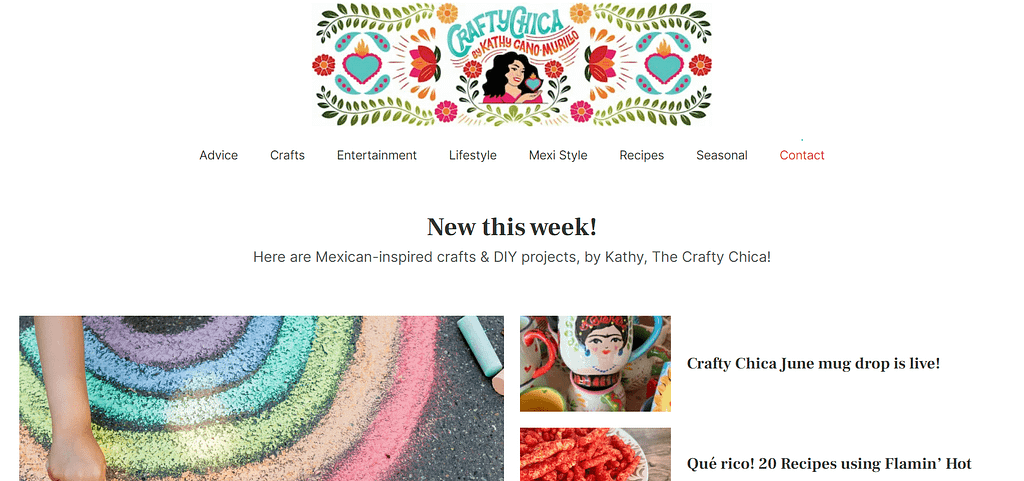 Another blog that makes our best craft blogs list is The Crafty Chica. Kathy Cano-Murillo founded this widely popular blog in 2001.
It concentrates on Mexican-inspired crafts and DIY projects.This blog has everything from mugs to disco planter pots, from flaming hot taco recipes to tie-dye projects, from sewing to ceramics, and more.
---
⚙️ Why it's excellent for craft website ideas
The Crafty Chica is an excellent example of craft blog inspiration because it has many craft ideas for beginners and veterans.
It's perfect for showing budding craft bloggers how to make money off a blog. Kathy has an online store for selling her unique handmade crafts, like mugs, t-shirts, bags, greeting cards, canvas prints, and DIY kits.
Kathy also makes big bucks from books, sponsored posts, speeches, workshops, and essays. Her blogging prowess has brought partnerships and mass retail product lines with mega brands like Disney, WordPress, Coca-Cola, HSN, and HP.
---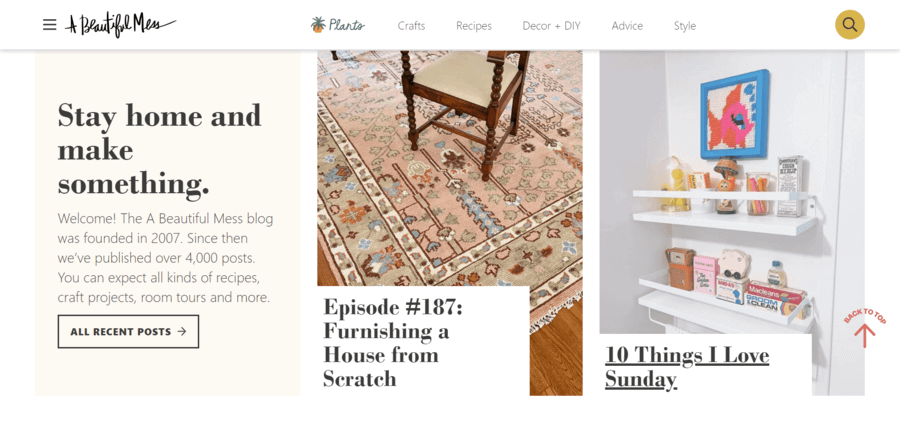 Broad DIY craft blogs do not come bigger than A Beautiful Mess, which attracts a massive 923.8k monthly visits, according to SimilarWeb [2].
It covers extensive craft DIY blog topics for craft enthusiasts of all levels. These subjects cover plant care tips, recipes, decor and DIY, sewing, garlands, carpentry, weaving, jewelry, and blogging and business advice.
---
⚙️ Why it's excellent craft website ideas
A Beautiful Mess shows the power of collaboration in blogging by including posts from many craft bloggers. These various voices make the blog richer.
In addition, the blog combines text-based posts with podcast episodes to serve the needs of those who enjoy learning by listening.
The blog profits handsomely from its million unique monthly visitors by generating bumper income from sponsored content, banner ads, and affiliate marketing. Plus, they run an ecommerce store to sell all their gorgeous crafts, from clothes to tables, and more.
---
Moving right along, the next blog on our craft blogs showcase is Hands Occupied.
Heidi Gustad, a pattern designer, runs the blog specializing in knitting, crocheting, latch hook, and macrame. The blog progressed from a general-interest craft website to a yarn crafts blog.
---
⚙️ Why it's excellent for craft website ideas
What strikes you immediately about this DIY craft blog is its unique, clever name, Hands Occupied. A fascinating blog name piques reader interest and lures readers to click on your content when they browse online.
Also, the blog's evolution from an all-encompassing craft blog to a niche-specific yarn craft blog shows that, as a budding blogger, you can start broad and narrow your niche over time.
On the other hand, this blog's initial success shows that you can build your blog around various crafts; you don't need to specialize.
---
Do you enjoy beading and making jewelry? Then you must follow Beading Gem, one of the best craft blogs.
An exceptional feature of this blog is its reviews. They cover books, products, classes, and tools from various brands. Not only do these reviews provide stellar content for her audience, but they also double up as an affiliate monetization strategy.
---
⚙️ Why it's excellent for craft website ideas
The Beading Gem is a model for generating traffic to your crafts blog. Pearl, the blog's founder, is active on Facebook, YouTube, Pinterest, and Instagram.
Being active on four social media channels ensures the blog attracts new audiences. Plus, it serves people with different learning styles, including visual and aural learners, often forgotten on text-only blogs.
The Beading Gem is also an excellent model of blog monetization. It makes money from books, online classes, product reviews, and a digital store.
---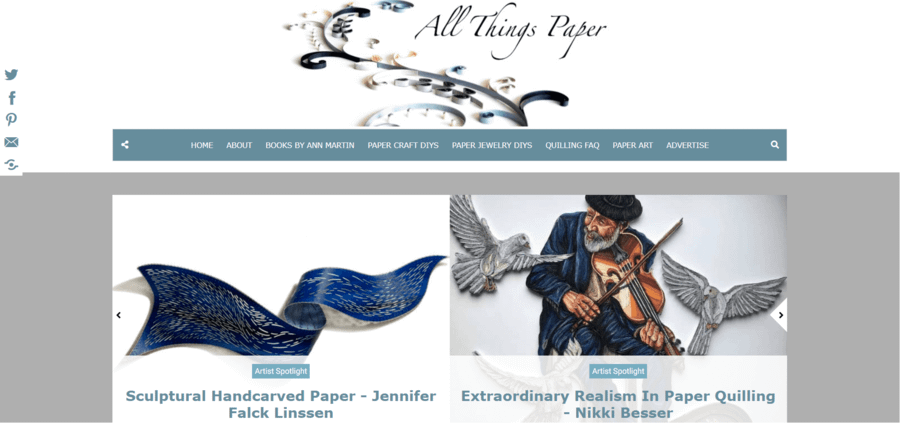 Next, let's look at another DIY craft blog, All Things Paper, by Ann Martin.
This blog makes the leading craft blogs catalog because of its sharp focus on paper crafts.
True to its name, the blog covers all things paper crafting. Popular topics on the blog include paper-based crafts such as paper sculpture, paper jewelry, paper embroidery, origami, paper flowers, book art, quilling, 3D paper art, and paper engineering.
---
⚙️ Why it's excellent for craft website ideas
You should follow this blog because it has many paper craft blog ideas presented as fascinating artist interviews.
These artist interview posts enrich the blog by delivering content from different viewpoints and help the audience identify themselves with the creators' backgrounds and experiences. All Things Paper's stunning, high-quality visuals also stand out. Fabulous images are crucial for craft blogs as they allow the brilliance of different crafts to shine through and engage readers better than ordinary ones.
Furthermore, the blog does a great job promoting its content on social media channels like Twitter, Facebook, and Pinterest.
---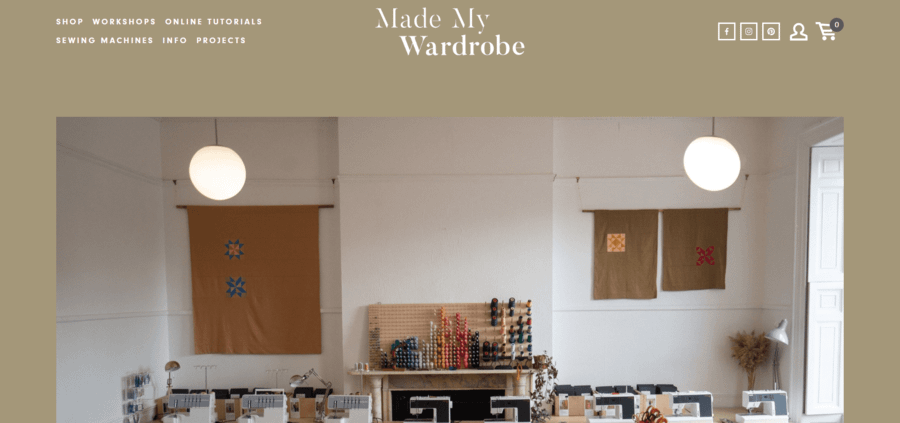 If you get a kick out of making or mending dresses, you must follow I Made My Wardrobe, one of the best craft blogs on the internet.
It's a UK-based sewing blog choke-full of fashion craft blog ideas. It has posts and video tutorials on patchwork, costume design, bomber jackets, dungarees, lingerie, tops, leggings, and jumpers.
---
⚙️ Why it's excellent for craft website ideas
First, we love Made My Wardrobe because they use a short one-minute, captivating video featuring ladies of different races and body types to welcome the new website visitors.
The video makes the target audience identify with the blog because they see themselves represented in the clip.
The blog generates regular income via paid in-person Open Studio Sessions. Also, the blog owners offer discount coupons to their community members to lure more people to sign up for the live studio sessions. Another monetization strategy the blog uses is running an e-commerce shop to sell its merchandise.
---
One more blog that deserves its place on our curated best craft blog review is Remodelaholic.
The blog's mission is to help readers learn how to remodel, decorate, or design the perfect home themselves. Its topic spectrum ranges from room-specific redesign tips to indoor and outdoor makeover ideas.
---
⚙️ Why it's excellent for craft website ideas
We endorse this craft DIY blog because it combines regular textual posts with informative videos.
Moreover, Remodelaholic grows its audience by teasing readers to sign up for a free kitchen organization boot camp. In addition, the blog uses a simple conversational style to connect with readers. Remodelaholic has a prominent search bar to help readers quickly find what they seek. Finally, all posts have share buttons on top and at the bottom to boost shares.
---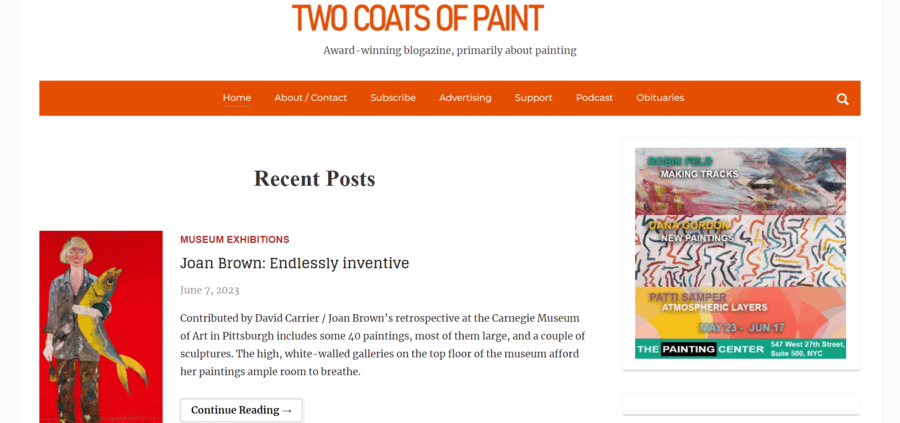 The last name on our best craft blogs to follow list is Two Coats of Paint.
It's a nationally acclaimed and award-winning NYC-based painting blogzine. The blog publishes content on contemporary painting and associated subjects like exhibitions, painter profiles, obituaries, and interviews.
---
⚙️ Why it's excellent for craft website ideas
Two Coats Of Paint is a collaborative blog. It accepts submissions from multiple contributors. The lesson? You don't have to be the originator of all craft blog ideas on your website. Give your qualified target audience members the platform, and your blog can still grow without you being at the forefront.
The blog makes money from banner ads and also receives regular support from its community members. Also, the navigation menu is simple. Readers are only one click away from reaching the critical sections of the blog, such as articles, podcasts, advertising, and about or contact page.
---
Best craft blogs to follow round up 🚀
To wrap up, these leading craft blogs are renowned for a reason.
Whether they have user-friendly navigation, use a conversational style, promote content strategically, vary content types, niche down, or monetize wisely, these DIY craft blogs are outstanding examples of how to run a successful craft blog.
🧐 Here's a quick summary of the best craft blogs to follow:
Are you getting ready to start your own craft blog? Check out our blog launch checklist!