Are you ready to scale content production on your site?
Then it's time ⏰ to learn how to hire writers for your blog.
Getting the right writing talent on board is crucial to scaling blog content. A team of writers can increase your content output, which can in turn boost your search engine rankings and drive more traffic to your blog. The result is more leads and more sales.
In this article, I will share tips on how to hire writers for your blog and where to post writing jobs to attract the best writers so you can start scaling sooner rather than later.
---
Why hire writers for your blog?
👉 Here are the reasons why you should consider hiring writers for your blog:
Time constraints. Crafting quality content day in and day out is time-consuming. Strengthening your writer bench with hired hands saves time.
Skill limitations. You may have realized writing blog posts isn't your thing. Learning how to hire writers for your blog will ensure you get skilled writers with the writing chops to produce engaging content.
Priorities and productivity. You may be a startup founder who wears many hats. Handing the content writing reins to hired writers lets you focus on other business areas, such as closing sales.
Content volume. When ramping up content production, you quickly realize there's only so much one person can do. The only way to increase your output is by hiring writers to help.
Richer content. The more voices you add to your blog, the richer your content becomes. Hiring blog writers is great for producing balanced content from various perspectives.
---
How to hire writers for your blog and where to find them
Let's now get into the practical details of how to hire writers for your blog.
---
1. Determine your writer needs and budget 🤑
The first step to hiring blog writers is determining your needs and budget.
👉 To establish your writer needs, ask yourself these questions:
Do you want beginners, mid-level, or experts?
How many writers do you need?
What's your content writing budget?
---
2. Craft an irresistible writer job advertisement 📢
The first part of a writer job ad is a powerful hook that summarizes who you are and what kind of writer you are looking for.
After the hook comes the core of the job posting – defining the job requirements. Keep the criteria brief and simple. The third piece of the writer's job ad puzzle is the benefits. Describe the financial (and other) benefits of the role. Besides financial perks, share deeper benefits, such as how writing for your blog will affect lives. People love to be part of a bigger mission.
With your job posting done, you are ready for the next step.
---
3. Share your job posting on multiple platforms 🚀
Established your writer needs? Check.
Crafted an interesting job ad? Check.
The next step on how to hire writers for your blog journey is sharing your writer job ad on different platforms.
Post on job boards like BloggingPro and others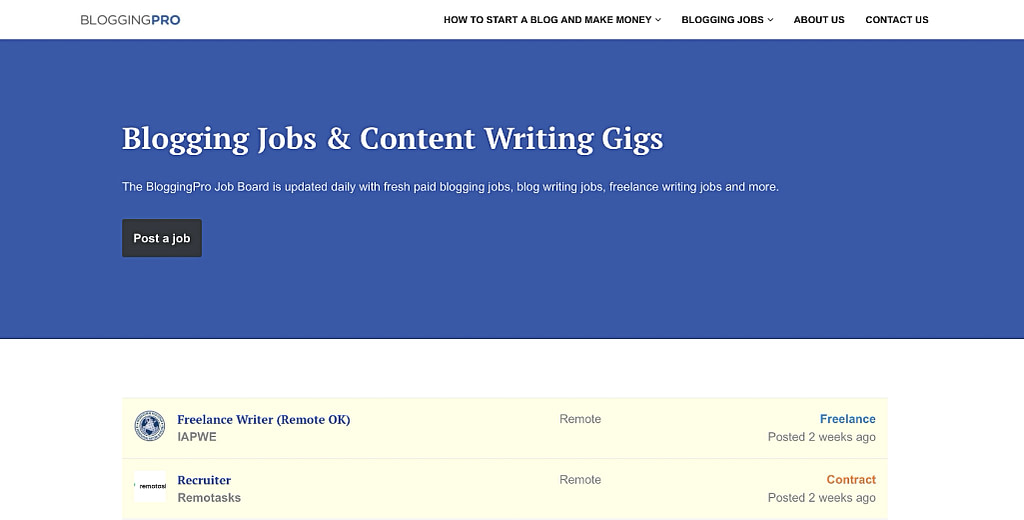 First, share your job posting on free or paid job boards like our job board here on BloggingPro. At BloggingPro, we don't just post your writer job ad on our job board, but we also share it in our email newsletter, which has thousands of subscribers. Sharing your posting to multiple channels gives it a wider reach and increases your chances of unearthing talented writers.
👉 Other notable job boards you can try are:
📈 Biggest advantage: Job boards are cheap and have a large pool of writers.
📉 Biggest disadvantage: You get hundreds of applications and have to spend a lot of time sifting through them.
Use a freelancer marketplace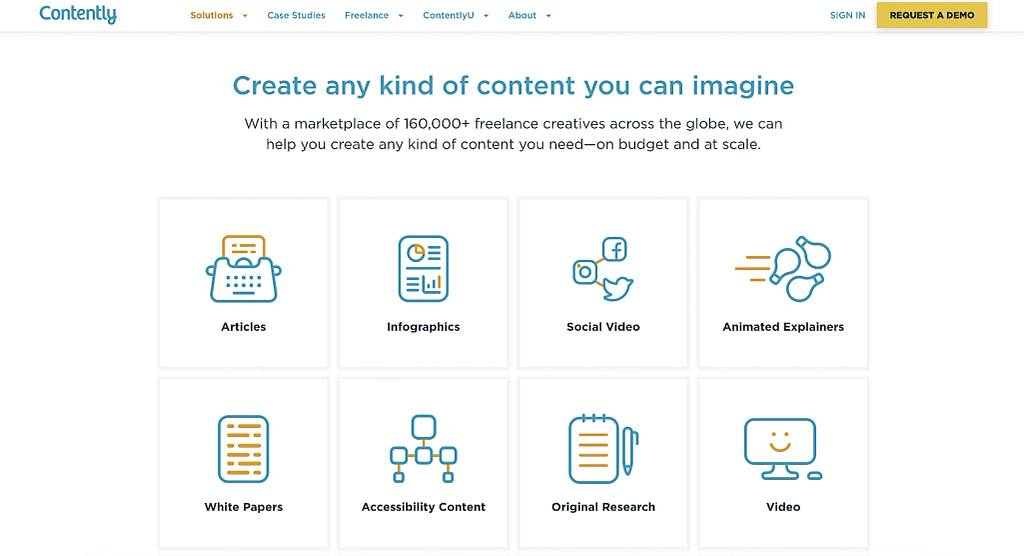 Freelancer marketplaces are another excellent channel for sharing your job posting. They match you with writers that suit your blog writing needs. In content marketplaces, you get vetted writers. The marketplace does all the heavy lifting on your behalf. They handle recruitment, training, management, invoicing, and payment for you.
👉 Here's a quick list of leading online content marketplaces:
📈 Biggest advantage: The best marketplaces vet and train writers thoroughly, so you get quality writers.
📉 Biggest disadvantage: Premium marketplaces are expensive because they invest in writer training.
Share on LinkedIn
With over 930 million members, LinkedIn is the world's largest professional network. It's packed with pro writers of varying skill levels looking for work. Sharing your posting on LinkedIn means your job ad will reach a potential 52 million job seekers who frequent the platform monthly [1]. You can post a job for free or run a paid promotion. According to LinkedIn, paid campaigns get three times more qualified applicants.
📈 Biggest advantage: With its enormous user base, LinkedIn has a potential reach of millions of blog writers searching for jobs.
📉 Biggest disadvantage: The platform's popularity means you might get overwhelmed by a deluge of applications.
Join Slack groups like Superpath or We Work Remotely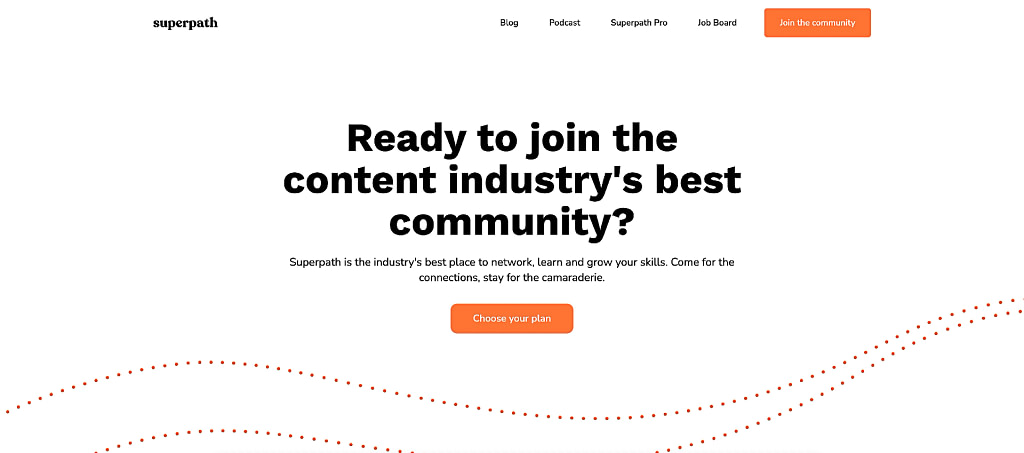 The next job-sharing tactic in our "how to hire writers for your blog" guide is joining Slack groups and posting there. Superpath has a vibrant 2,500+ community of content marketers and writers from leading companies like Shopify, Animalz, Buffer, Databox, HubSpot, Clearscope, and more. Another respected community where your job listing can reach your target blog writers is We Work Remotely.
Also, Facebook groups like The Write Life Community, The Cult of Copy, and Content Writer Freelance Writer are rich hunting grounds for sharing your job posting.
📈 Biggest advantage: You get great writer prospects and blogging advice from top content marketers.
📉 Biggest disadvantage: Because groups and communities are open to everyone, you might get tons of substandard writers.
Scan for trained, certified writers on Copyblogger and Smartblogger
Another "how to hire writers for your blog" tip is searching for trained, certified writers on renowned copywriting and blogging training sites. For example, Copyblogger and Smartblogger have premium training programs for copywriters and bloggers. The best part? All trained writers have their contact details listed on the sites: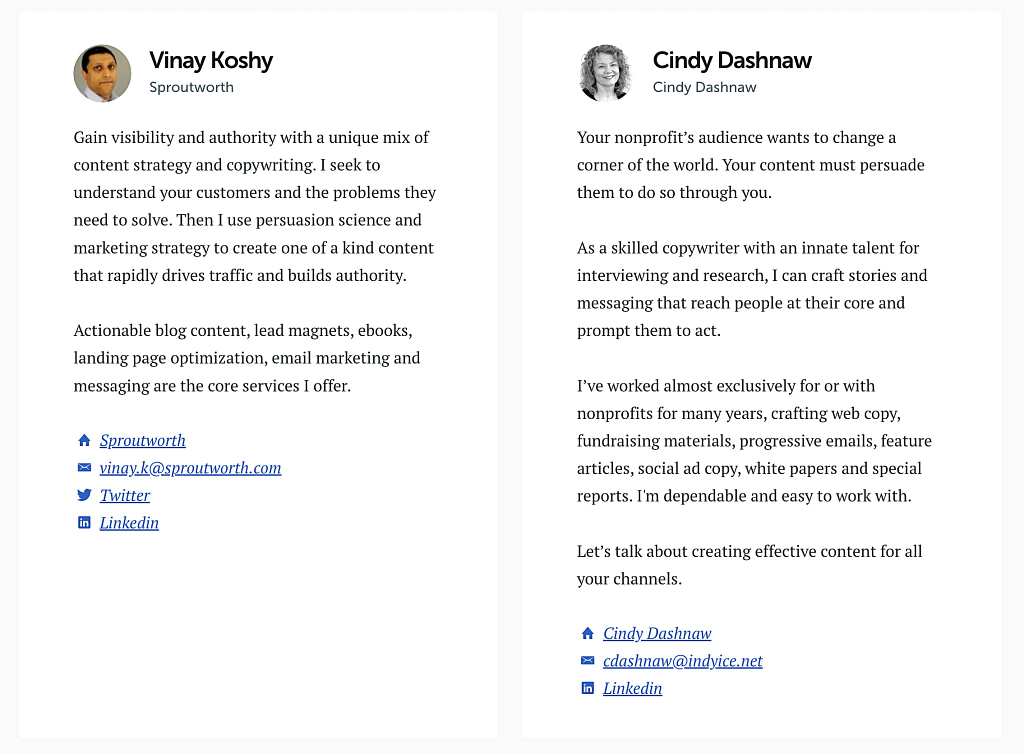 📈 Biggest advantage: Trained and certified writers know their craft and produce superior content.
📉 Biggest disadvantage: Certified writers are expensive because they have invested hundreds or even thousands of dollars honing their skills.
---
4. Reverse search for writers online 🕵️
So far, we've covered places where you can post your job listing and wait for writers to apply. But you can also do things in reverse. Instead of waiting for writers to come to you after sharing your posting, you actively seek them out.
Here's how.
Google top-ranking writers by topic
Want a simple tactic on how to hire writers for your blog? Just google common topics in your industry. Scan through the top-ranking content to check who wrote the posts. Search for the writers' contact details on the bylines. Contact the writers to find out if they are interested in writing for your blog.
📈 Biggest advantage: Googling top-ranking writers ensures you get proven writers that produce content that ranks.
📉 Biggest disadvantage: Top-ranking writers charge top dollar, which might eat into your budget significantly.
Google top blogs in your niche
Similar to the strategy above, only this time you google the best blogs in your niche. Review several lists and note blogs in the top ten on most lists. Determine who owns the blogs. Search for their contact info on their blog's Contact Us page, then get in touch with them to see if they are open to writing for your blog.
📈 Biggest advantage: You get high-quality writers that are an authority on your subject.
📉 Biggest disadvantage: Top niche bloggers are expensive. But, if your blog's domain authority is higher than that of the writer's blog, you could negotiate to reduce their rate in exchange for the exposure (and backlink) of being featured on your blog.
Check guest posts on leading industry blogs
Another effective way to find writers for your blog is to search guest posts on top industry blogs. Writers that write for top blogs work with elite editors. They are the crème de la crème in the industry. After finding a potential writer, check for their contact details on their bio or search for them on LinkedIn, then contact them with your job offer.
📈 Biggest advantage: Writers that guest post on popular blogs in your niche are proven professionals that have worked with top editors.
📉 Biggest disadvantage: A-level guest posters charge high rates and may have a long waiting list.
Ask for referrals from your network
An oldie-but-goodie way of hiring writers for your blog is asking for referrals. Reach out to fellow business owners in your network and ask if they know any brilliant blog writers. Niche forums are also a good place to ask for blog writer recommendations. After getting introduced to the writer, ask them if they would be interested in a writing job.
📈 Biggest advantage: Folks in your network can send gifted writers your way, but you must filter the writers properly to unearth the hidden gems.
📉 Biggest disadvantage: Some people are reluctant to recommend outstanding writers to other businesses.
Set up a (paid) trial period and onboard your writers
Once you've found writers that are a good fit, move on to the final step – negotiating rates and onboarding your blog writers.
You must pay decent rates to lure the best blog writers. Negotiate in good faith, but stay within your budget. Agree on a paid trial period where you test to see if the writers can write at your required standard.
👉 If a writer makes the cut, onboard them. Onboarding includes:
Sharing your blog's style guide so they know all the notes their writing must hit.
Setting expectations about the content volume, turnaround times, and number of revisions.
Establishing communication channels you will use to share feedback.
Telling writers who your major competitors are.
Telling writers how and when you will pay them.
Sharing your favorite resources to reference in your content.
Drawing up contracts and getting writers to sign them.
---
Last word on how to hire writers for your blog 🏁
Learning how to hire writers for your blog helps you fuel your blog's growth without burning yourself out. The process is straightforward. You can do it in a few simple steps:
Determine your writer needs and budget. 🤑
Craft an irresistible writer job ad. 📢
Share your job posting on many platforms. 🚀
Set up a paid trial period and onboard your writers. ✍️
Once you get fine blog writers, do your utmost to keep them. Make them partners, not just contractors.
If you found this post helpful and are interested in another way of scaling content production, then check out our guide on how to use AI to write blog posts.