It is without a doubt that each Amazon seller asks themselves this question at least once (if not all the time) within their seller journey, "How does Amazon product ranking work, and more importantly, how do I rank my product on page one?"
Studies show that products on the first page get at least 80% of all the clicks, while the first three listings on page one get at least 60% of those clicks.
Moreover, the majority of shoppers don't go beyond page one of the search results. With Amazon accounting for nearly 38% of all U.S. online retail revenue topping at $316 billion in 2022, you certainly don't want to miss out on any of those sales by not having your product on the first page.
Let's look into the different factors that play into Amazon product ranking and what we need to be cognizant of as sellers.
How does the Amazon product ranking algorithm work?
First, let's try to put ourselves in Amazon's shoes. Amazon.com brings in over 300 million Prime shoppers a month. The key phrase here is shoppers. Because, unlike Google, where people search for relationship advice, cat videos, product reviews, etc, Amazon is a marketplace. So, you can bet that whenever someone searches for a product on Amazon, they're more likely ready to make a purchase.
In fact, according to the Jungle Scout Consumer Trends Report, 56% of customers start their product search on Amazon, whereas only 42% start on Google.
Given that Amazon is the world's largest online retailer, how do we ensure that we secure the top Amazon product ranking?
Amazon A9 explained
If you've ever conducted a search on Amazon, you've already interacted with A9, Amazon's product ranking algorithm. Since this guide is all about Amazon product ranking, it makes sense to look into the heart and brain of Amazon's product search algorithm and see how it correlates with Amazon's greater strategic vision.
Here's what A9 states on their website:
"Our work starts long before a customer types a query. We've been analyzing data, observing past traffic patterns, and indexing the text describing every product in our catalog before the customer has even decided to search."

"One of A9's tenets is that relevance is in the eye of the customer and we strive to get the best results for our users. Once we determine which items are good matches to the customer's query, our ranking algorithms score them to present the most relevant results to the user."
The A9 product algorithm's main goal is to serve the most relevant products for each customer search query. They accomplish this goal by indexing and analyzing each product listing with great detail. Then, they discover what the product is all about and analyze previous sales and other performance metrics. All this to deliver the most relevant results to the customer. The craziest part? This all happens in nanoseconds!
READ MORE | Amazon SEO: How to Rank Higher on Amazon in 2023
What factors affect Amazon product ranking?
Amazon seems to have a two-pronged approach when it comes ranking:
Performance & Conversion Ranking Factors

Relevancy Factors
How does performance and conversion affect Amazon SEO ranking?
Sales
Sales is the single most important factor for Amazon SEO.
It's simple. The more products that you sell, the more money Amazon makes in the process. That's why they created the Best Seller's Rank. The Best Seller's Rank (BSR) is a number Amazon awards products that sell well on Amazon. Each category (and sub-category) on Amazon has its own taxonomy of BSRs. The lower a product's BSR in a given category, the higher its sales has recently been. So a product with a Best Seller Ranking of #1 might sell as many as 10,000 products in a given month. Versus a product with a BSR of #1,000,000, that product may only sell 1 or 2 units in the same time period.
Let's look at the example below for coffee grinders: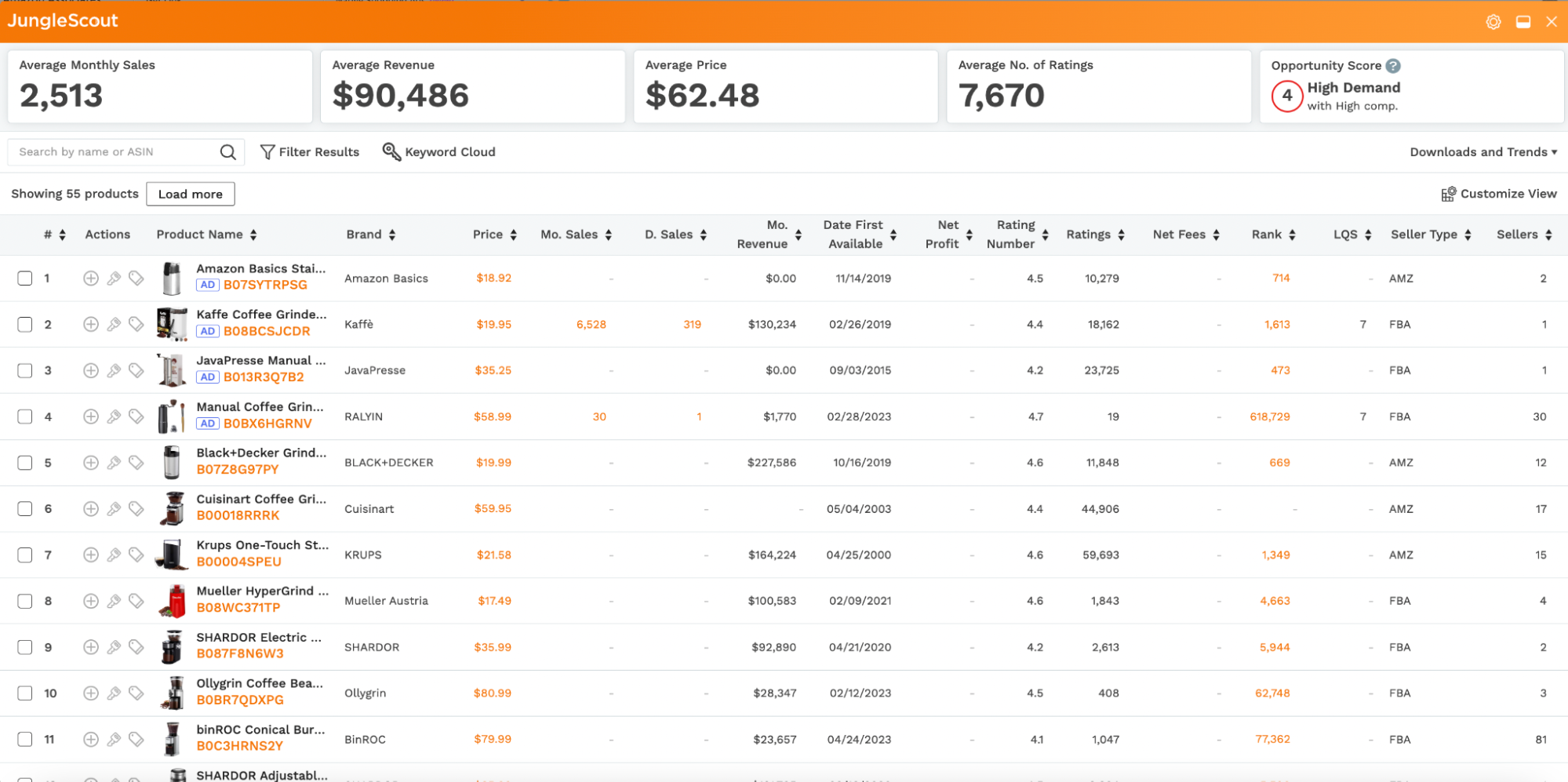 Sponsored products aside, all the organic listings on page one for coffee grinders collectively sell an average of 3,419 units a month; that's an average of 114 units sold each day for every listing that's on the front page. Can you imagine selling 3,400 units a month or over 40,000 units a year of your product?
Read more about Keyword Scout!
How to rank on Amazon page one
Remember: it's all about sales, sales and getting more sales. The more sales we get, the further up on the page we go. And the further up on the page we go, the more sales we get—it all comes full circle!
You can think of the first page on Amazon as prime real estate. Unfortunately, Amazon won't rank your product on page one unless you're matching the level of sales of the sellers currently on page one. Fair enough, right?
Thankfully there are things you can do to kickstart your sales on Amazon. 
Amazon Advertising 
When you first launch a new product on Amazon, you won't have any sales history or reviews so it is very unlikely that your product will be on page one from the beginning. 
Though one way to get your product on page one from day one, is to run Amazon PPC campaigns. Every professional Amazon seller has access to Sponsored Products Ads, and brand registered sellers also have access to Sponsored Display and Sponsored Brands Ads. 
READ MORE | Amazon Advertising Guide for Sellers
By running advertising campaigns and targeting relevant high-volume keywords, you will be able to reach customers on page one even if your product is brand new. 
Social media marketing 
In today's world, if your brand doesn't have a social media presence, then you may be falling behind. Social media has a big spot in ecommerce now as well. 
Even though Amazon will likely be number one for product searches and sales, many Gen Z and Millennials start their product searches on social media platforms such as TikTok and Instagram.
Product listing optimization
Having an optimized product listing is a very important step in ensuring your product performs at its best. Here are factors of listing optimization you should focus on to increase your chances of reaching page one. 
Reviews
Back when Amazon was just selling books, they forever changed the online marketplace through the introduction of user reviews. They believed that user-generated reviews would give them a tremendous advantage over other online book retailers and believed (correctly) that customers would be less inclined to shop from the competition. Even today, reviews are an integral part of the Amazon buying process.
So, in order to win page one Amazon product ranking, Amazon wants us to cultivate the same quantity and quality of reviews relative to the other products found on page one. This not only makes your product seem like a viable option to shoppers, but it also builds trust and confidence.
Thankfully, there are tools like Jungle Scout's Review Automation that offers a powerful feedback solicitation tool. In other words, it sends an automated Amazon-generated messages to your buyers encouraging them to leave a product review.
READ MORE | How to Earn More Amazon Reviews with Review Automation
Keywords and Relevancy
Most products sold on Amazon begin with a product search. A customer types in the product that they're looking for, and search results pop up. Then, they select the product that's relevant to their wants and needs and make a purchase. Therefore, if you want to control your Amazon product ranking, you need to control the search. And you do this through keywords and relevancy.
Keywords pretty much tell Amazon what our products are, what they're all about, and where our products should be placed. Understanding why a certain customer searches for a product, why they want that product, and what relevant keywords or similar words they'll use when they conduct a search is key to winning in the search and relevancy game on Amazon.
The best tool to start your keyword research with is Keyword Scout, which is included with Jungle Scout. Don't let this tool's simplicity fool you: it's incredibly powerful, capable of coming up with thousands of keywords for your product at the push of a button.
Back to the coffee grinders example, here you can see I've found no less than 2,539 relevant keywords for coffee grinders.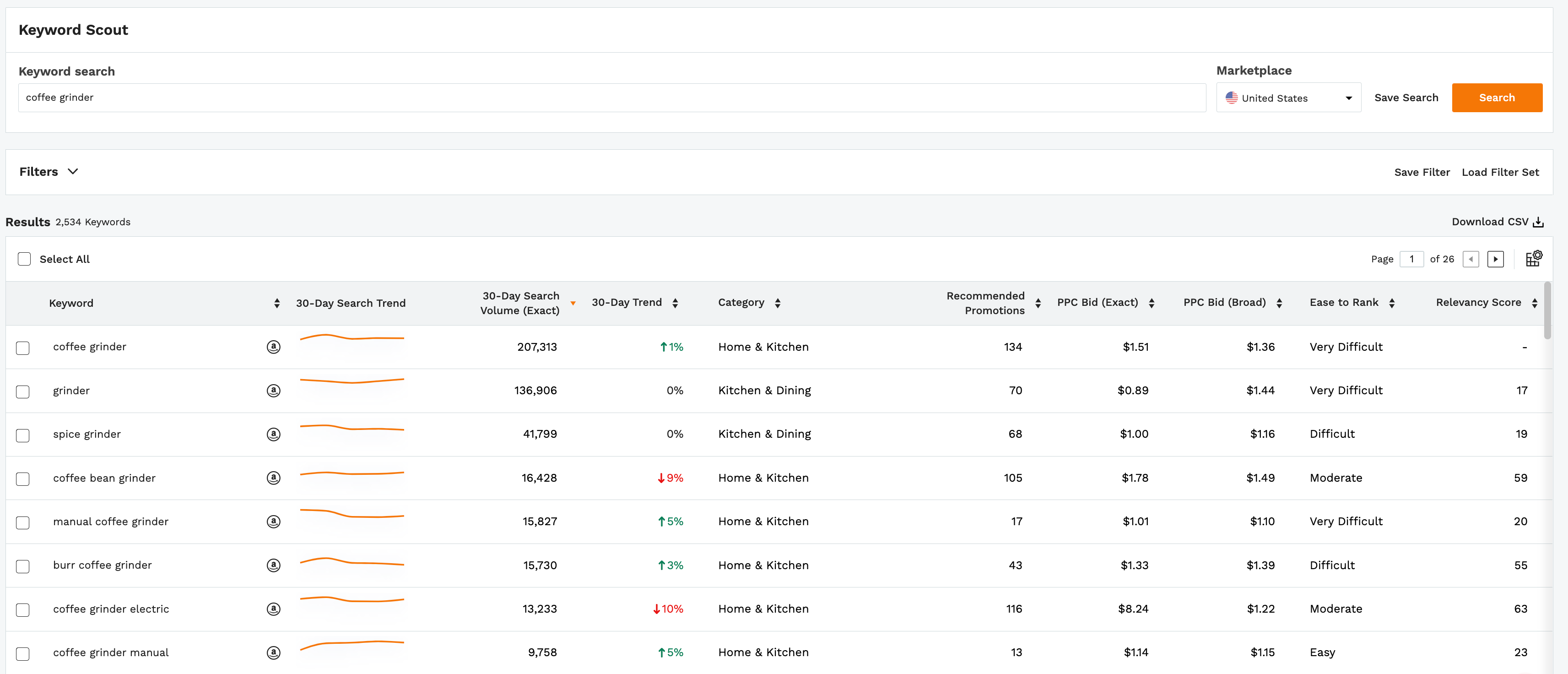 Once you understand keywords and how they play a role in ranking, you can optimize your Amazon listing and build powerful Amazon PPC campaigns.
Title
For keyword relevancy, the title is the most important element of your Amazon product listing. This is because each individual word within the title is searchable on its own, meaning if you want to show up for product a broad range search terms, you want to try to capture as many of those search terms in your title.
Amazon gives you a 200 character limit on your title. So use this real estate. Make sure that every term you want your product to rank for is found within those parameters.
Remember that crafting your product's title is both an art and a science. Your aim is to create product titles that are not only relevant, but ensure shoppers click on your product, too.
Product Features
The information contained in your product feature bullet points are also indexed and searchable by customers. This is another area of your listing where you want to include the keywords that you want to rank for.
Each bullet field has a 500 character limit. However, I recommend having no more than 250 characters on your bullets. Too much text can intimidate shoppers.
Remember to make your bullet points as keyword and detail rich as much as you can. It's a great place to include features, benefits or attributes about the product as you put yourself in the customer's shoes and think of any information you'll have before being able to make an informative purchasing decision.
Description
Another area you can expand keyword targeting is in your listing's description. Sellers have 2,000 characters to enter relevant information about their products in this area. So the description field is the best place to provide in-depth details about your products and sneak in a few extra keywords. 
A+ Content
If your brand is enrolled in Amazon Brand Registry, you will also have access to A+ Content, which allows you to create beautiful descriptions featuring images, infographics, and customizable modules.
The use of A+ content may help increase your conversion rate as they stand out much more than a typical product description, plus, they're easier and more engaging to read
Search Terms
On the back end of your product listing, the search terms contained on the detail page  of your listing bear a lot of weight when it comes to keyword relevancy.
Sellers are provided 5 fields of 50 characters each, or 250 characters total worth of search terms. Technically each field can take up to 1,000 characters but throughout the tests that the Jungle Scout team have done, anything above 250 doesn't get indexed on your listing.
These backend search terms could be a great place to drop synonyms or other long-form versions of your main keyword.
Subject Matter
Also in the back end, are the subject matter boxes. Many sellers overlook these fields. Similar to the Search Terms, there are a total of 5 fields of 50 characters each, for a total of 250 characters. Again, this a great place to sneak in those last relevant bits of keywords to help improve your Amazon product ranking.
Conversion Rate
A conversion rate is a sales metric that helps digital marketers and Amazon sellers understand how effective their product is at making sales. It is calculated by dividing the total number of visitors (also called sessions) to a page listing into the total number of sales.
For example, if 10 customers out of 100 purchase a product (or products) from you, that makes your conversion rate 10%. 
READ MORE | The 8 Most Important Amazon Seller Metrics for FBA Businesses
Additionally, Amazon Seller Central's business reports offer a metric called "Unit Session Percentage." This metric is similar to conversion rate, with one small exception. Instead of dividing the sessions into orders, it divides sessions into the actual units ordered.
For example, if 3 out of 10 customers land on your listing and make an order for one unit each, the conversion ends up being 30% while the unit session percentage also ends up being 30%. However, if 2 of those 3 customers decide to order 2 units each, the conversion rate still sits at  30% but the unit session percentage now has jumped to 50%.
Amazon favors unit sessions percentage over conversion rate. Therefore, you'll want to make sure you can sell as many units as possible, to keep your product "top of mind" with the Amazon product ranking algorithm.
For example: Increasing the Average Order Value (AOV) through orders of multiple units; this can be achieved through promotions like Buy One Get One Free (BOGOF) and multiple unit discounts (e.g. buy 2 get 10% off).
Amazon uses this data about your unit session percentage, conversion rate and other performance metrics to determine ranking as it relates to the likelihood of a customer buying your product.
Here are some other factors that affect conversion rate:
Price.

Listings with a lower

price

relative to the competition typically sees a higher conversion rate. However, it is not a feasible long-term strategy since competing on the price alone will lead to pricing wars and a race to the bottom.

Coupons.

Try to experiment with the new clip-on Coupons feature that Amazon recently released. Our experiments show that having a dollar-off coupon works better than having a percentage-off coupon.
Fulfillment method. Who doesn't love free 2-day shipping? Amazon is constantly trying to push sellers onto FBA (Fulfilled By Amazon), so you'll instantly get a competitive advantage if you fulfill by Amazon versus someone who fulfills on their own.
Conclusion
There you have it! That's everything you need to know about how to rank your product on page one on Amazon. Hopefully this guide to Amazon's A9 search engine and the Amazon product ranking algorithm have armed you with the necessary weapons to ensure maximum private label success.
If you have any questions about Amazon product ranking, please feel free to leave a question in the comments below!
See you next time!