The hardest part about selling on Amazon is, well, figuring out what to sell on Amazon. You may have what you think is a great idea for a product, but smart sellers rely on data, not always their gut, on which products to invest in.
This is true during Q2, when customers start shopping for products for the spring and summer months.  
How do you decide what to sell? How do you know what consumers are buying during this time of year? How much inventory should you purchase?
In this article, we'll answer all of those questions and more, so keep on reading:
You can also check out this month's top-trending products on Amazon for even more information!
What to sell on Amazon FBA in Q2 2023
As we move away from the cold winter months and into spring and summer, what types of products will consumers now spend their money on? 
While most categories on Amazon will sell well during this time of year, a few products stand out as the weather warms up and people make plans for the summer. 
Let's go over a few products we see as potential winners for Q2 in 2023. 
1. Summer apparel 
Consumers love buying new clothes for the spring and summer months! At least that's what the data is telling us. Products rising in popularity during Q2 are in the women's clothing category — more specifically, sundresses.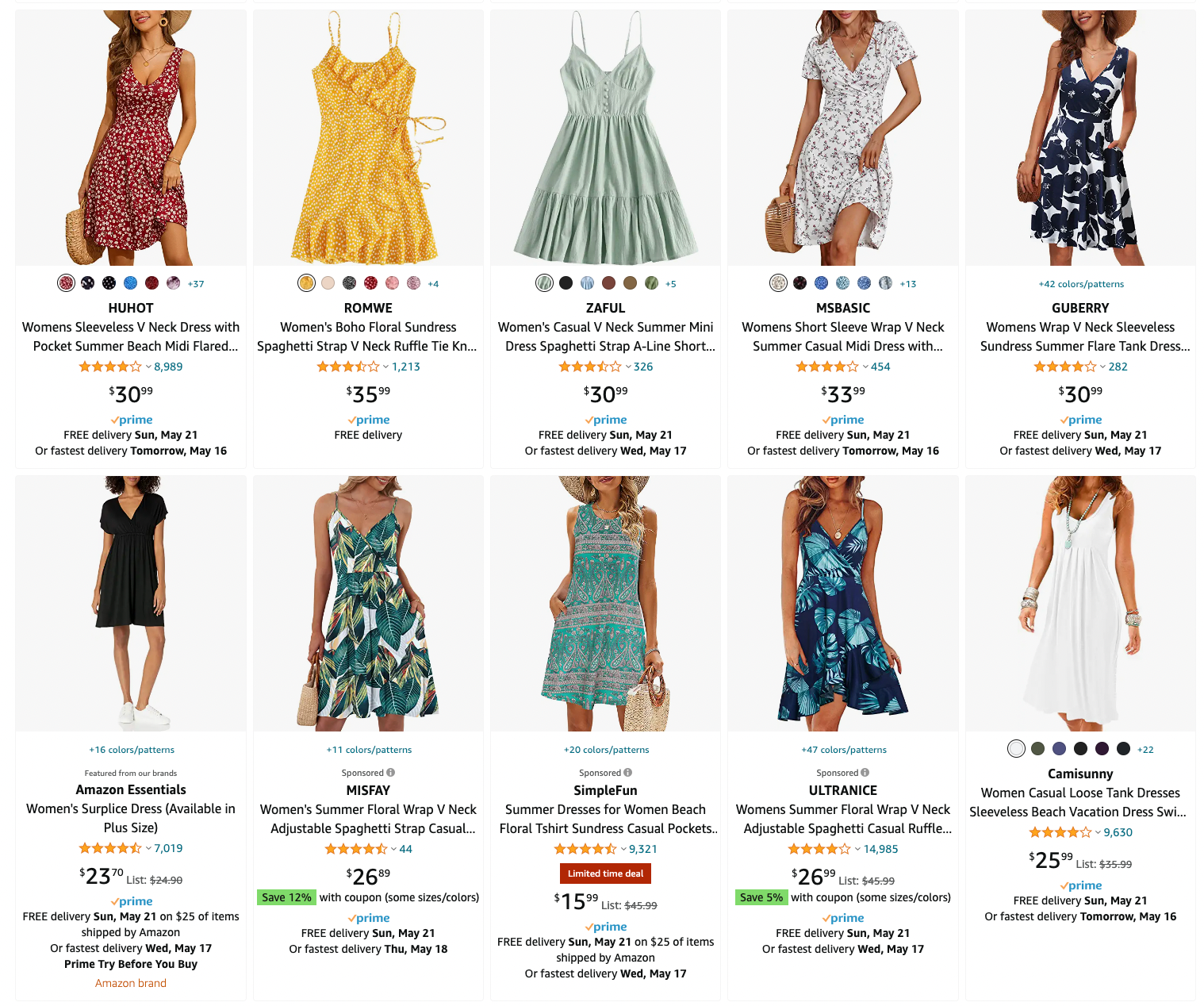 While this can be a competitive product category to sell in, there is undoubtedly high demand for summer fashion. If you are an experienced Amazon seller who isn't afraid of competition (or selling clothes), this may be a fantastic opportunity.
Take a look at the 30-day and 90-day trend columns in Keyword Scout for keywords related to sundresses.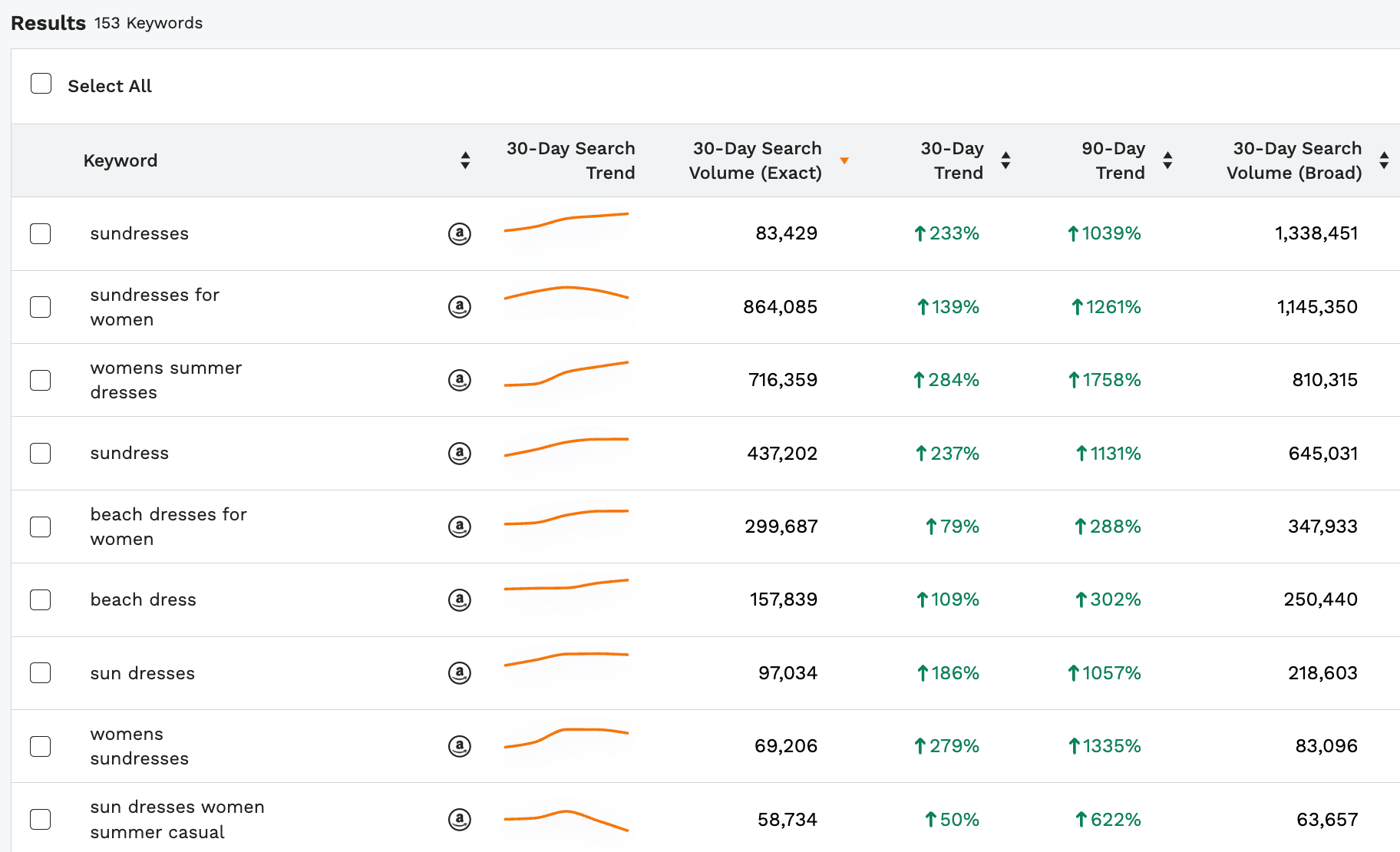 The search term "womens summer dresses" is up 284% in the past 30 days, and up 1,758% in the past 90 days!

Sundresses and other summer apparel would be excellent products for any business model you follow on Amazon. Maybe you're a fashion designer who can create a brand new summer style using private label; or perhaps you're simply a retail arbitrage, online arbitrage, or wholesale reseller looking for trending products to sell. Either way, there is a strong customer base looking to shop for the season. 
2. Bathing suits and beach accessories
This may be another obvious one, but if you are approved to sell within the clothing category on Amazon, stocking up on both men's and women's swimwear can be a great way to cash in.
If you're not approved to sell clothing or are not comfortable selling in this category, there are plenty of other subcategories related to swimwear. That includes beach accessories such as towels, tanning lotion, beach bags, vacation essentials, and beach toys—the list is quite endless.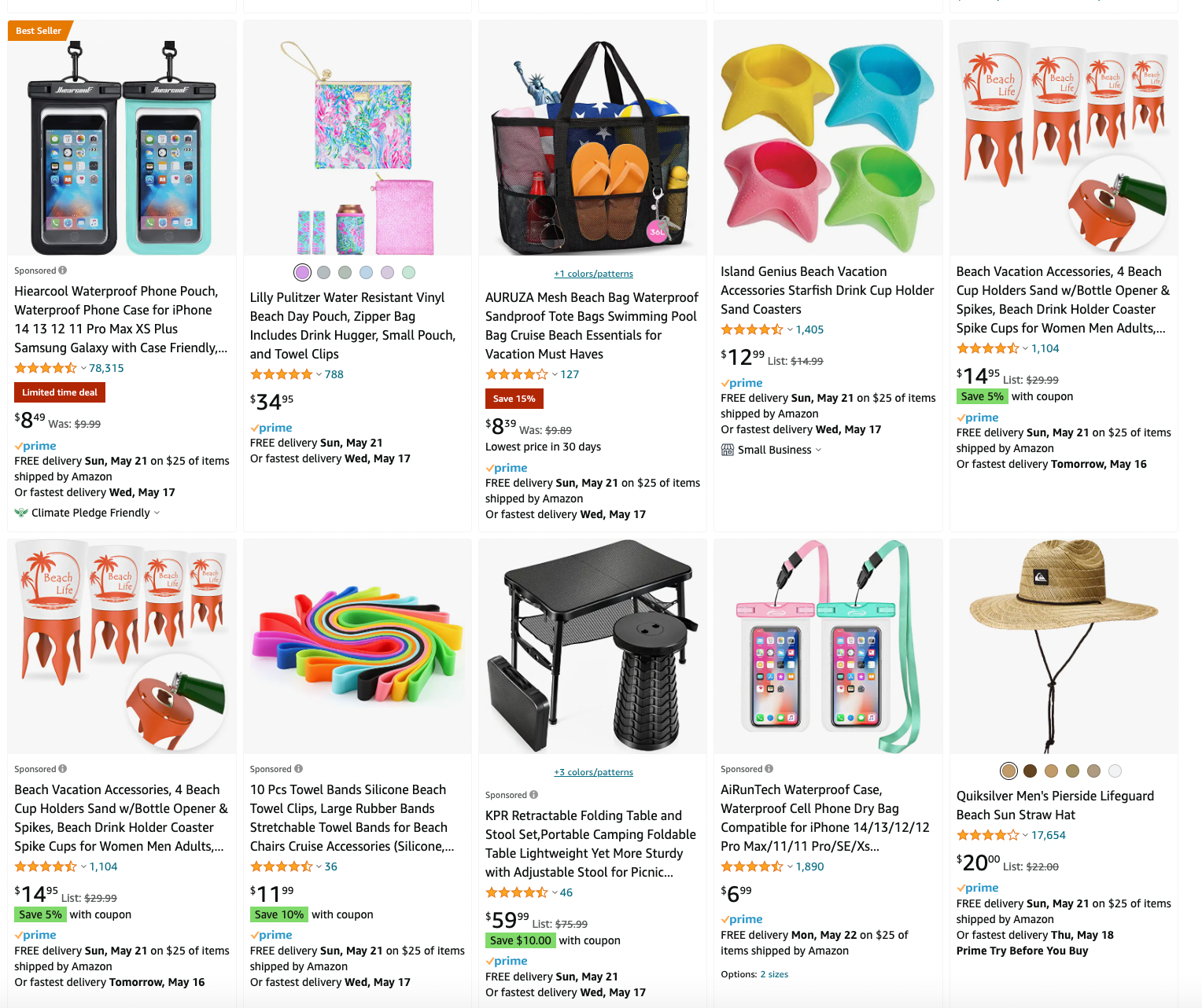 There are plenty of arbitrage and wholesale opportunities for these categories to resell other brands of swimwear or beach accessories without creating private label brands. Though you certainly can.
READ MORE | How to Buy on Alibaba and Sell on Amazon 
Let's look at the numbers. 
Bathing suits for women:
Bathing suits for men: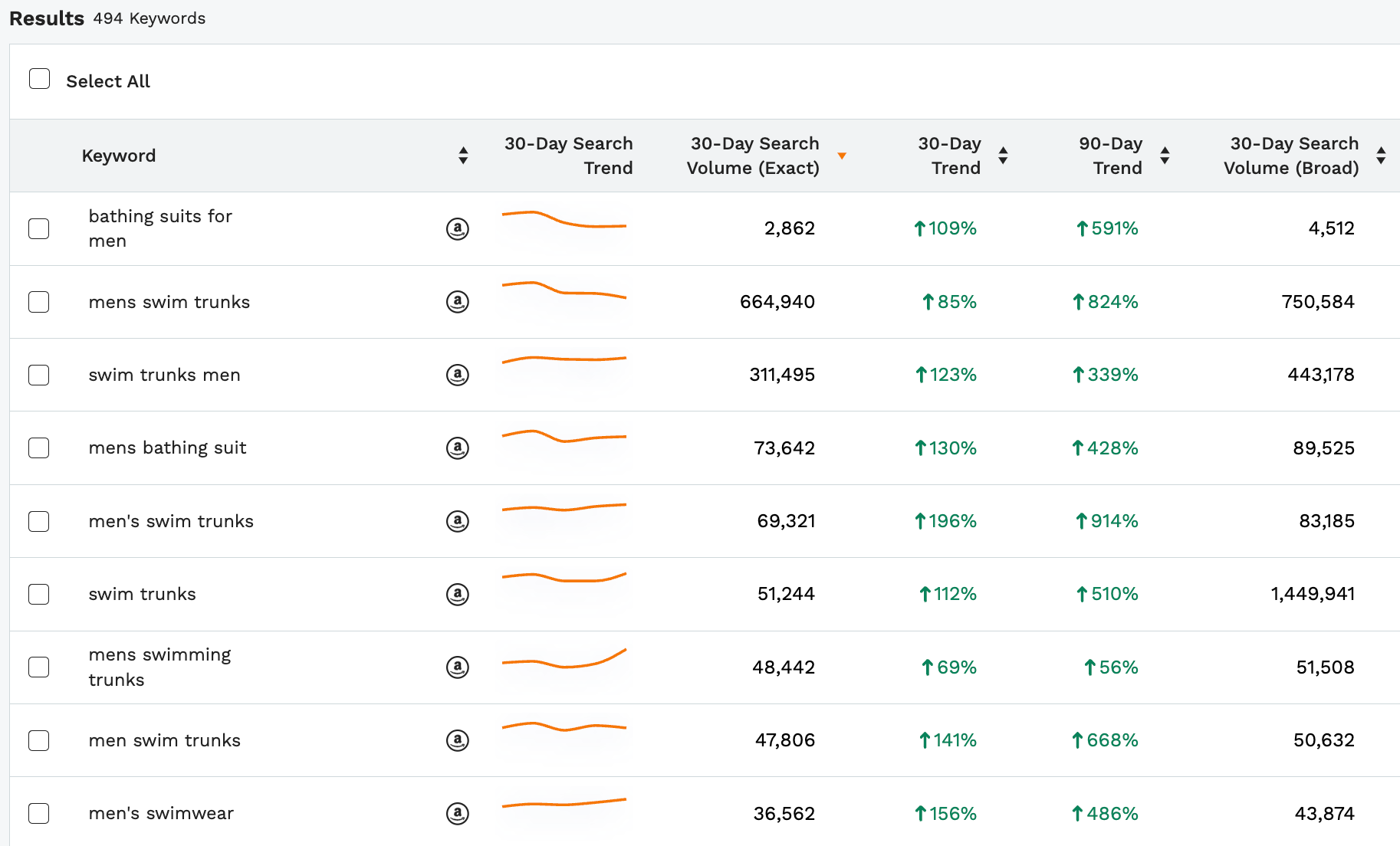 Beach accessories: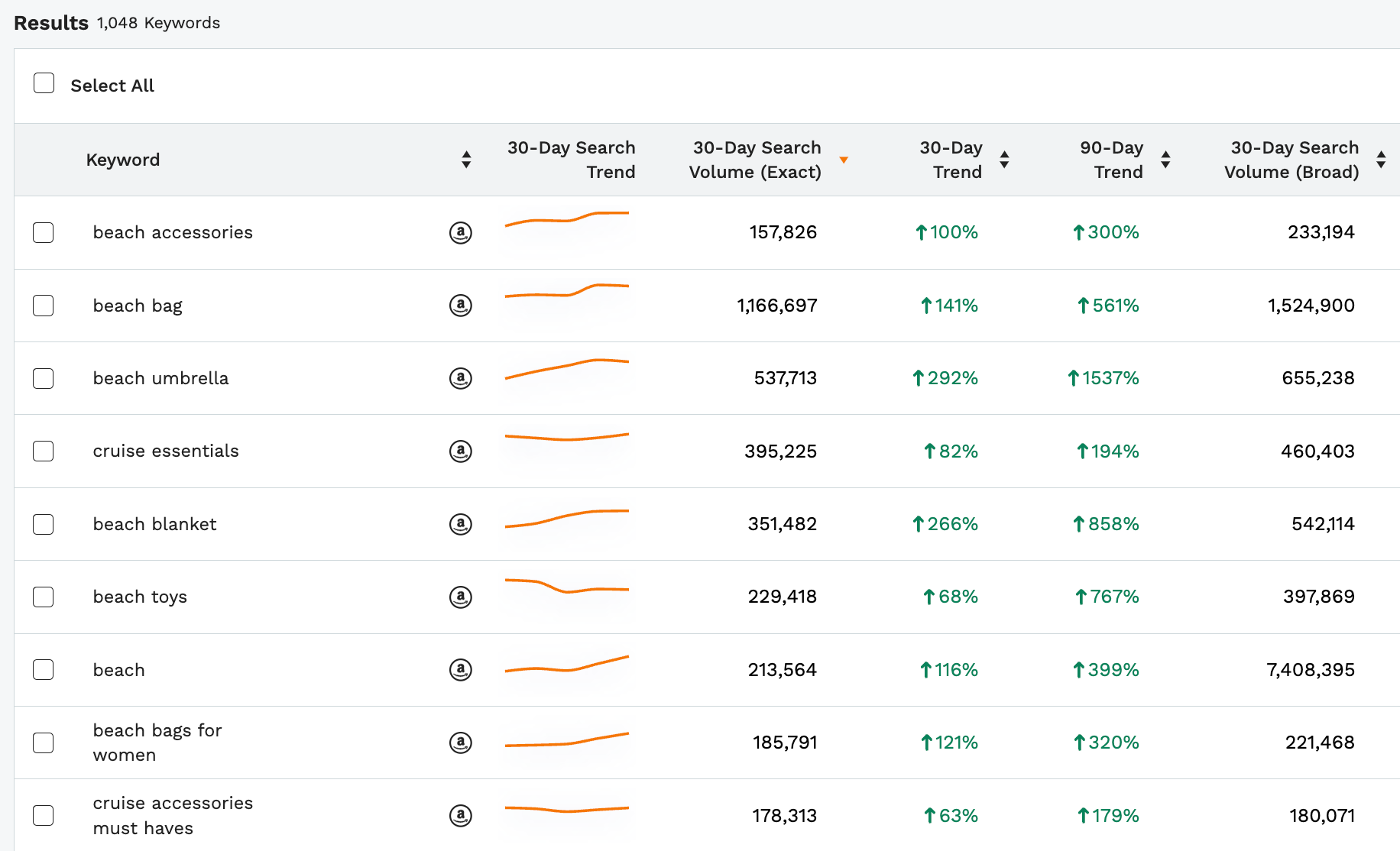 Nearly every keyword in each of these lists is trending upwards, and indication that now is the time to stock up as the weather warms up and consumers head to the beach. 
Check out this graph of the keyword "summer essentials."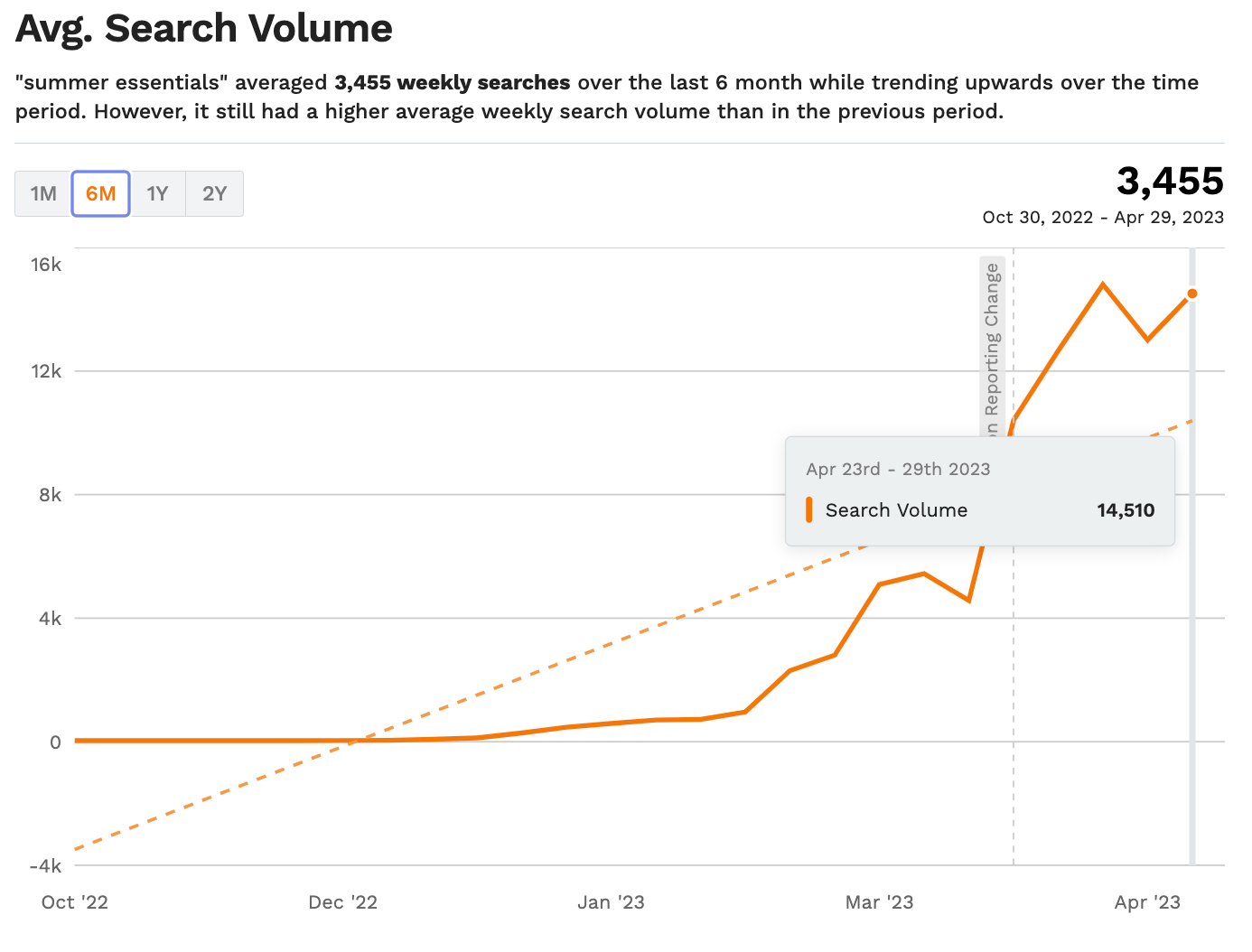 Scroll through the Keyword Scout results to find countless product ideas related to bathing suits or the beach. 
3. Travel accessories 
As consumers get ready for spring break and summer vacation, they're going to need to stock up on the right products before heading on their next adventure. 
There are many products you can offer to consumers who want to get back on the road or take flight.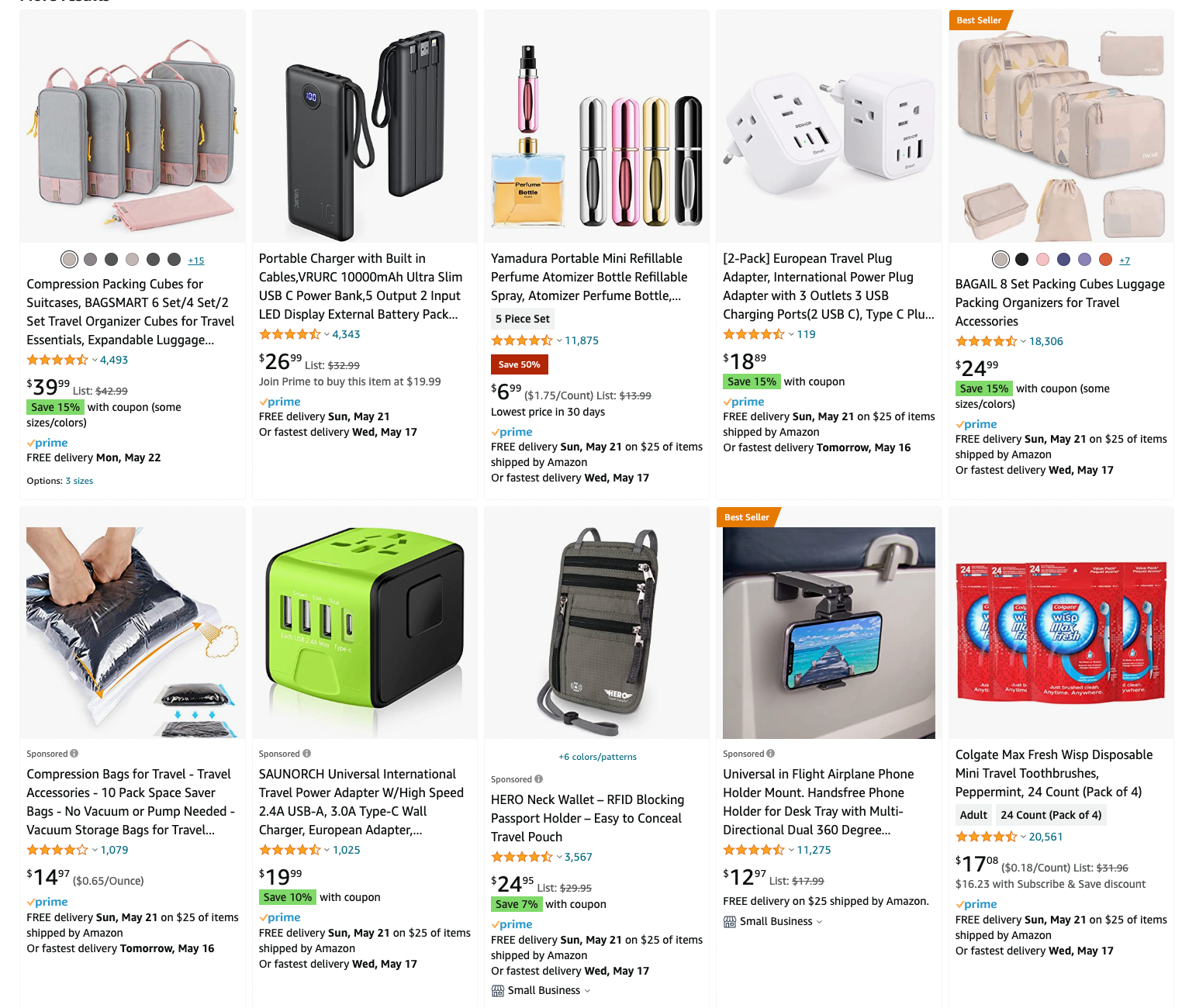 I searched for "travel accessories" in Keyword Scout, and it returned more than 3,400 results. That is a lot of opportunities to sell products that people are actively searching for. 
While the keyword "travel accessories" is very competitive, you can easily niche down and find less competitive subcategories within the travel category.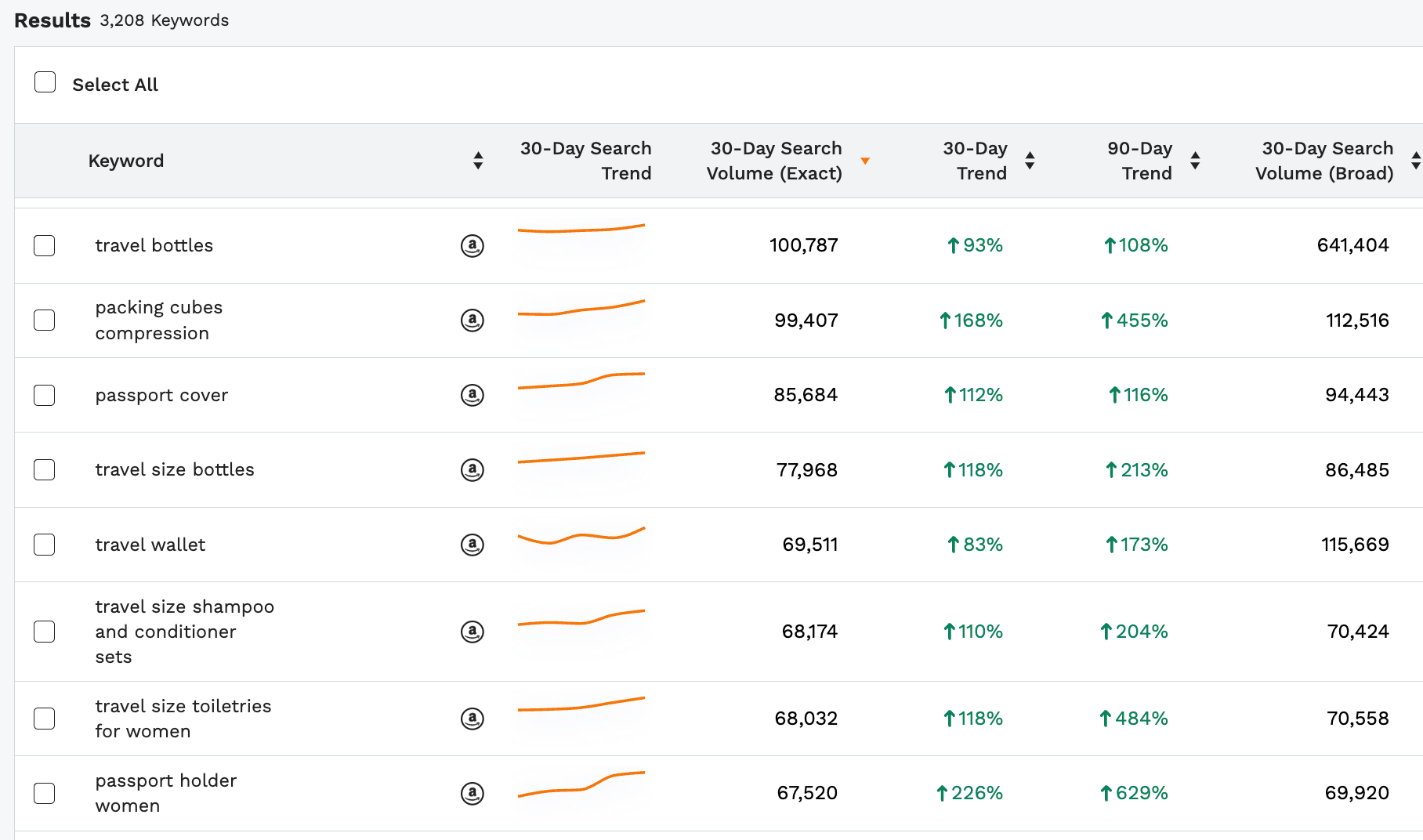 I see ideas such as airplane travel essentials, travel bags, travel-size toiletries, TSA-approved bags, packing cubes, and travel containers. Take the time to go through some of these keyword results to find a less competitive product opportunity you can jump on. 
4. Fishing gear
As the weather warms up, more and more people will be looking for some fun outdoor activities to do during the spring and summer months. One of those activities that is booming right now is fishing!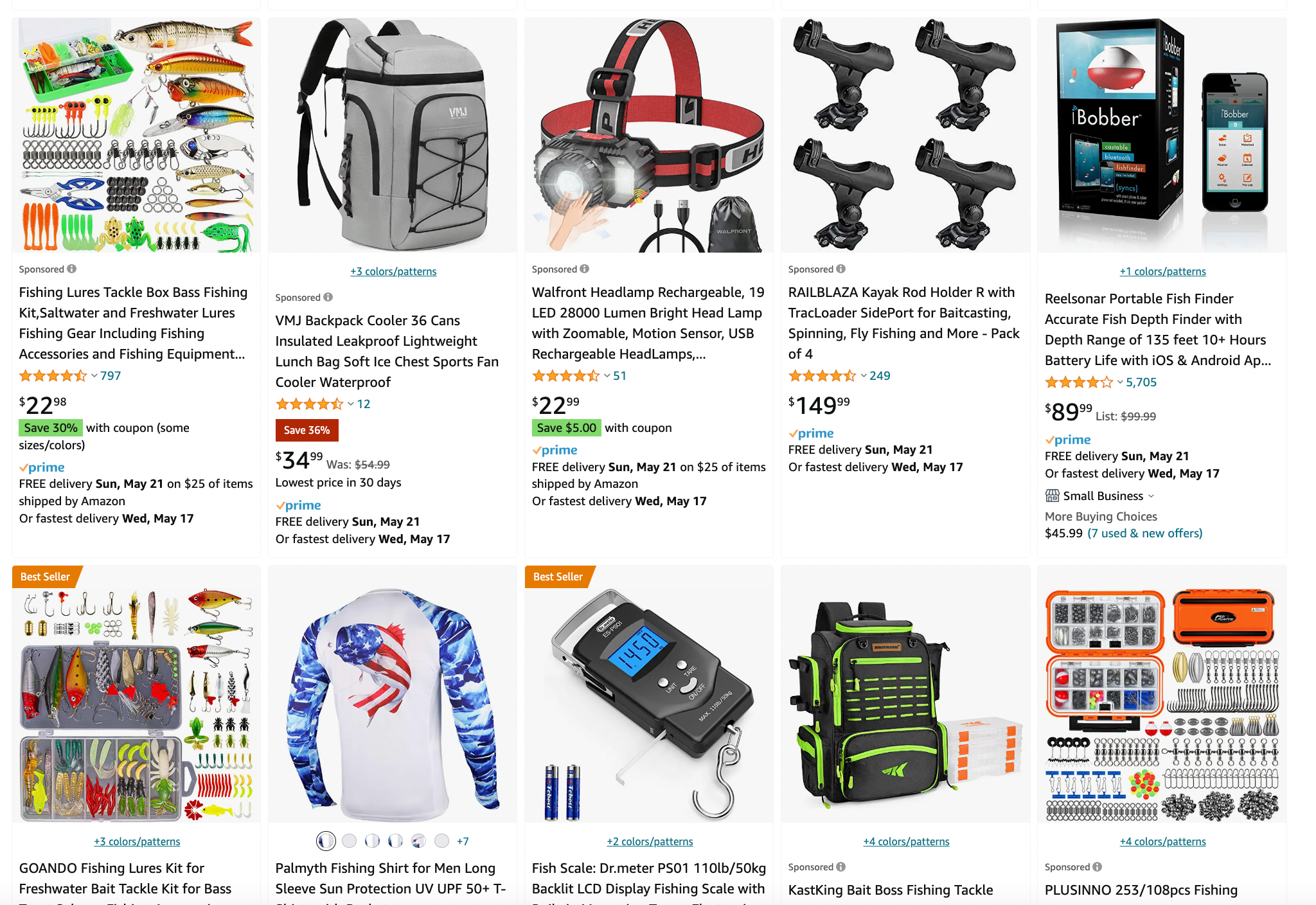 There are so many different types of products you can offer to those wanting to get out on the water and fish. Let's look at what people are searching for. 
After searching for "fishing gear" in Keyword Scout, it returned over 1,800 keywords, most of which are trending upwards in the past 30 days.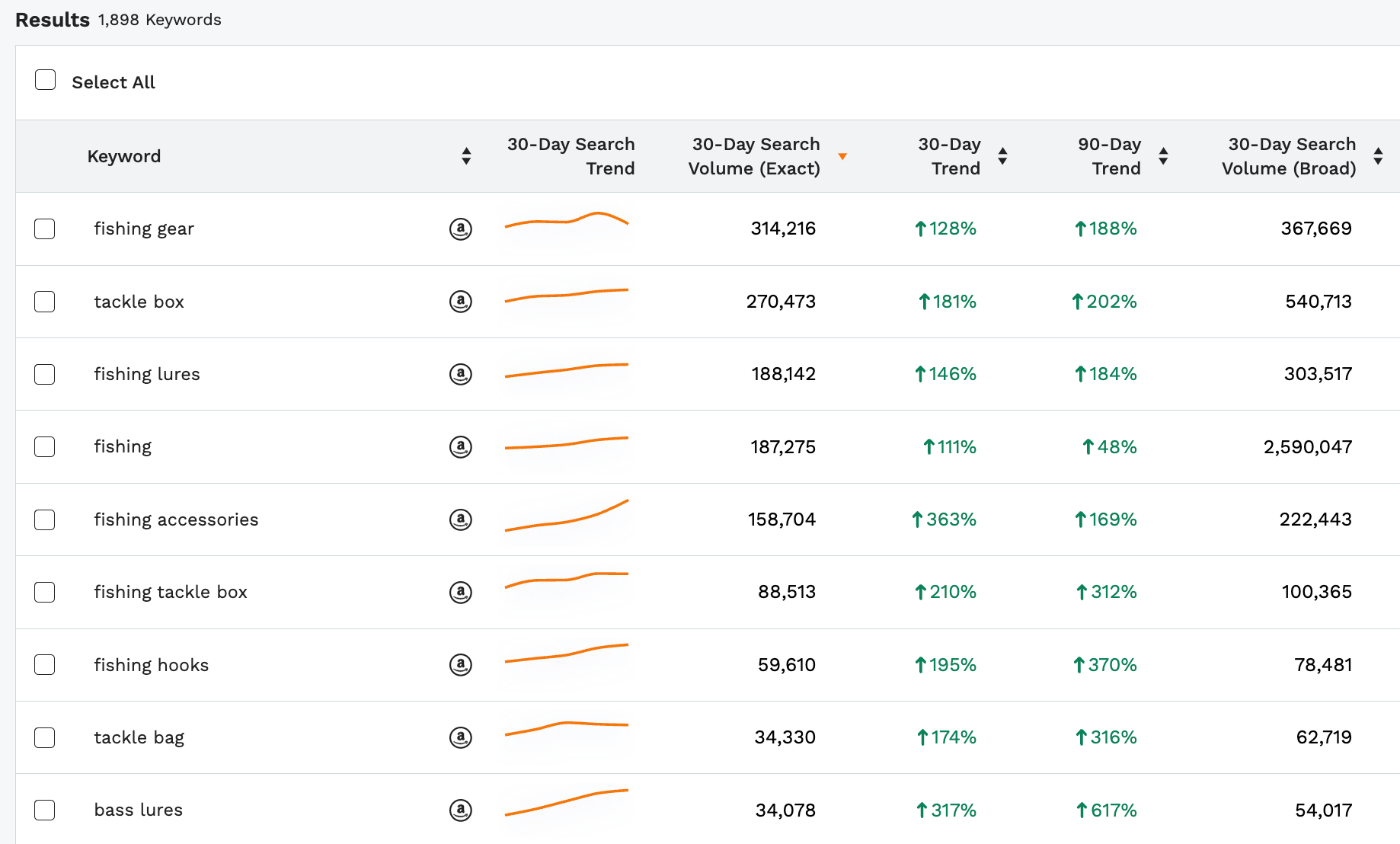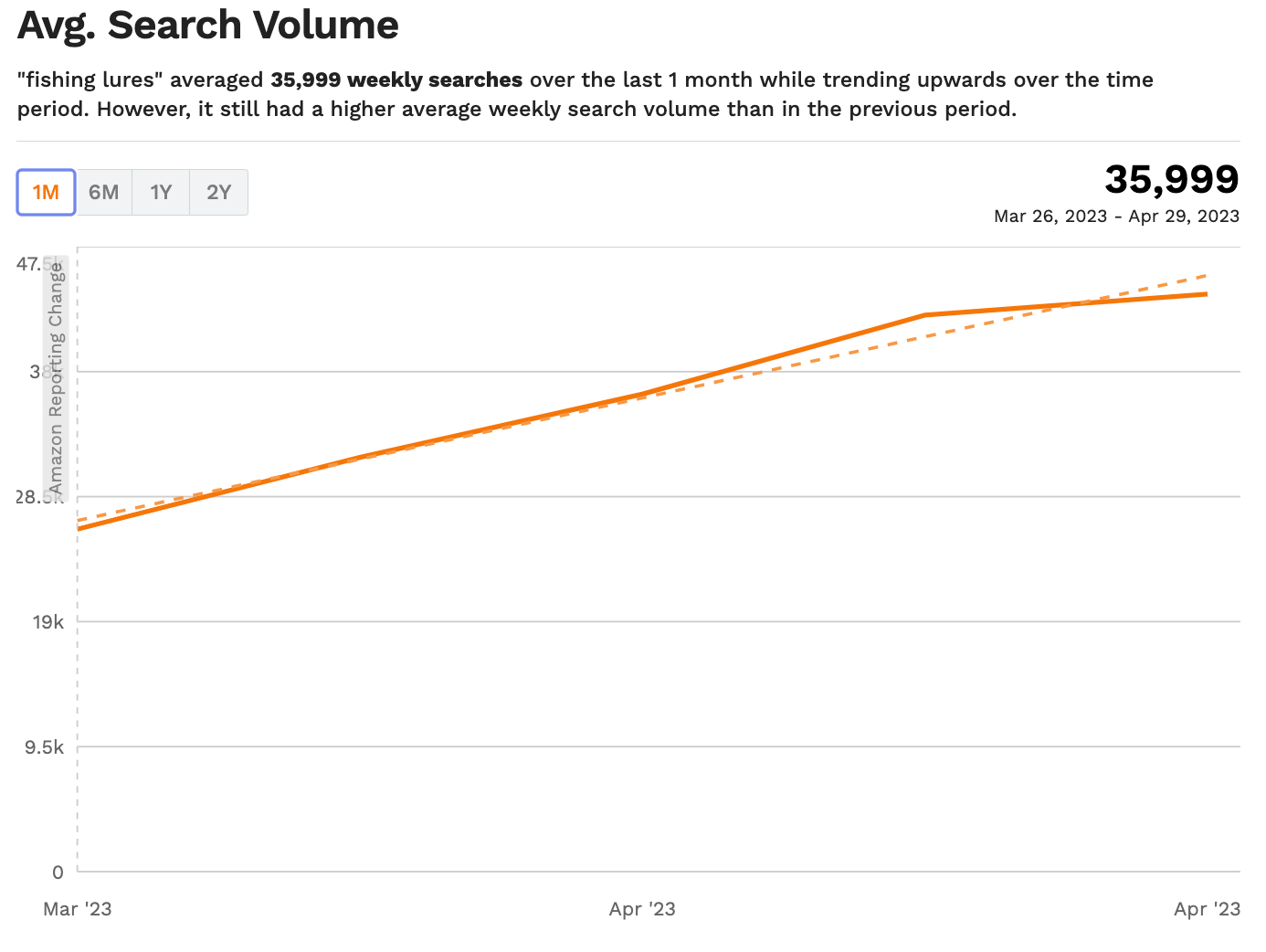 Scroll through the hundreds of keywords to get some ideas of what you can offer customers this spring and summer.
5. Mother's and Father's Day Gifts
Don't forget about mom and dad! In May and June, consumers rush to purchase a wide variety of gifts for their parents for Mother's Day or Father's Day.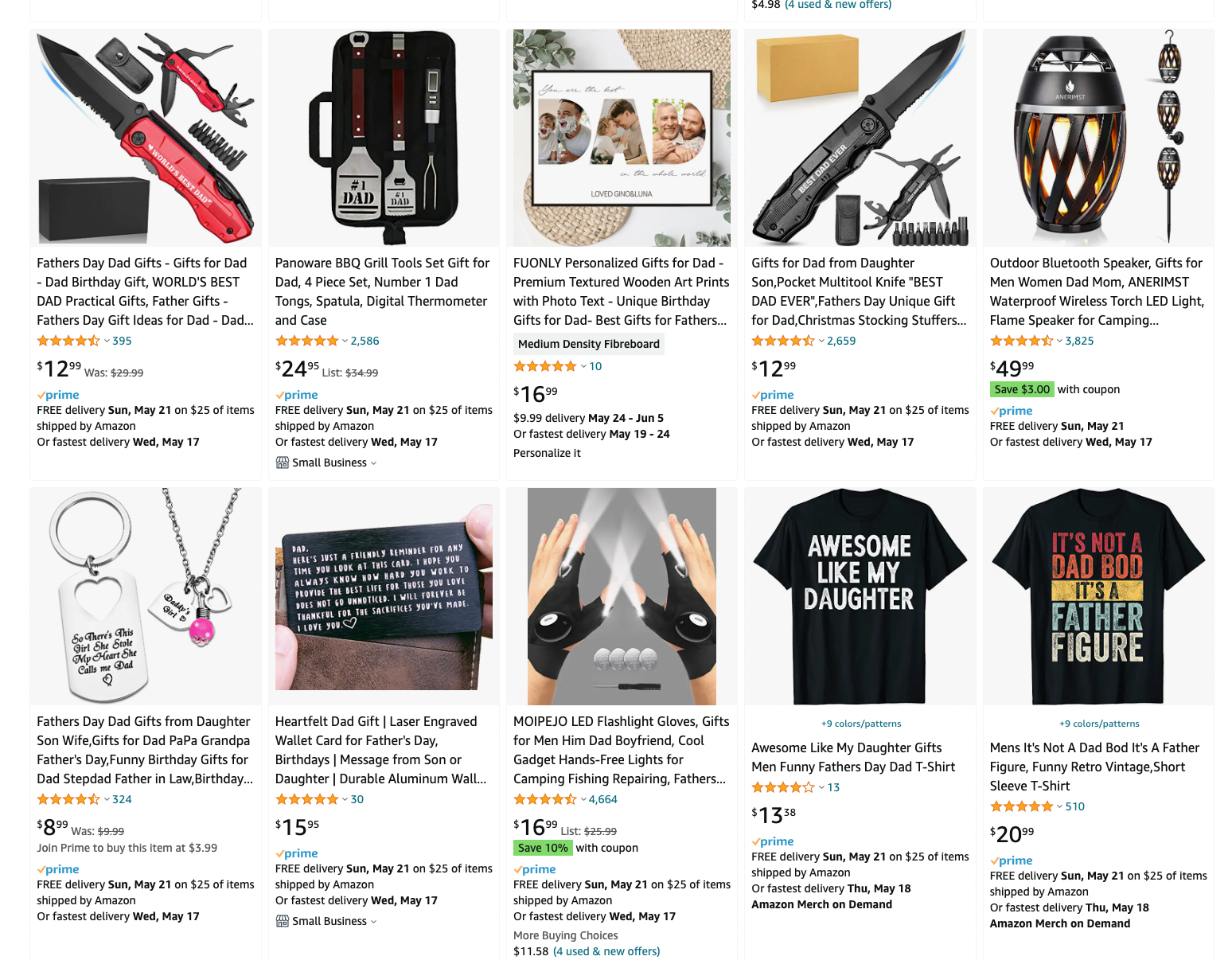 Surprisingly "mothers day gifts" and "fathers day gifts" are already trending upwards. This is a good sign to optimize your current listings or research new products you can offer during these two holidays.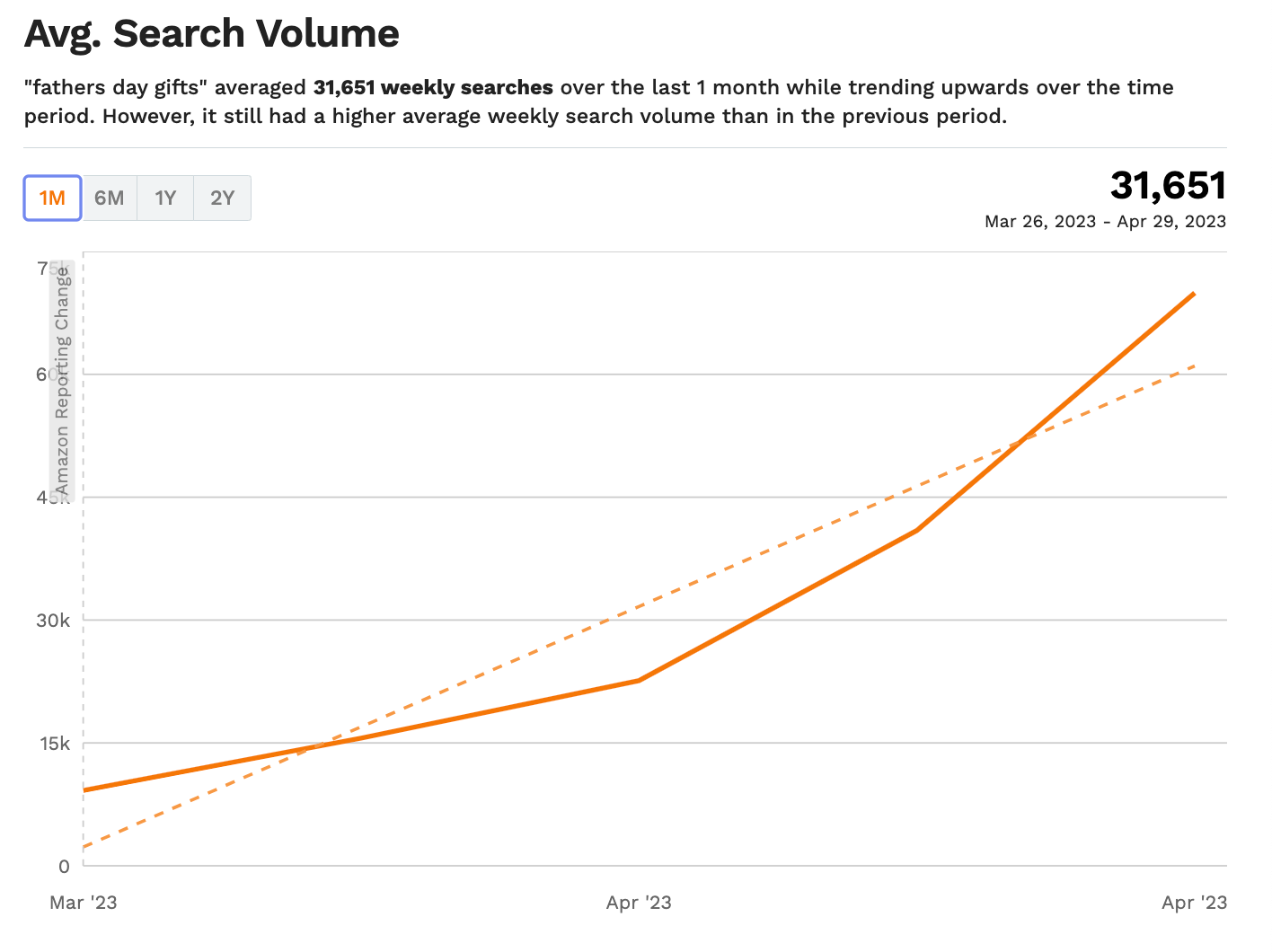 To get some product ideas, search for "mothers day gifts" or "fathers day gifts" on Amazon and see what types of products come up in search. Then use Jungle Scout to validate if those products would be a good idea to launch. 
How to know if a product will sell during Q2
Don't limit yourself to the list of ideas above, as many other types of products will sell during Q2. Think outside the box, gather your ideas, and make sure you bring them into proper product research before investing in any product to sell on Amazon. 
Next, use Jungle Scout's tools to figure out if your product idea is viable for selling on the Amazon platform:

Want to learn more about how to find profitable products to sell on Amazon? Check out our YouTube video on How to Do Product Research: Live!
What Amazon FBA products are you going to sell in Q2?
We hope this guide gives you some good ideas of what FBA products you can sell during this time of year. Bookmark this page for updates in Q3 2023 — we'll update you with more ideas for the next quarter, and every quarter after that. Now, get out there and make it happen! 
Let us know what you think of these categories, or if you have any questions, let us know in the comments below. 
Check out our full How to Sell on Amazon Guide for more information on product research, sourcing, listing creation, and much more. 
Explore new product opportunities with Jungle Scout and start making money during Q2 on Amazon!