If you're running a sustainability blog (or you'd like to launch one), identifying and following your peers' work is key. Otherwise, you could be left behind when it comes to new and emerging standards, best practices, and trends.
When you make an effort to keep up with other brands focused on the environment, you'll be better equipped to create high-performing blog content. For instance, you can gain inspiration or even find potential guest blogging opportunities.
In this post, we will identify ten of the best 🏆 sustainability blogs in 2023, providing an overview of each. To accommodate all sub-niches, we've included blogs focusing on everything from fashion to food.
Let's dive in!
📚 Table of contents:
---
There are plenty of sub-niches of sustainability blogs. Therefore, it's a good idea to follow a few with a broader focus, covering various sustainability topics. Reading about general issues may be especially useful if you're still deciding on a sub-niche.
That's why Going Zero Waste, run by Kathryn Kellog, is the first blog on our list. This eco-friendly website is highly successful, with features from National Geographic and NBC News. It covers everything from beauty to food and even has a "resources for bloggers" page.
---
If you're just starting out as a blogger, chances are your content will focus on how-to posts, guides, listicles, and more. However, you'll likely want a blog that you can count on for sustainability news. It can help inspire your next idea for a blog post.
Treehugger gives you the classic sustainability guides users crave, while also providing a well-rounded collection of news stories. On this blog, you're just as likely to find a tutorial on sustainable shaving, as you are to discover updates on new environmental laws.
---
Sustainable Jungle is another generalist option, with a slight focus on fashion and lifestyle. Its striking visuals and high-quality images can help establish a standard for what your blog's photos should look like.
Furthermore, this blog is small but mighty, tackling multiple media types beyond articles. For instance, you may want to listen to the Sustainable Jungle Podcast or subscribe to its newsletter. This way, you can stay up-to-date on sustainability content without needing to regularly read the blog.
---
Like other sustainability blogs on this list, Attire explores several different topics while emphasizing fashion and pop culture. It also provides a few good examples of how you can monetize your blog.
For instance, it sells an e-book called "10 Steps to Conscious Fashion." Plus, Attire runs its own successful newsletter. This strategy offers a great way to effectively reach users with sponsored content or affiliate marketing.
---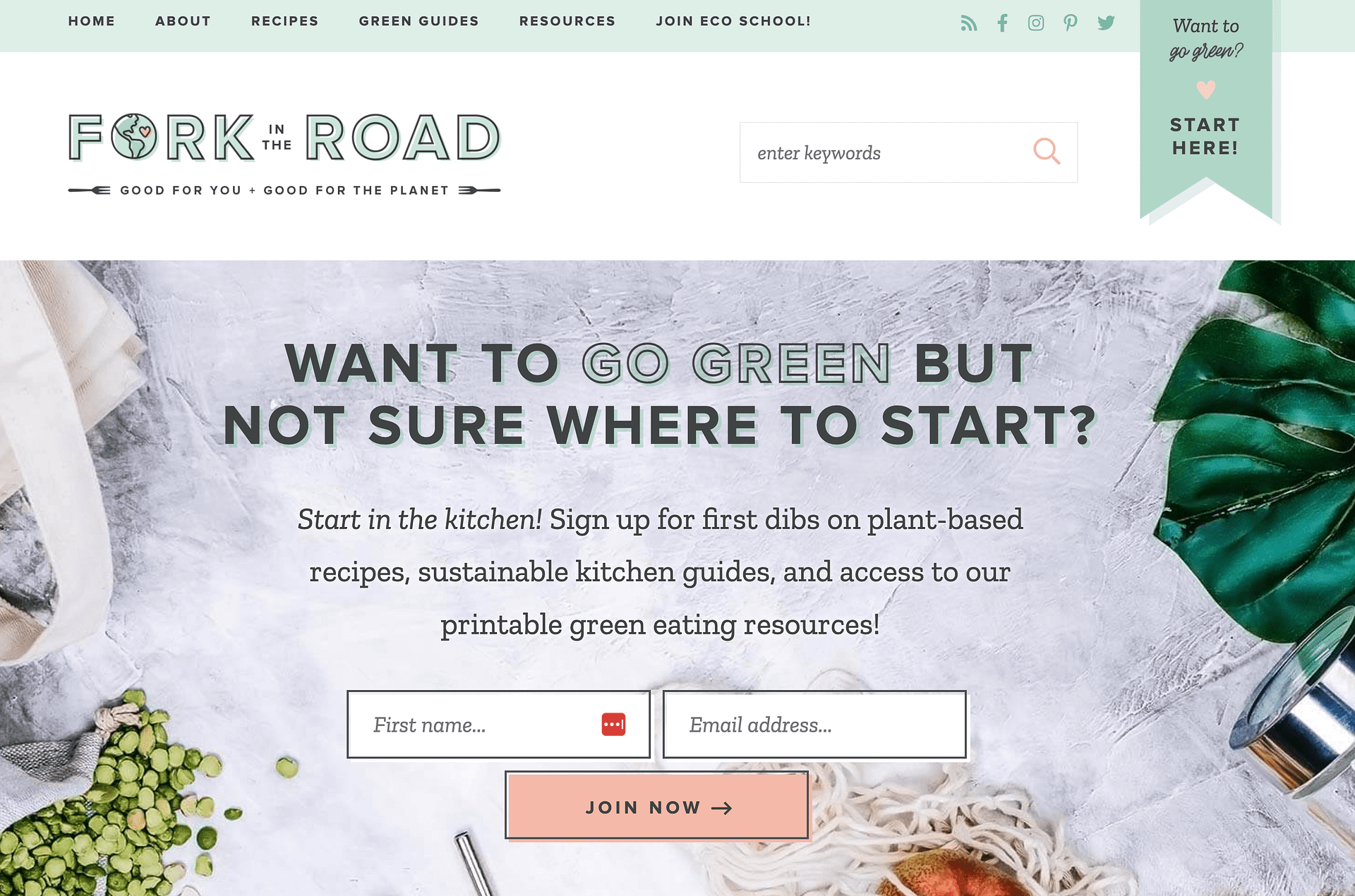 Fork in the Road focuses on sustainable food. This blog will likely inspire you if you're hoping to establish a solid visual brand. Its soft green color scheme and vibrant images align with the site's message: bringing clean, eco-friendly food to your kitchen.
Additionally, you might want to check out Fork in the Road's course offerings, which explore sustainable meal planning. Selling online courses is a great way to monetize your expertise and boost your credibility. Moreover, you can promote these courses on your blog.
---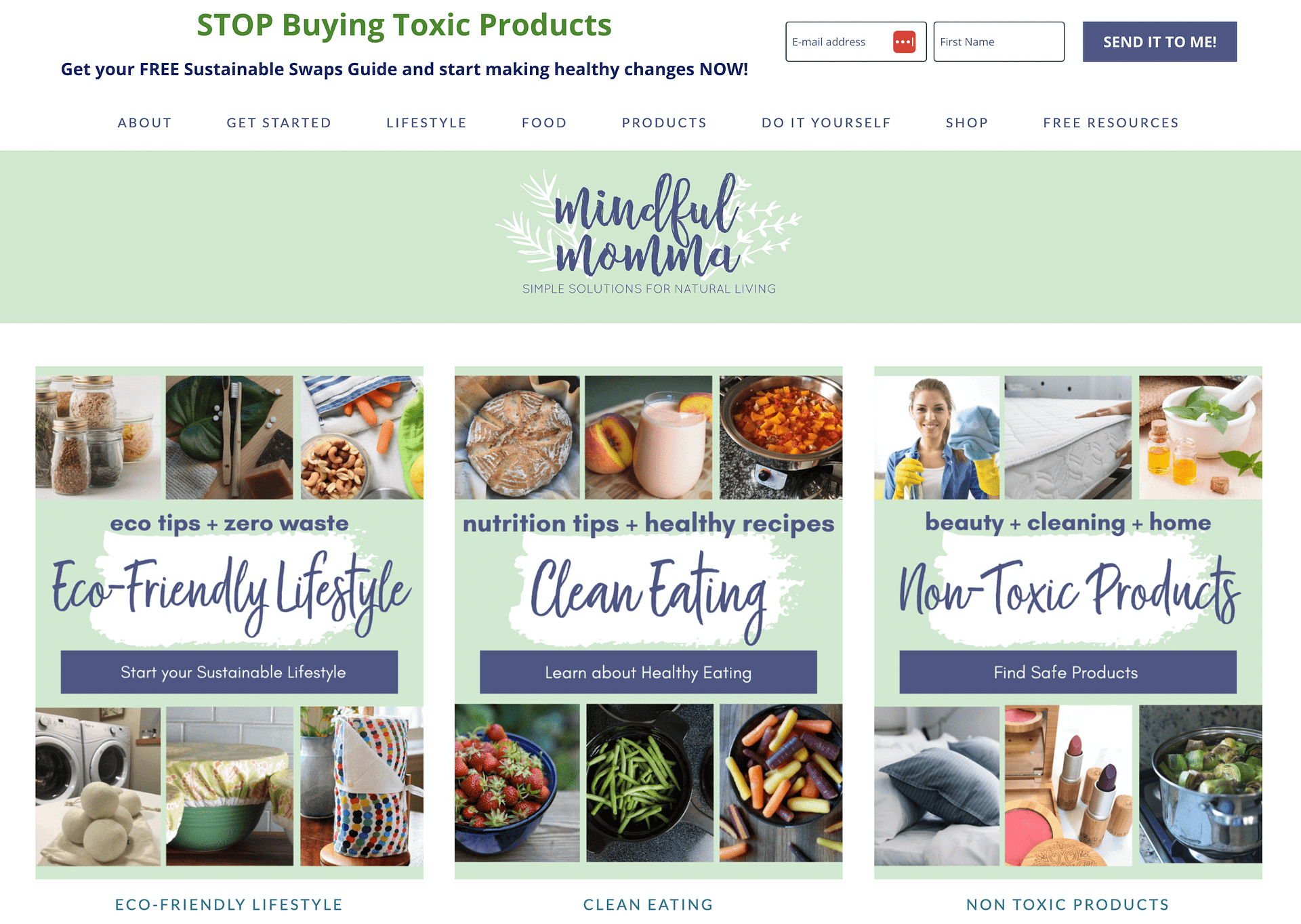 Mindful Momma is another website with a clear sub-niche. While it may seem like a reach, many conscious mothers are highly concerned with protecting the environment and how it connects to "clean living." This is one of those sustainability blogs that's good to follow if you're interested in an eco-friendly lifestyle, clean eating, and non-toxic products.
You will likely find some useful examples of product reviews and listicles in every category. Also, as you peruse this blog, keep an eye out for sponsored advertisements for sustainable products. This blogger has subtly placed them in side panels. This is an excellent example of using ads without overwhelming or annoying readers.
---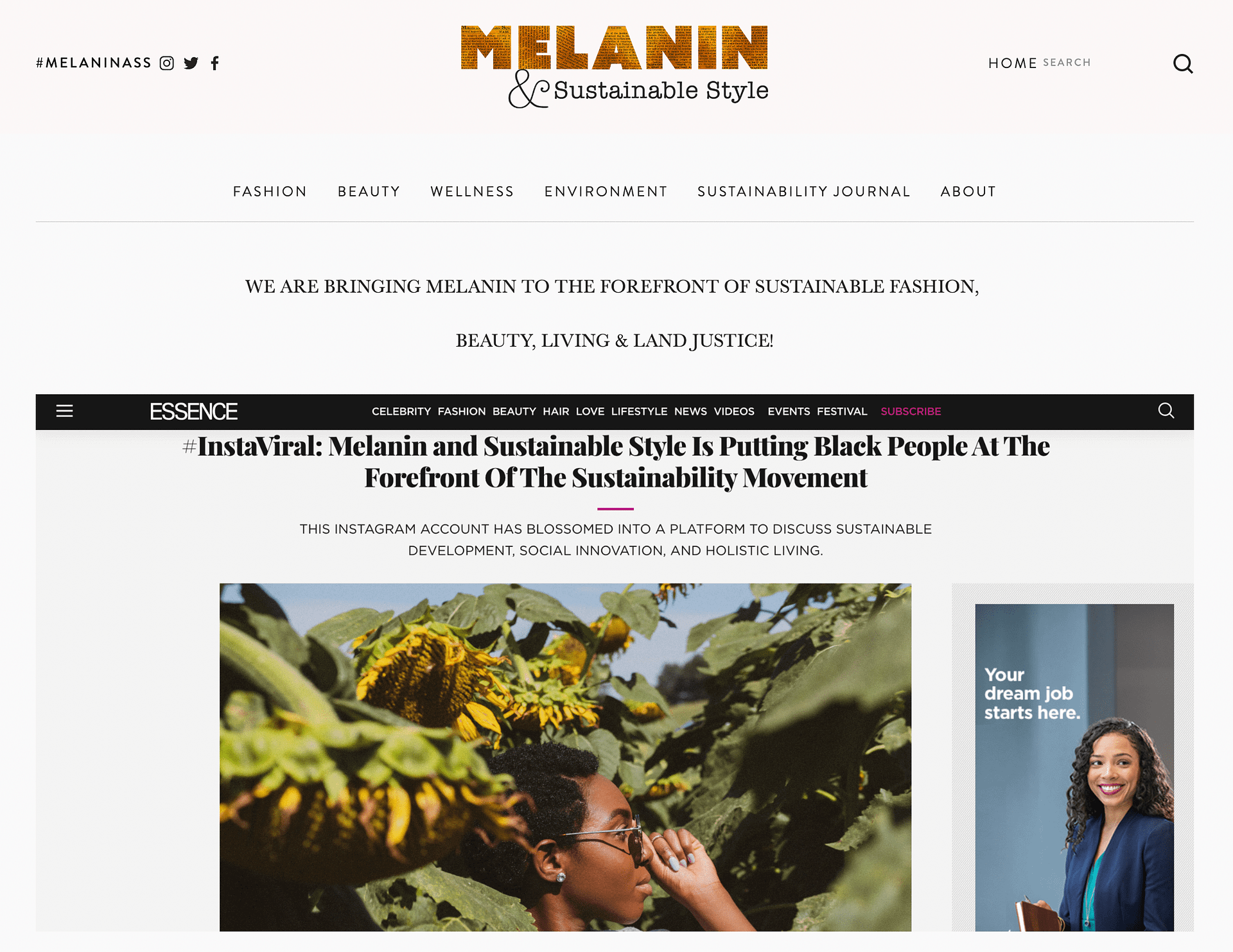 Online users interested in sustainability are often invested in other aspects of social responsibility, such as equity and inclusion. If that sounds like you, you won't want to miss out on Melanin & Sustainable Style.
This blog does an excellent job of covering a variety of sustainability topics while also promoting BIPOC-owned businesses. Additionally, it has a strong social media presence, especially on Instagram. Therefore, you may want to peruse its linked accounts if you're searching for ways to improve your blog's social media strategy.
---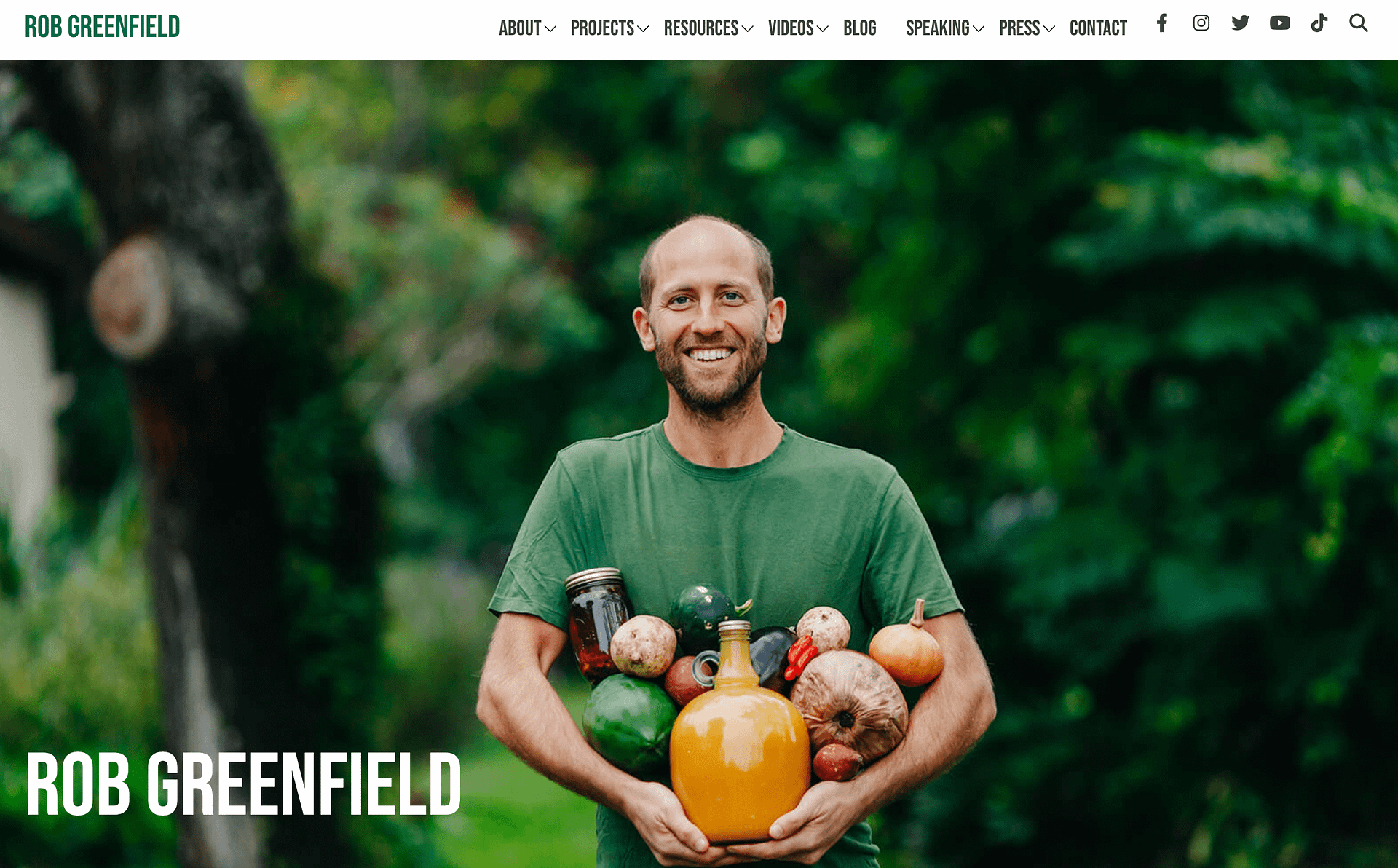 Many people know Rob Greenfield as "The Trash Man." He conducted an experiment in which he wore all the garbage he produced in one month on his body. This project was an effort to raise awareness about waste, and it worked!
Rob Greenfield is often recognized for his passion and determination. These are key traits when you're in the sustainability field, but also when you're a blogger. His website is an excellent reference point for almost any issue related to the environment. It's also the professional type of blog you can aspire to create.
---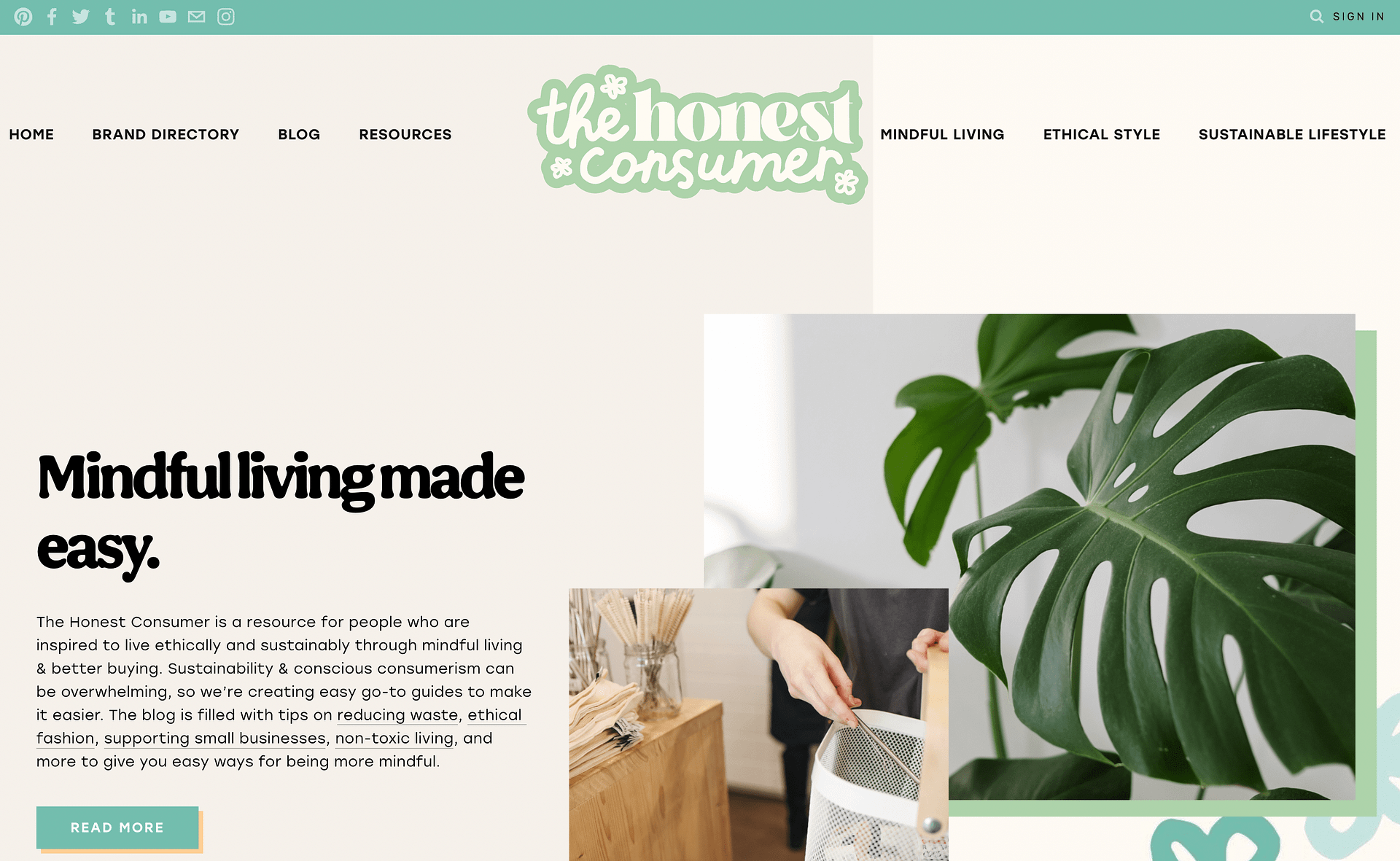 The Honest Consumer advises on how to buy products in both a sustainable and ethical way. This blog is another shining example if you're looking for inspiration for creating informative guides and valuable resources for your readers.
This blog distinguishes itself with its Brand Directory of ethical and sustainable brands. This directory is organized in a straightforward and visual manner, featuring categories such as women's apparel, eyewear, BIPOC-owned, wedding, and much more.
---
Similar to the Honest Consumer, Ethical Made Easy provides multiple resources for the socially conscious shopper. However, this sustainability blog focuses more on fashion and luxury items.
Ethical Made Easy stands out from the crowd due to the comprehensiveness of its directories. Furthermore, it offers users tons of handy resources, including email templates you can send to brands to inquire about their sustainability practices.
---
Final thoughts on sustainability blogs 🏁
Knowing your competition can be very useful if you're just starting as a sustainability blogger or you're hoping to revamp your content strategy. Staying on top of the latest blogging news in your field can help you catch the latest trends and topics. This way, you can keep up with, and ideally outperform other blogs in your niche.
👉 To review, if you're looking for more generalized sustainability blogs, Treehugger and Going Zero Waste are good options to follow. Alternatively, if you want to focus specifically on sustainable fashion, you may wish to add Attire or Ethical Made Easy to your roster. Finally, sustainable foodies will likely get a lot out of Fork in the Road.