You want to start an online business but you have no idea of which option is best?
Today, I'll share with you no investment or low cost and easy to start online business ideas with high profit margin.
You can start these online home business even if:
you're a student
you're a complete beginner
or you have no money to invest.
You can pick one or multiple of these ideas to earn passive income
Let's find profitable online business ideas you can start today without investment.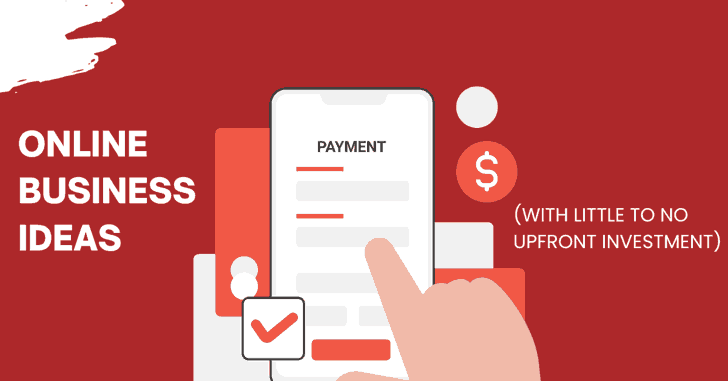 Best 10 Online Business Ideas To Start in 2022
Need one or different business ideas to start today? We've got you covered.
What if you want to register your online small business as an LLC? You can use services like Zen Business or Inc Authority to start a U.S business even if you're not a U.S Citizen. It can help you manage taxes or open accounts with payment processors not available everywhere.
Back to our main topic. Here is a list of the best online small business ideas:
1. Start A Blog
My favorite idea to start an online business is blogging.
You can start a blog and start publishing content today. Then you can monetize traffic that you get organically via search engine or via active promotion.
There are plenty of ways to make money blogging: display advertising, recommending products, or sharing sponsored posts. Also, a blog can support any of the following home business ideas in this post. This make starting a blog THE business you need to own.
You can start a branded blog for as low as $10 per year. If you're willing to start without a branded domain, you can even start for free with $0 hosting services.
So, it's one of the best low-cost business ideas with high profit that is easy to start.
2. Print on Demand
You can start a print on demand online business without investment. You just need simple text or design. You won't need upfront investment or to manage inventory.
Your P.O.D business can sell apparel or physical books. So, people will use your products every day while you spent $0 on your business.
Let me explain how a P.O.D online business works.
You join a Print On Demand (P.O.D) service provider for free. Then, you list your digital book, text, or design on your store or a marketplace. With promotion or optimized listing that get organic traffic, your potential customers will see you listing. Upon purchase, the Print on demand company will print the digital books, text, or design; collect the payment; and ship it to the customers.
You'll just need to collect your revenue.
Another advantage is that you can take advantage of the marketplace organic traffic to make passive income online selling printed designs.
You'll find easy-to-use platforms to sell printed designs on apparels such as Teespring and Viralstyle.
You can also publish your own book and sell it on P.O.D platforms such as Amazon KDP, or Blurb. Those platforms allows you to upload a digital document and market it. If someone order a physical copy, they'll print it and ship it. Again, you just have to collect your rewards.
Selling your P.O.D products on marketplaces, you reach a wider audience with passive promotion methods and generate passive income.
3. Start an Online Store
There are different ways to start an e-commerce business.
Here are a few online selling business ideas:
Sell digital downloads such as e-books, musics, and printables.
You can sell physical product without inventory with dropshipping. With dropshipping online business, you start an e-commerce store to market products owned by another company. When someone purchase the product, this company takes care of inventory and shipping. However, you're responsible of customer care as they are buying from you; so you need reliable providers.
You can start an online store with drag and drop on BigCommerce. If you just need to sell digital downloads, you can sell them using Gumroad.
4. Graphic Designer
You can start an graphic design online business today.
You use a graphic design software and sell them on stock photo sites.
You can earn passive income when you sell on design marketplaces. Such marketplaces already have an audience and are optimized to receive search traffic. As example, non-designers use Canva to create images and need graphics.
When you optimize your graphic designs with popular keywords, your designs will appear in front of hundred of ready-to-buy searchers.
You can sell photos and graphics on Canva and ShutterStock.
5. Start A Freelance Business
An online freelance business is one of the online business ideas where you work at your own pace.
You can use the best freelance marketplaces to find online jobs. I like Upwork, Freelancer, and Fiverr which are among the most reputed work from home companies.
Online micro jobs marketplaces like Fiverr or SEOClerks make it easy to start selling simple services for as low as $5.
A Freelance business is a great way to make money online fast. There's though competition to find jobs, but once you find one, the sooner you complete it the sooner you get paid.
Here are different type of freelance business you can start working at home:
Virtual Assistant
Freelance Writing
Freelance Design
Freelance Translation
Freelance Developer
Use your skills to make money online with works you can complete from the comfort of your home.
6. Teaching Online
Among the best online business ideas, one is to start a small business teaching online. It's something anyone can do.
An online course can be simple or complex. You're teaching someone to go to point A to point B. You don't have to be an expert. Share something you know that someone else don't and need guidance for.
Some online courses are made with text only. But the most successful online courses includes videos.
However, you have plenty of choices, introvert or not. You can record your screen, voice over a Powerpoint presentation, filming yourself talking, etc…
You need the best platform for marketing and to host your videos.
I highly recommend Teachable. It has a free plan for one course. It is affordable. You get great marketing tools and your students get a pleasant experience learning.
You can take your teaching skill further with tutoring. Help someone with one-on-one conversation which are often more expensive.
7. Become an Affiliate Marketer
One of the best small business ideas online is affiliate marketing. You get paid for recommending products. and you can start without investment or prior experience.
Affiliate marketing is one of high profit business ideas you can start. With some companies charging monthly fees, you earn up to 300% first payment. Some affiliate programs pay high commission up to $7500 per sale. Also some partner programs pay monthly recurring commissions that go beyond $100 per referred customer.
The potential to make a big income with affiliate marketing is huge. You can start a profitable affiliate business when you build an email list of potential customers. This way, you can recommend them different products that solve their different related problems.
You can start affiliate marketing without a website. But with a blog, you can reach more potential customers.
8. Start an Social Media Influencer Business
Start a social account on Instagram, TikTok, Facebook, or YouTube, and build a following by providing value. Once you start getting a decent following, companies will pay you to advertise their products.
Some companies will pay you just to mention their products. Some of them will give you higher share of affiliate sales.
If you don't want to show your face, you don't have to. A lot of niche site influencers don't share their face to protect their business. But if you can provide credible results such as screenshots of performance and a large following, you'll do just fine.
It's an easy to start online business idea that can be completely free both to start and to maintain.
But as you don't own the social platform and don't control the algorithm, a good rule of thumb is to grow an email list while building your social following.
9. Sell Software As A Service
Another idea for an online business without investment is developing software to sell as a service.
This is a great way to make monthly recurring income as your customers have to pay you monthly or yearly.
Maybe you're already using such software if you're paying for Canva Pro, SEMrush, or Grammarly. You pay a monthly subscription to get the services provided by the software.
The same way, if you're a developer, you can create an app and start charging monthly or yearly fees for its features.
10. Consultant Business
Use your experience and knowledge to help other companies grow their businesses.
You can analyze other business to help them find issues that refrain their growth. The same way, you can help them discover growth opportunities.
Here are some example of consultant online business you can start:
SEO
Social Media
Advertising
Finance
Business Management
How to Pick The Best Online Business Idea
We've talked about 10 business ideas for beginners, students, or entrepreneurs of all skills to start online.
This list could be a list of 50 or 100 items. As you can see, each idea open door to a lot of opportunities.
You can focus on one business idea than expand it.
Know your strength. Review other businesses in the selected field. Take action today.
Share on: