Curiosity about which famous celebrity has the same birthday as you doesn't have to go unsolved thanks to Famous Birthdays.
The site has background info on all celebrities, from social media influencers to Hollywood stars.
It was founded by Evan Britton in 2012. He had a problem with how Wikipedia felt on mobile and wanted to do something about it. This eventually led him to build a mobile-focused 'Wikipedia for Generation Z'. So far, the site has over 150,000 pages dedicated to the most celebrated people in the world.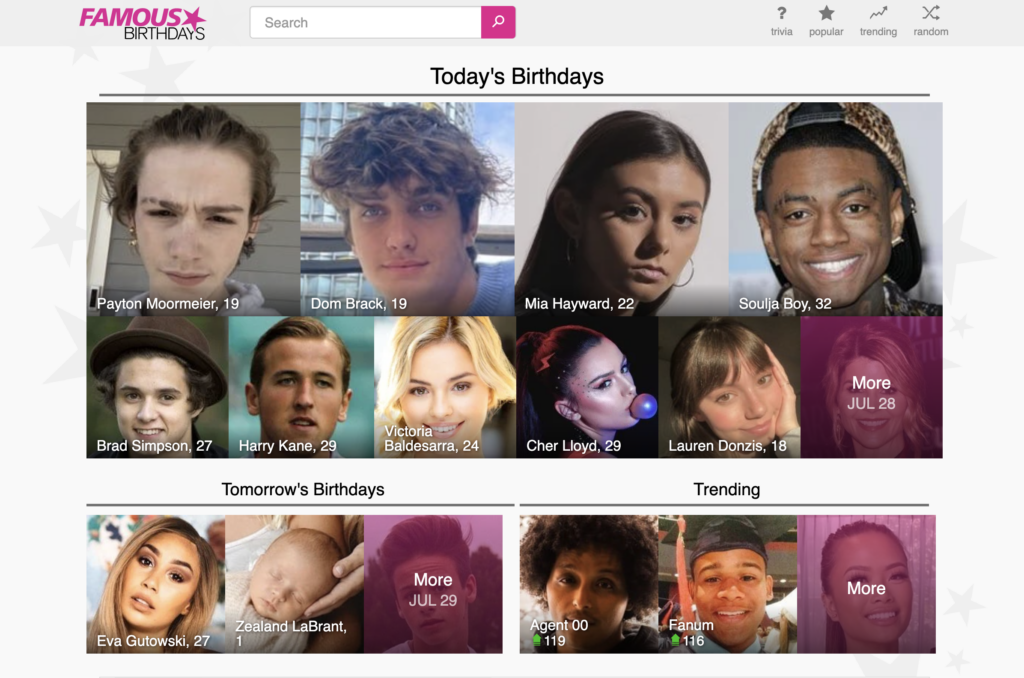 So let's take a deeper look into Famous Birthdays to see precisely how they've been so successful.
---
How Much Traffic Does Famous Birthdays Get?
Famous Birthdays started getting a significant amount of traffic in 2017 and have had some up and downs since then, reaching anywhere from less than 10 million visitors a month up to 18 million visitors a month.
Currently, they get about 14.4 million visitors a month to the site.
Who Are Famous Birthdays' Main Competitors?
The big splash Famous Birthdays made since releasing the site has caused others to notice.
They've gathered up some competitors along the way, although they don't have the same following as you see from Famous Birthdays.
Biographymask.com and starsgab.com are the top two competitors that Famous Birthdays competes with every month.
Where Does All the Traffic Come From?
The majority of traffic that Famous Birthdays receives is from organic search. About 58% of traffic comes from people asking questions about celebrity birthdays and Famous Birthdays shows up at the top of the list.
What's surprising about their traffic sources is that just over 40% actually comes from direct traffic. That means people go directly to famousbirthdays.com instead of a search engine.
The popularity the site has had on the Gen Z audience has cemented itself as a go-to source for information about celebrities worldwide.
The site also gets very minimal views from referrals, social media, and some emails.
What Types of Keywords Does Famous Birthdays Target?
Because Famous Birthdays gets most of its traffic from organic search, we'll need to look at the different types of keywords they target to understand how they get their success.
Unsurprisingly, informational keywords are the most significant traffic source for Famous Birthdays.
Their articles on celebrity information help generate just under 10 million of the total 14 million visitors the site receives every month.
Famous Birthdays has over 1.1 million keywords attributed to the informational category.
The other most significant type of keyword is transactional, as it brings in over 2 million visitors a month. However, I must note that it's highly debatable whether the keywords that Semrush identifies as being 'transactional' is wholly accurate.
What Kind of Social Following Does Famous Birthdays Have?
Although Famous Birthdays doesn't get much of its traffic from social media, the site still has a good following on the channels it uses.
The Instagram page for Famous Birthdays currently has 1.7 million followers and over 3,800 posts. It mainly makes a post about a specific celebrity to celebrate their birthday. It also celebrates music groups being formed or when big shows are premiered.
The site also promotes its Twitter feed, with just over 509k followers and posting since 2009.
What Are Their Top Pages?
It should be no surprise that Famous Birthdays ranks number one for the keyword, famous birthdays. Clicking on the site from the search page will direct you straight to their home page.
All the other keywords are related to famous people like Duke Dennis and Katie Sigmond.
Who Is Linking to Famous Birthdays?
The best links that Famous Birthdays gets is related to, you guessed it, celebrity birthdays.
The New York Times linked back to the site when talking about famous baby boomer birthdays and cults on TikTok.
They also have links from Wikipedia, .gov for their data broker registration, Business Insider, and Yahoo News.
How Does Famous Birthdays Make Money?
Famous Birthdays has several sources of income, including display ads on its website, ads on its YouTube Channel, and ads from Twitter. They also have a free app with a 4.8 rating from 6,500 reviewers that likely brings in additional ad revenue.
Networthspot.com estimates that Famous Birthdays makes over $470k from YouTube alone. Including the money it makes from other sources, this number could easily be over a million dollars per year.
What Does A Typical Page on Famous Birthdays Look Like?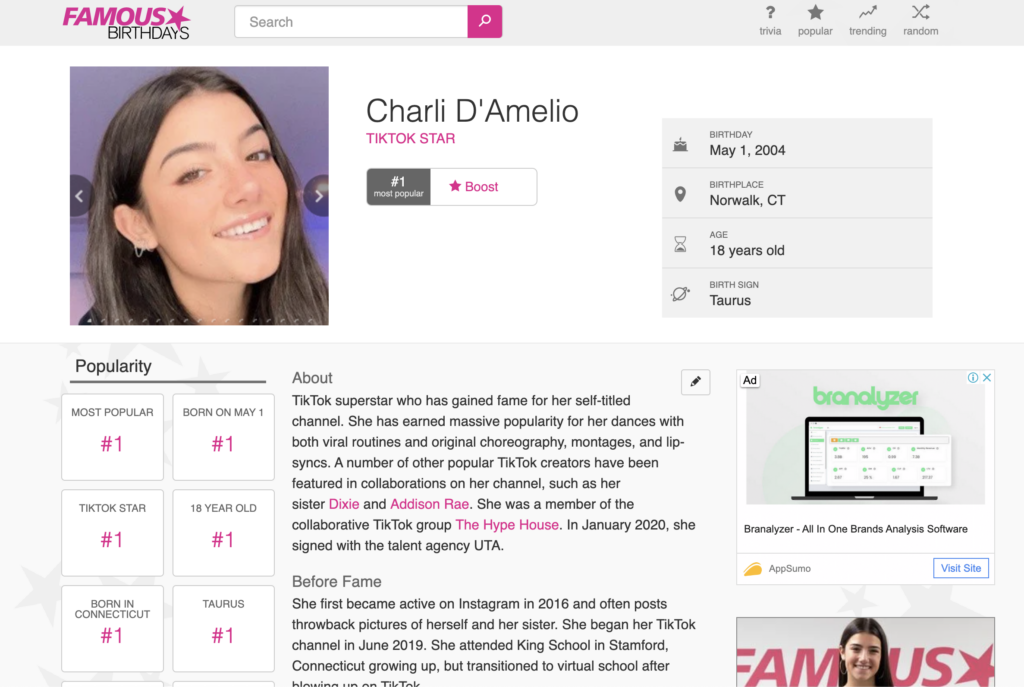 Famous Birthdays make it easy for anyone to learn about their favorite celebrity. They lay out all the basic information about the celebrity at the top of the page, like their birthday, age, birthplace, and birth sign.
Below that, you'll get more in-depth information about the celebrity, like how they became famous, their family life, and some trivia information.
These sorts of things will help keep people longer on the page, which sends a strong ranking signal to Google (see bucket brigades for more on this) and allows the site to include lots of related terms and phrases Google may expect to see.
The site also has a ranking system for all celebs that is powered by visitor engagement.
---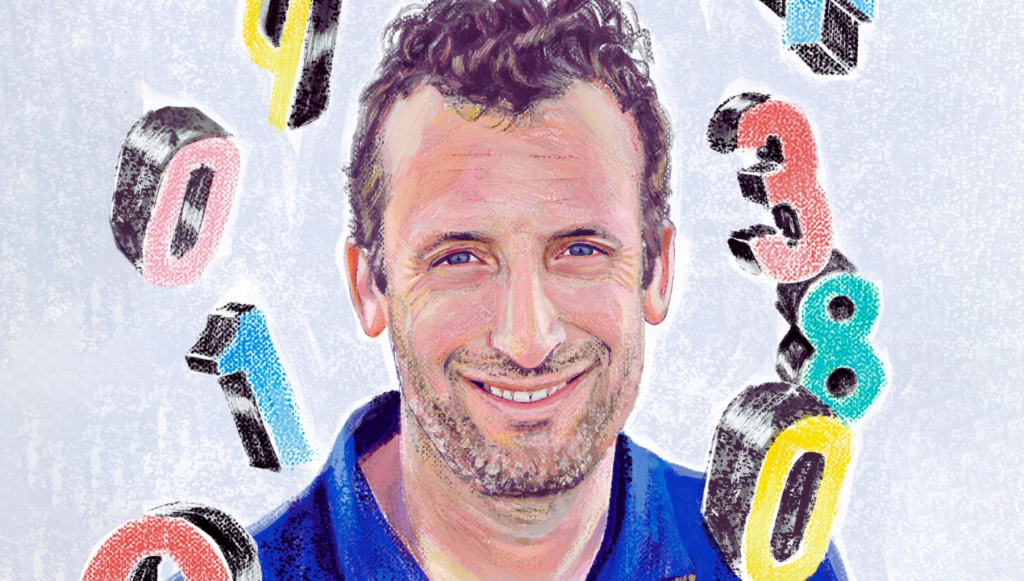 Overall founder Evan and his team have niched down on what their site's name suggests.
They found their niche and have remained dedicated to it.
Their pages are likely templated and thus very easy to quickly fill in the blanks.
And so their money-making opportunities are relatively straightforward and repeatable.
There are very likely still untapped niches which can use a similar model. For instance, finding out the height of celebrities is quite interesting for some but many of the sites targeting this are less than great.
So maybe keep your eyes out for opportunities where a little extra effort could go a long way.