Do you want to start or expand your career as an affiliate marketer and are unsure whether to promote the Semrush affiliate program? Then you are in the right place. This Semrush affiliate program review will break it down for you.
If you've been blogging or promoting affiliate items in any other way for a time, you're probably aware that affiliate marketing is hot. But, you need to locate the best products to promote and include the referral link to get the most value for your efforts.
By the conclusion of this review, you'll have learned all about the Semrush affiliate program, including how it works, how much you can earn as a Semrush affiliate, the benefits, and more.
Join the Semrush Affiiate Program right here.
Join the Semrush Affiliate Program For Free Here
---
Summary
Semrush is a well-respected and comprehensive SEO tool covering everything from research to strategy to optimization and more. The affiliate program offers a generous $200 commission on every new Semrush subscription, regardless of plan, plus a $10 commission on every new trial activation.
Pros
$200 commission per subscription
120-day cookie life
Last click attribution model
Fast payment of commissions
Cons
Semrush is a high-ticket item so it may be a challenge for beginners to succeed
Semrush in a Nutshell
With over 50 tools, Semrush is a comprehensive SEO platform. From research to strategy to optimization and beyond, it can have a great impact on your content marketing.
Here are just a few reasons why Semrush is easy to promote:
Keyword position tracking
Keyword research – including the Keyword Magic tool, which helps you to find low competition keywords
Site audits – to highlight a site's technical and SEO-related issues
Domain to domain comparisons
Comprehensive backlink analysis – find backlink sources and remove potentially toxic backlinks from your site
Competitor analysis tools
CPC maps – find the average CPC for your niche across different regions
Social Media Marketing Tracker
Brand monitoring tool, and many more.
If you want more in-depth information, read our Semrush review and tutorial.
Semrush has over 20 billion keywords and 808 million domains indexed in its database.
Major corporations such as Apple, Amazon, Samsung, Forbes, IBM, and others use Semrush. And most SEO analysts and agencies use it too.
Semrush recently submitted a registration statement for the anticipated initial public offering with the the U.S. Stock Exchange. As a result, you can market a robust and trustworthy tool without jeopardizing your readers' confidence in you.
Semrush Plans and Pricing Structure
Semrush has a lot of capabilities, and each pricing plan offers options from basic tools to everything you could possibly need. Check on the Semrush homepage, and you'll see the four Semrush program pricing plans available.
Pro: $119.95 per month
Guru: $229.95 per month
Business: $449.95 per month
Custom: negotiable
Annual payment for each plan provides a 16.7% discount. And the Semrush free trial lets you check out the bulk of the features before registering.
Semrush Pro
It includes the following features:
Domain analytics
Keyword research tools
Site auditing tools
Social media toolkit
The on-page Semrush SEO tool evaluates your content and provides suggestions for how to enhance it with the SEO checker.
Semrush Guru
The main difference between Semrush Guru and the Pro plan is the Content Marketing Platform. This set of tools helps you design a content marketing strategy to:
Look for things to write about that will rank well in search results.
Refine your keywords by using the keyword research tool.
The task management system manages campaigns for content generation.
Examine the SEO potential of the content you're creating and track its influence over time.
Check to see whether other writers are plagiarizing your marketing material and content.
Semrush Business
The Semrush Business plan features the following extra capabilities:
Semrush PLA (Product Listing Ads) research. This assesses the effectiveness of a company's Google shopping ad campaigns with Google Analytics.
Semrush's API access integrates Semrush. It does so within your own social media marketing apps, widgets, and dashboards. And it also visualizes Semrush data using your unique interface.
The Share of Voice measure – indicates how much traffic you've gotten compared to the total volume of your tracked keywords.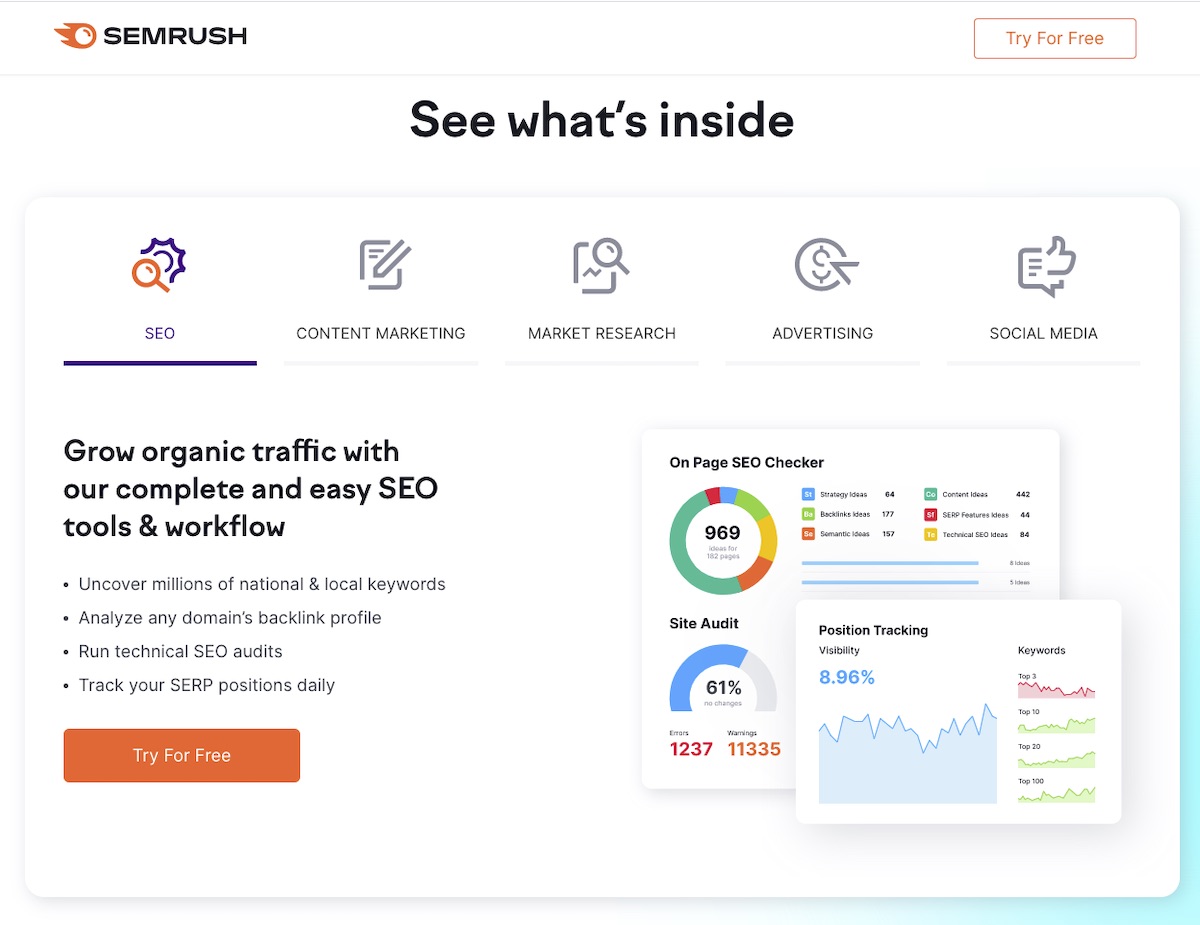 User management: unlike many rival SEO services, Semrush plans only provide one user per account. You must pay a significant sum extra if you wish to add more "seats."
The Semrush Affiliate Program and Commission Structure
If you are a webmaster, blogger, SEO analyst, or marketing expert, the Semrush SEO Affiliate Program is an easy way to supplement your income.
Semrush currently has two affiliate programs: on the Impact platform and BeRush – Semrush's in-house affiliate program.
The Semrush affiliate program on Impact is based on the last-click attribution model and offers a flat $200 affiliate commission for every new Semrush subscription (Pro, Guru, or Business) sale and $10 for every new trial activation.
Starting October 1st, 2020 new affiliates are no longer able to register an affiliate account on BeRush, but the program is still active for existing affiliates. (More about the BeRush affiliate program towards the end of this review.)
Before you begin promoting their affiliate program, consider testing the Semrush SEO tool. Sign up for the free trial version.
You should be in a position to educate your target market about the product. Acknowledge your readers' concerns and propose products that solve their problems. That's why we recommend that you try the tool.
The best features of the Semrush affiliate program with Impact are:
There is a flat $200 affiliate commission for every new Semrush subscription sale regardless of which plan is selected
$10 for every new trial activation
120-day cookie life
Last click attribution model
Very good customer service
Semrush is an ideal product to promote, especially if you are familiar with SEO concepts and the Semrush SEO tool. It's a great program, very popular, and you know you are selling a quality tool when you recommend it to your readers.
Who Should Join the Semrush Affiliate Program?
The Semrush Affiliate program is open to bloggers and any affiliate sales marketer 18+ years old. Joining this program is completely free, and the Semrush affiliate terms are reasonable.
To apply, you must:
1. Have a website/social media page with at least 1K traffic/followers.
2. Write about/promote digital marketing, SEO, content marketing, competitor research, PPC, or social media marketing.
3. Regularly update your blog (one to three times per week).
4. Not promote with the email strategy only.
The all-in-one SEO platform focuses primarily on the online marketing community: SEOs, SEMs, bloggers, online business owners, and businesses looking to boost their online exposure.
Suppose you don't even have a blog. In that case and assuming you meet the criteria above, you can still market your Semrush affiliate link. Do so through your email, YouTube videos, Facebook, Pinterest, Instagram, or Twitter.
Just be aware that since Semrush is such a good program, many major bloggers and affiliate marketers are already promoting it. As a result, ranking for keywords connected to Semrush can be difficult.
Before you apply, ensure your blog does not contain any adult content or advertise gambling, coupons, bargains, or discounts. Such content marketing is strictly not allowed.
How To Promote Semrush
It is very important to understand Semrush's functionality and at least the SEO basics to promote the Semrush SEO tool successfully. That way, you gain credibility with your audience.
Write Reviews, Reports on Case Studies, and "Pain Point" Blogs
People enjoy reading balanced and unbiased product reviews before making a buying decision. Product reviews assist in product awareness. You can even use the Semrush keyword research tool to ensure that your article will rank and that you'll get plenty of readers.
A well-written review of the Semrush affiliate program should include:
The product's features
Benefits
Pricing
Pros and Cons
The information you supply will help users make intelligent purchasing decisions. Then they'll click your Semrush affiliate link with confidence.
Please note: Without first using it, it's not easy to write an in-depth study of a product like Semrush. Ensure that you are familiar with the tool, then create a case study or describe your experience with it.
Connect your Google Analytics and Google Search Console accounts to Semrush, and analyze all of your website's data from the Semrush user interface.
You could also write specific blogs to address common SEO "pain points" and show how to address them using Semrush, like:
Finding low competition keywords
How to do proper keyword research
What you can learn from competitor analysis
How to rank first using Semrush
Building a solid backlink profile
What to do to get the most out of site audits
Email Marketing
An email list is among the most effective ways to send visitors to your website. Your email list will always be there for you, driving additional sales and conversions.
If you haven't already done so, you may try your email list with some of the most prominent email marketing service providers, such as ConvertKit. Tons of professional bloggers all around the world use it.
Here are some of ConvertKit's most important features.
Send your customers offers by email newsletter
Automate the sending of an email series
Create an opt-in email form to show on your blog or social media marketing site
Design an email course focused on SEO, and
Promote the Semrush SEO tool as the primary choice inside the course.
You can learn more about it in our ConvertKit review, and click the button below to get a free 14-day trial.
Get a 14-Day Free Trial of ConvertKit
Promotion on Social Media
You're probably aware that getting traffic from search engines is difficult if you're a blogger. It often takes too much time before you see any significant benefits from your efforts.
It's also a time-consuming process to put SEO and other traffic-generating methods in place. And you're not guaranteed that it will pay off after all your hard work.
You can use social media marketing for Semrush promotion. SEO social media marketing increases engagement and drives new visitors to your site.
Focus on SEO if you want users to see your marketing material and for it to rank well in search engine results. It must, however, be research-based and audience-focused.
To begin, you could use the following marketing tactics to promote Semrush.
Set up a Facebook fan page for your site and engage your audience.
Regularly publish Semrush-related content (always include the Semrush affiliate link).
Join SEO-related Facebook groups. Helping other members of the group adds value to the group.
You can advertise the Semrush SEO tool on these Facebook groups. But be careful on the Facebook groups; you can risk getting kicked off if you go overboard.
Join Pinterest and make SEO-related boards.
You could follow other boards with SEO-related content marketing boards with SEO-related content.
Promote your blog content on these Semrush boards but again, be very careful not to overdo it.
How Does the Semrush Affiliate Program Work?
Semrush's main referral program was BeRush. In October 2020, however, Semrush updated from its BeRush affiliate program and switched to Impact Radius (now known as Impact).
On the Impact site, Semrush announced the launch of a completely new affiliate model. We'll explore Impact below. If you wish to promote Semrush, you must first register with Impact.
What is Impact?
Impact powers the partner programs of over 1,200 brands. Brands use Impact.com to find, onboard, track, engage and pay partners. It was founded in 2008 by an internet marketing team that previously created Commission Junction, Savings.com, and LeadPoint.
The digital marketing tool has helped countless businesses and developers boost their return on worldwide advertising spending.
Their comprehensive range of tools focuses on effective media attribution, performance marketing, tag management, and mobile analytics.
Users can have all their essential 'gear' and promo materials for operating great ad campaigns in one location with their suite.
You can also get feedback through detailed insights and reports. This gives global businesses and agencies complete control over their performance marketing initiatives, ensuring maximum growth.
What Are The Requirements for Joining Impact?
To become an Impact member, you must first complete the signup process. Impact evaluates your application once you submit it and notifies you whether or not it has approval.
Your URL/media properties must be completed for submission to Impact. If you want to advertise deals on social media, include the URL for your Facebook page, Twitter account, or Instagram account in your application.
How Do You Join Impact?
If you google "semrush affiliate program", go to "Do you have an affiliate program? – SEMRUSH", and click on "Impact Radius." You will be taken directly to Impact.
You can also click on "Semrush Affiliate Program." On the next screen, you can then click on "Join Now" to get to the application form.
Or you could go straight to impact.com.
Fill out an online form with your contact information, company information, the preferred method for your payments, and W9. Unlike most of the other networks, Impact requires phone verification before approval. It's more than just filling out a form.
Soon after you submit your application, you should receive a call from an Impact representative. They're calling to double-check your information and learn more about you and your plans to collaborate with their network.
You'll be able to see what is required of you as you complete the application process – which is pretty extensive.
You can choose which businesses you wish to engage as an impact.com partner, join their partnership programs, contact them directly about payment and promotional terms, and start earning cash. With partner reports, you can even track your progress.
When you and a brand like Semrush fit together well, they'll send you whatever you need to get started advertising.
Top Impact Features
Impact offers all of the essential features of a traditional affiliate network platform. These include tracking software, media management, and accounting.
You can track and evaluate your customers' interactions across many devices with cross-device solutions. Impact provides a holistic view of each customer's purchase cycle, including desktop, mobile app, and mobile web.
Computer learning algorithms, expert data scientists, and fraud detection equipment work together to keep you safe from fraud. They guard you against cookie stuffing, fake program installations, tampering with the attribution process, and much more.
Multi-layered tracking aids cookie blocking. This thorough tracking event eliminates or deletes cookies, precisely tracks consumer behavior using a digital blueprint, and helps visitors convert.
The Impact Dashboard
The Impact reporting dashboard allows you to zero in on the metrics that are important to you immediately.
You'll see a snapshot view of your KPIs when you log in to Impact. You can compare two intervals to know how you're doing compared to the previous month, the year before, etc.
A Performance by Media report appears above the fold for most users, containing numbers such as clicks, activities, costs, revenue, and conversion rate.
Deep Linking
Impact released a Chrome extension for Deep links. Deep links are more likely to convert because they direct users to more specialized pages.
When exploring an Impact Radius advertiser's website, media partners can instantly generate tracking links to specific pages.
When you come across a page you'd like to promote, click the Deep Link plugin – at the top right of your browser, and it will generate a tracking URL for you.
Because the plugin links to your Impact account, you can copy and paste the URL into your promotions, and tracking is set up for you instantly.
The Payment Process
Advertisers will credit your account immediately when you fulfill your contract requirements.
Impact offers three types of payment systems: electronic funds transfer (ACH), checks, and bank transfers. You can choose a payment threshold that suits you, choosing the minimum amount you'd like to see in your account balance before payment.
You can check your account balance and performance history at any moment.
Impact Pros and Cons
Based on user feedback, here are some pros and cons.
Pros
Easy to use interface and navigation
Affiliate link building is simple
Different tools are available
No technical difficulties
Workflow automation
Detailed tracking
Free of con artists
Global accessibility
Cons
Brand approval can be difficult
Personalized promo codes are not allowed by some partnerships
Customers occasionally experience problems with money withdrawals
What About BeRush?
Semrush updated its affiliate program and transitioned to Impact in October 2020.
Can You Still Use BeRush?
Beginning October 1, 2020, the Semrush affiliate program (BeRush) became an invitation-only program.
You can join BeRush provided you have a particular invitation code from one of Semrush's affiliate account managers and follow the BeRush rules.
The Semrush affiliate program on berush.com keeps working as usual only if you are an existing BeRush affiliate.
The Semrush Affiliate Program Partner Levels with BeRush
Semrush Partner Levels are designed to encourage their partners to grow while also rewarding them for their achievements. The higher your BeRush affiliate level, the greater the benefits.
Semrush's partner levels are Bronze, Silver, Gold, and Platinum. Affiliate commission rates vary per level and can go from 30% to as high as 40%.
Should You Become A Semrush Affiliate?
Semrush is one of the popular affiliate programs, with high affiliate commission and a wide range of marketing promotional material. With the Semrush affiliate program, you'll make money if you put in the time and develop a solid strategy.
So, yes, Semrush is a worthwhile affiliate marketing program to join.
Semrush Alternatives With and Without Affiliate Programs
For freelancers and companies searching for an economical all-in-one SEO solution, Semrush's high price tag could be a barrier. Below are a few alternatives worth looking at.
Alternatives Without Affiliate Programs
Ahrefs is Semrush's closest competitor, with similar capabilities and a few extra perks.
MozPro
WebCEO
Alternatives With Affiliate Programs
Serpstat – earn up to 30% recurring commission
SpyFu – 40% monthly recurring commission
Mangools – 30% recurring commission
To find out how the two tools compare read our article on Serpstat vs Semrush.
Click on this link to find more Semrush competitors and alternatives if you want to explore your options further. 
Conclusion: Semrush Affiliate Program Review
We can conclude from our Semrush Affiliate Program Review that it is one of the top affiliate programs for content creators and bloggers. I can easily give it top marks because it excels in every element of an affiliate program.
The program receives great marks for its affiliate commission. It doesn't get much better than a flat $200 commission for every new Semrush subscription sale regardless of the plan selected, and $10 for every new trial activation.
120-day cookie life and a last-click attribution model.
Semrush gives super responsive help to users and affiliates based on many reviews.
The affiliate dashboard is tidy, clean, and simple to navigate.
Affiliates can use various instructional resources to learn more about the product. Impact has a ton of great resources for you to learn everything there is to know about the platform and affiliate marketing.
Affiliates also get access to various pre-made, conversion-optimized Semrush promo materials to help their marketing.
Semrush is definitely worth considering if you're interested in affiliate marketing. It's an extremely powerful tool and one of the very best you can find. This is great because you can feel comfortable promoting top quality to the folks who trust your opinion.