If you were a personal trainer and all your friends and family asked you for weight loss advice, you might consider starting a fitness business. Same goes if you were a chef, and people asked you for cooking advice.
In Ling Thich's case, people asked her for money advice. Thanks to her financial background, she was able to help them. And it gave her an idea. The idea of starting a personal finance blog. 
FinSavvy Panda was born in late 2017. Fast forward to 2021, and Ling is making up to $25,000 per month from a combination of affiliate partnerships, ad revenue, and sales from her own products. 
Ling has been using a unique strategy to build her blog that not many others may employ. She connects individually with her readers and tries to help them solve their problems. Her efforts to build relationships help strengthen trust, which in turn boosts traffic, sales, and referrals.
Keep reading to find out how you too can turn your expertise into a very profitable business and learn more about Ling's Pinterest strategies for driving traffic, her thoughts on diversification, and her wise advice for other entrepreneurs.
Meet Ling
My name is Ling Thich and I created my first website, Finsavvy Panda, a personal finance and money blog, near the end of 2017 when I was looking for ways to increase my income so I could save more and live better. 
On the blog, I talk about ways to budget, save money, and earn extra money. I also documented my blogging journey in my previous blog income reports to show beginners that earning extra money online by using Pinterest is possible. 
Due to many of my non-tech-savvy readers who requested me to help them set up and launch their blogs, I created a very beginner-friendly and comprehensive e-book called The Treasure Map To Blogging Success in 30 Days. This e-book aims to help brand new bloggers set up and launch their blogs from scratch with no tech or coding skills required. 
Along with that, I started a separate domain called Blog Savvy Panda to answer their Pinterest and general blogging questions. 
I enjoy blogging and learning whatever I can about building profitable websites, but I'm also an advocate of living a balanced and healthy lifestyle!
Outside of blogging, I love listening to music, exercising to reduce stress and stay healthy, traveling, going to coffee and boba shops, and trying new foods with friends. 
Why Ling Thich Created FinSavvy Panda
Once I graduated with a business and finance degree, I worked as analyst for a mutual fund firm followed by a couple of analyst roles at a major bank in the wholesale banking area.
After working for many years, I eventually realized that I was never going to be able to become financially free or earn enough to pay off my student loans, invest, enjoy life, and save enough for my family and future. Simultaneously, I felt very empty and unfulfilled at my 9 to 5 job.
That's when I became passionate about looking for ways to earn extra money through side hustles and business ideas, so I could increase my income and help my family live more comfortably.
I was desperately searching for ways to make money online, and that's when I discovered the idea of blogging! 
I randomly started my first blog on a whim and called it Finsavvy Panda, which means "financially savvy panda," to blog about anything related to money. My family and friends were always asking me questions about saving and investing.
They also knew I was interested in finding ways to earn extra money, so I thought it was something I could start blogging about.
Her Blog Income
I currently run two blogs, one is in the money niche and the other one is a lifestyle blog. My income varies and it depends on the season, traffic, and the amount of time I spend on them. 
In the beginning, when blogging was still totally new to me (after quitting my job), I treated it like a full-time job where I would spend 30 to 40 hours a week, sometimes more depending on how I felt.
In my third year of blogging, I scaled back on Finsavvy Panda by spending 1 to 2 hours each day to focus on my health and well-being, so I could spend more time on self-care, exercising, preparing healthy meals, and visiting my family and friends.
That's also when I was able to have fun with my second blog by spending 1 to 2 hours a day on it. So, in total I'd spend 2 to 4 hours a day.
But of course, when new ideas or projects come in, I get all excited and could spend up to 8 hours a day for the whole month. It really depends on my mood, which is unpredictable.
Overall, none of this feels like work to me so I don't time myself. It's like how you don't time yourself when you're watching TV or going on vacation.  
I'm earning between $13,000 to $25,000 per month in net profit. I earned a net income of $216,000 in 2021. 
The breakdown is always changing and I can never predict it, but on average the mix is roughly 60% affiliate marketing, 20% ads, and 20% products. When affiliate drops, ads may pick up and make up for the decline in affiliate income. This can fluctuate and it's hard to say. 
For Finsavvy Panda, it took 8 months to get into Mediavine, whereas the lifestyle blog took 4 to 5 months.
Here are a few screenshots I've shared previously on my blog: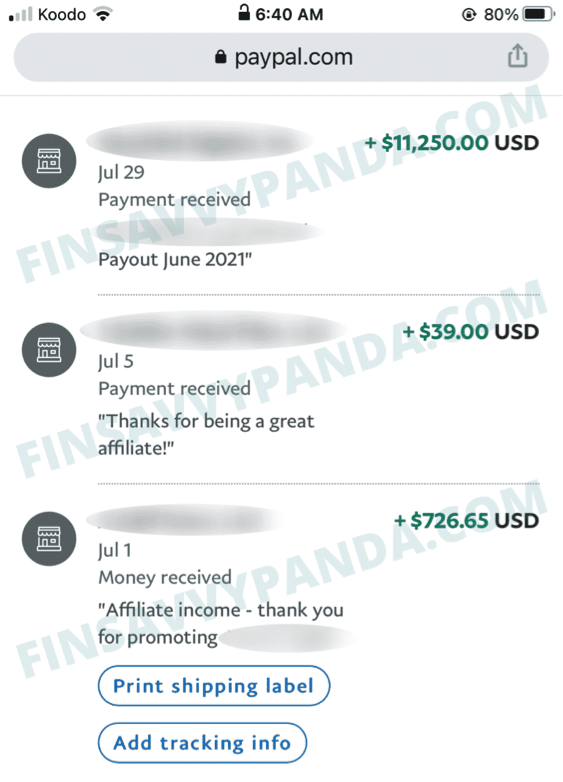 Ling Thich's Pinterest Strategy
I've mainly used my Pinterest strategy to earn money online. By using Pinterest, I'm able to generate the traffic I need to earn through display ads, affiliate marketing, and digital products.
I don't spend time on Pinterest anymore since I outsourced it to my VA, who consistently schedules pins for me, spending approximately 15 minutes a day to schedule 3-5 pins.
As for followers, I don't really pay attention to that number since it's just a vanity metric. What I notice is as long as you consistently pin and promote new content on the platform, your number of followers will naturally grow over time.
As I used Pinterest over the years, I felt the struggle to keep making new pins. While I find creating pins super fun and creative, it interfered with my time and kept me away from focusing on other areas of my blog. That's when I created a time-saving solution for myself.
Today, I use these Pin Savvy Canva Templates + E-book Bundle, another product I created for Pinterest business users in various blogging niches, including my VA, to help them make 150 pins in 30 minutes.
Her Top Marketing Strategy
I don't really have a solid or planned marketing strategy, but one of my main strategies so far has been to use Pinterest to drive traffic to both of my blogs.
In addition to using Pinterest to drive traffic to generate display advertising and affiliate income, I also attend to my readers by helping them with their current struggles. 
A lot of my time is spent on getting to know them better, understanding their current situation, and offering them a solution by directing them to a blog post, recommending products, and/or offering my own products. 
A Unique Approach to Building Trust
I don't know if what I do is "unique." In fact, most business owners and bloggers will probably think what I do is crazy and a waste of time, and I know most won't do it.
One thing I often see is that businesses tend to neglect their readers. I know this because I used to get ignored by most bloggers and business owners when I first started my blog. 
On top of that, I often get emails from people who tell me that I'm the only blogger who actually cares and responds with insightful advice, which blows their minds. I admit it's not the easiest task to do. But again, nothing is easy, and you just have to choose where you want to spend your time and effort on.
I respond to my readers by email, and I help them like how I would help my friends. When they share with me their experience and ask specific questions about how to do or achieve something, I take the time to understand their situation and try to figure out a way to solve their problems. 
You really need to have patience with people, and the more I did this, the more I realized that people started trusting me more. When they trust me, they naturally come back to support me and buy things from me.
By doing this, it allows me to understand the pain points my audience goes through and gives me the opportunity to write specific blog posts and create products that address their needs. 
The amount of email I get varies. It can be quiet or it can be really busy. It's hard to say, but about 5 to 10 a day. I personally answer them. That's how I gain trust and build a relationship with my readers.
It's not a sexy or glamorous strategy, but hey, it works!
The Importance of SEO
SEO hasn't been very important for my business, but it does help with diversifying my traffic. It doesn't hurt to see that I get some Google traffic and I can't complain about that!
I have to admit that I'm not a "Google" or "SEO" blogger, but after blogging for several years, I've realized how important it is to diversify your traffic. 
When any algorithm changes, you have at least another source to back you up. That pushed me to start a second blog in the last quarter of 2019 so I can diversify my income and reduce the risk of having to rely on only one blog. 
On my second blog, I'm using similar strategies, but it's also more like a place for me to write whatever I want so I don't feel restricted to just one topic. This is where I can freely test new ideas.
In addition to that, I've been working with my husband on building his niche sites. For niche sites where the traffic comes from Google, it's critical to focus on SEO.
Ling Thich's SEO Strategy
As I said, I don't really have a Google SEO strategy for my blogs, but at the bare minimum, I try to publish blog posts that have some sort of search volume based on the Google SEO keyword research I do.
I go for specific or long-tail keywords with a reasonable monthly search volume, at least 500 searches a month, where I stand a chance of ranking. Whenever I have time, I try to implement on-page SEO strategies, but I know I'm guilty of neglecting this part.
I also do tests by trying to find opportunities where I could potentially combine Pinterest and Google SEO together. When I'm writing a blog post for my Pinterest audience, I don't completely ignore Google keyword research. I'm currently doing a lot of testing along with "trial and error" using this strategy.
You do have to keep in mind, however, that not everything that gets traffic from Pinterest will work the same on Google, and vice versa. 
In other words, Pinterest-friendly articles may not work well in the Google space due to lack of searches on Google, and certain topics on Google may not fly on Pinterest due to the type of audience. 
For example, don't expect epic guides or in-depth posts about real estate investing, stock picking, or debt consolidation to do well on Pinterest. That's just not the place for that sort of stuff. 
Based on my personal experience, Pinterest is best for recipes, crafts, beauty, fashion, home, fitness, motherhood, frugal living, family activities, printables, etc. The more "fun" stuff.
My posts about ETF investing, Warren Buffett, and compound interest got some traffic but they didn't pick up steam like my articles about living paycheck to paycheck and how to save money.
That's when I changed my focus to topics like saving money and budgeting for everyday people who struggle with their finances. I even created a budget binder to help people get their finances in order.
Here's a look at my Pinterest stats. The top is FinSavvy Panda and the bottom is Blog Savvy Panda:
Link Building
Link building is very important, but I've neglected that for the entire 4 years that I've been blogging thus far. 
I've always been a very shy and reserved person, and I don't network or push myself, but I'm working on developing this skill.
I know I shouldn't be playing the "I am shy" or "I don't know how to network" card, and that's why I've been trying to figure out how to build genuine, meaningful, and long-lasting relationships with peers within the industry, along with learning how to get mentions. 
In hindsight, I regret not pushing myself to network or build backlinks earlier. I have to admit that time is limited, so it can be challenging to focus on every aspect of blogging without feeling overwhelmed.
One thing I tried a couple of years ago was pitching for HARO (Help A Reporter Out). Literally, after 2 weeks of trying it, I immediately stopped because it was not fun and it felt like a major grind. I only had one successful mention after submitting 15 pitches. I questioned whether I was doing something wrong, like not having enough patience or being persistent. 
HARO may work well for others, but I couldn't stand doing it for another day. If building a successful blog relied on this strategy, I would've quit a long time ago. I felt like a robot answering questions all day long that may not stand a chance of getting mentioned. 
Working on a blog is supposed to feel fun! I'd much rather focus on building quality relationships with people, writing guest posts on other websites, and doing interviews like this one than pitch for HARO! 
Achieving Current Revenue 
I was able to earn what most people would consider a full-time income within my first year of blogging. That's when I quit my job to focus on Finsavvy Panda, and by my 18th month of blogging, I earned my first $10,000 in a month. 
After that, I was consistently earning over $10,000 in net profit every month. Then, in my second year, going into the third year of blogging, I started my second website as mentioned earlier, a lifestyle blog, which allowed me to increase and diversify my blogging income. 
Past my third year of blogging, I generated over $20,000 in monthly net income. And of course, there are times when income drops, hence my monthly income fluctuates between $13,000 and $25,000.
Overall, I've been blogging for exactly 4 years and 3 months (at the time of writing this) to reach this current net revenue level.
Blog Traffic Stats
In total, my two blogs received a total of 833,210 pageviews in the last quarter, on average, 277,736 per month.
Finsavvy Panda's traffic has been slower in the quarter, bringing in a total of 224,449 pageviews, but I'm still extremely happy with that because my earnings on this blog aren't dependent on high pageviews like my lifestyle website.
My lifestyle blog, on the other hand, which remains an anonymous blog, brought in 608,761 pageviews in the last 3 months.
Ling Thich's Favorite Tools
My favorite tools at the moment are:
Canva Pro – I use this tool to make my Pin images for Pinterest.
Tailwind – This helps with scheduling my pins, in addition to collaborating with other bloggers by sharing each other's pins on Pinterest.
ConvertKit – This is a great investment to keep in touch with my readers, followers, and subscribers.
Her Greatest Challenge
The hardest part of blogging is the unpredictable traffic and income due to algorithm changes, seasons, trends, etc. I try to mitigate this by diversifying whatever I can in my blogging business. 
That includes starting another blog and diversifying with various monetization strategies such as display ads, affiliate marketing, products, and/or email marketing. No one's immune, and that's why I'm also working with my husband on building his niche sites so we can diversify with Google traffic.
Her Biggest Accomplishment
Learning how to be self-employed and running my own blogging business is far from what I thought I'd be doing. It's so different from having a traditional 9-5 job—words can't even explain it! 
It's not just about learning how to earn a full-time income online but being self-employed that has taught me many different skills in life that you may not learn from school or a cushiony 9-5 work environment. All of this has helped me grow thicker skin over time.
I'm a very self-conscious and sensitive person by nature, so the most important accomplishment to me is improving my confidence and becoming a tough cookie in my blogging journey. 
After dealing with so many different types of people in my blogging business, I learned to stop being a people pleaser. Today, I have absolutely no problem with saying "no" to people when it makes sense to.
What She Wishes She Knew When She Started
It's quite easy to say things based on hindsight because no matter how much a person teaches a beginner, we'll just never "get it" or understand it the same way unless we've gone through the real struggle or actual experience.
But if I had to say, I really wish I knew the importance of networking and collaborating with the right, genuine people. By finding the right people and team, it will help you, and them, grow together in your business. This is something I am still learning and working on at the moment.
Ling Thich's Biggest Mistake
There are too many to name, and they're equally big!
But if I had to choose one, the biggest mistake I made was not having enough confidence and being overly critical about myself and what I have to offer.
It's normal to have self-doubt from time to time, especially when you keep hearing about other inspiring stories of successful business owners, but being overly critical and doubtful about your own abilities is not healthy.
It's very toxic to your mind and can have a detrimental impact on your progress and growth in not only your entrepreneurial journey but in life overall. 
Having low self-confidence and thinking you're never good enough can and will prevent you from moving forward with and growing your business.
Ling Thich's Advice for Other Entrepreneurs 
I often get emails from readers who are unhappy about their business journey because they feel like they're making slow progress, or no progress, compared to the glamorous stories they hear online.
When they share the details with me of what they've accomplished so far, I'm shocked that they're not happy because I think it's a fantastic milestone! 
The problem is many people often have unrealistic expectations of earning a full-time income in less than 6 months. Some even have the expectation of achieving it in 3 months with absolutely no plan or thought about what to do. They get very caught up in other people's stories. A little too much.
I highly recommend focusing on your own business goals and not someone else's. 
It's easy to look at another person's success and think there may be something wrong with you when you feel like you're working hard but not seeing results. I was like that too when I first started my blog, but I tried my best to ignore all the noise by putting my blinders on!
Acknowledge that everyone's business journey is different, and despite how rosy other people's stories may sound, you have no idea what other people are going through in life (behind the scenes), so never compare your blogging progress to anyone else's. 
They say comparison is the thief of joy, and it is so true! So, only compare yourself now to what you were yesterday. 
As long as you're making progress, learning from your mistakes, and seeing results, that's all that matters. That progress, those results, and the good habits you develop in your business— regardless of how big or small—eventually add up and compound over time.
In addition to that, you really need to find the motivation to keep swimming during the low times. It can feel really lonely because your friends and family won't understand what really goes on behind the scenes of running a blog or business. 
No one will be there to motivate or push you, so you really need to find that one underlying motivation that will keep you going no matter what. It also helps a lot when you're truly interested and passionate about your business idea. 
For me, I absolutely dreaded the traditional 9-5 job along with the lack of freedom and purpose, so that underlying pain and struggle really motivated me to keep pushing through with my blogging business. 
I also focus most of my time on things that I actually enjoy doing which are related to Pinterest and the specific topics I blog about. You'll never see me start a blog in niches like gardening, pets, taxes, gadgets, or cryptocurrency, regardless of how profitable they may be, because that stuff just doesn't interest me. 
That's my advice to all entrepreneurs who are building their businesses and/or websites!