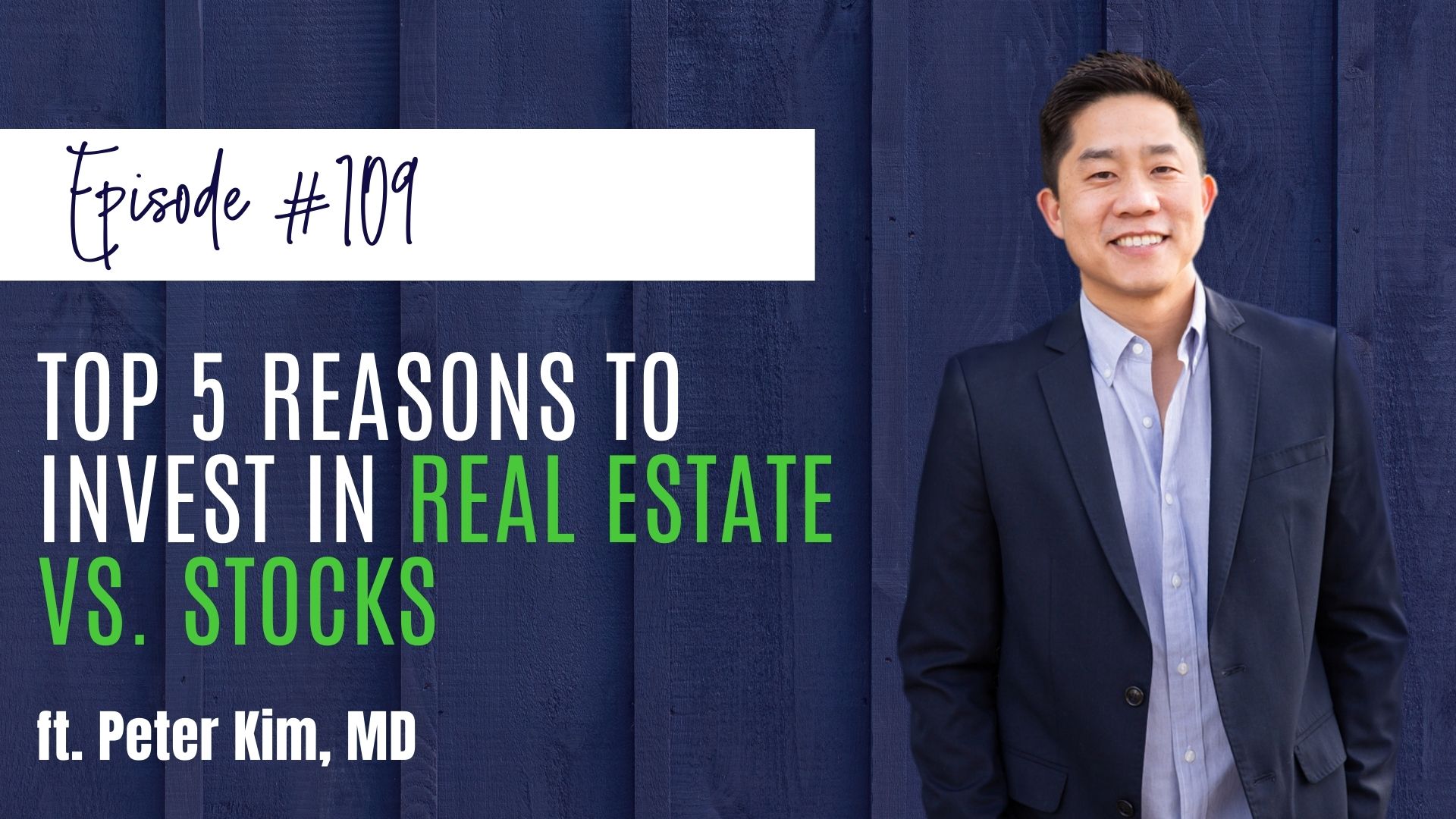 Should you invest in stocks or real estate? It's a big question, and there are many, many opinions out there. 
While both certainly have their pros and cons, Peter will share with you why he prefers real estate over stocks. 
Real estate allows for significant wealth creation (and preservation, if that's your goal) and it's created an amazing side income stream for myself and many other physicians. 
Can you use real estate investing to help reach your goals?
---


The Financial Freedom Through Real Estate Conference (PIMDCON 2022) is a curated, high-yield event designed specifically for physicians and high-income professionals. 
PIMDCON 2022 will give you the strategies you need to invest with confidence from people who have already done it themselves! You will have access to Real Estate Strategies By Doctors For Doctors.  
The conference will also provide wisdom and insight into navigating real estate investing in today's volatile environment. 
September 23rd – 25th, 2022
SECURE YOUR SEAT TODAY!
---
Now, let's look at what we discussed in this episode:
Why are we prefer real estate investments over stocks?

What are the pros and cons of stocks and real estate?

The benefits of real estate investing include… cash flow. 

The world of real estate is an inefficient market.

Forced appreciation is explained.

Why is leverage a double-edged sword?

The two biggest tax benefits are depreciation and 1031 exchanges.
Here's a breakdown of how this episode unfolds…
[2:10]
The number one reason real estate is preferred over stocks is… cash flow. By observing other doctors, Peter realized quickly that he wanted to ensure that he wasn't reliant on clinical income to take care of himself and family. By using the income of his day job, Peter funneled a large portion of it into real estate investments. One investment at a time created an income to buy his time back.
[7:02]
The second reason real estate is preferred over stocks is… inefficient market. Historically, the stock market has increased in value year after year, at an average of 7-10% annually. However, the world of real estate is very much an inefficient market. This means that although real estate prices seem to be dictated by the overall market, in reality, many investment property values are not bought and sold at their true value.
[10:48]
One great way to force appreciation is to take units that are underperforming in rent because they're in relatively poor condition compared to the market, renovate those units, and command a much higher rent.
[13:12]
Leverage is one of the most powerful aspects of real estate investing. You're able to control 100% of an asset by only using a small portion of capital. Then you use the bank's capital for the rest. However, as an investor, you get 100% of the upside of the investment.
[17:25]
Investing in real estate brings many tax benefits. There are several incentives put in place by the government to encourage the holding of real estate. After all, it serves a need by providing housing, jobs, and revenue for local governments.
Subscribe & Review on iTunes
Hey there – are you subscribed to my podcast?
Click here to subscribe to iTunes! If you aren't, please show your support of the show by doing so now. I don't want you to miss a beat, so if you're not subscribed, there's a good chance you'll miss out on those.
If you're one of our super special listeners, I would be appreciative if you also left me a review on iTunes. Those reviews help other people find my podcast. Why not spread the insight to help other physicians and professionals on their passive income journey? Just click here to review, select "Ratings and Reviews" and "Write a Review," and let me know why you enjoy the show so much. Thank you!
Other Ways To Enjoy This Post:
Download a Transcript (coming soon!)  
Download on iTunes 
Join the Passive Income Docs Facebook Group
Join the Passive Income Professionals Facebook Group
---