Looking for the ultimate Article Forge review? You're in the right place!
In the last year, there have been significant developments in the world of AI writing tools. There are plenty on the market that boast of being the best, but in this article, we're going to take a look at Article Forge.
Article Forge is slightly different from other AI writing tools such as Jasper and WordAI. This is because it is specifically designed to create unique articles and blog posts in under 60 seconds. 
In this in-depth Article Forge review, we will run you through all of the features it offers. We will be looking at the pros and cons, and perhaps more importantly, whether or not it's worth the money.
---
Summary
Article Forge is a great tool for helping content writers overcome writer's block and increase their output. While the output is not 100% perfect, it's exceptionally easy to use, and very quick at generating a first draft for your editor to work on.
Pros
Creates articles in 60 seconds

Time-saving

Can create SEO-friendly content

Writes content related to Google algorithms

Content is user-friendly and easy to read

Automatically post to any WordPress site
What is Article Forge 3.0?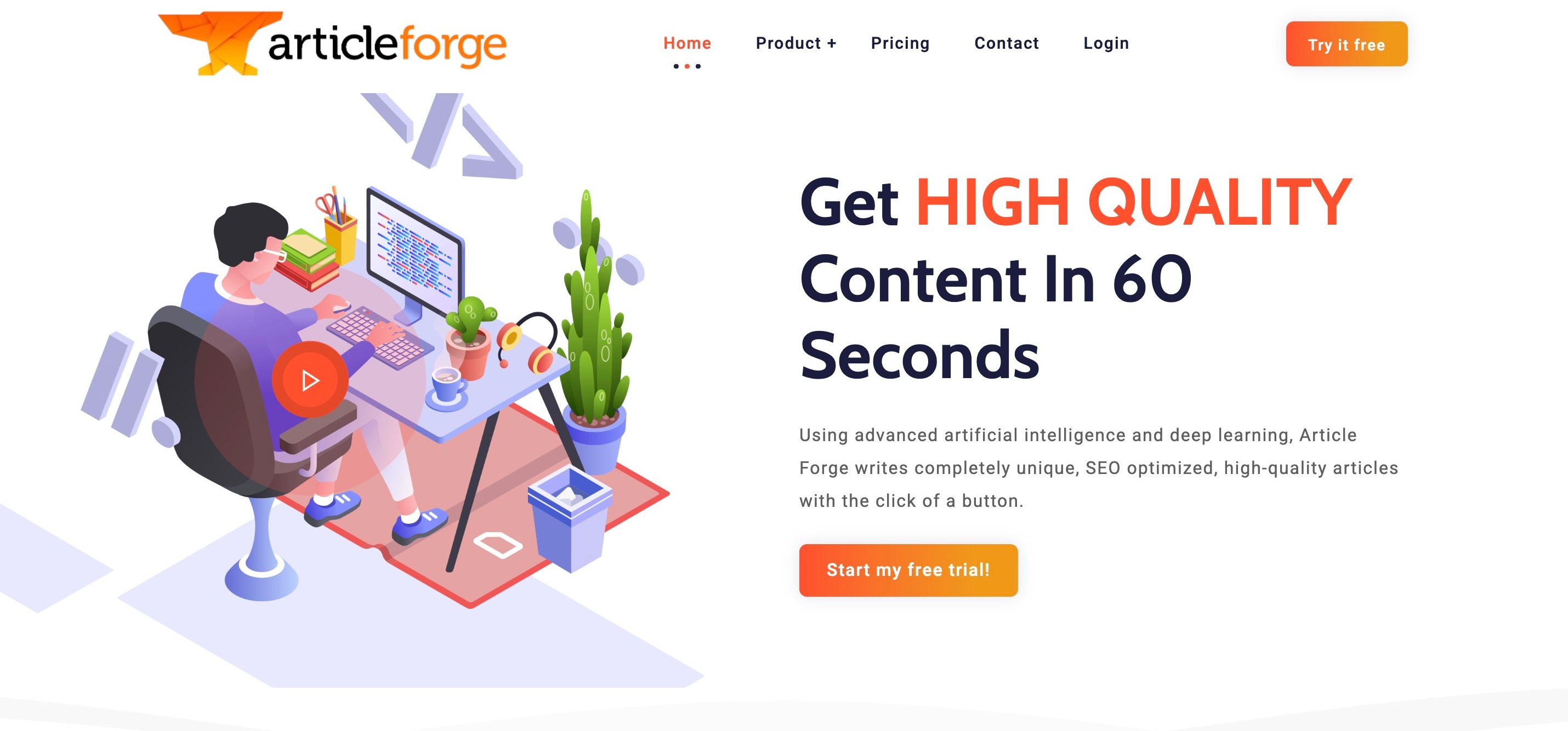 Article Forge is an AI writing tool that promises to write plagiarism-free, SEO-optimized articles at the click of a button. Its most recent update is designed to handle long-form articles up to 1,500 words. It even has the ability to add relevant subheadings to your content.
Like much of the other best article generator software, Article Forge has its own unique features and benefits. Because of this, it's important to do some research and ensure that what you're signing up for is going to match your needs.
The biggest draw of Article Forge is that it can create high-quality articles in less than 60 seconds. Even those with the fastest typing speeds will find that impossible!
So, if it works as well as it says it does then it could be a massive time-saver for those that spend their days creating content.
Artificial Intelligence has changed and evolved over recent years. Software like Article Forge is becoming much more responsive and able to learn advanced algorithms that help to create high-quality content.
However, the thing that publishers really want from their content is for it to sound like it has been written by a real person rather than a robot. This is one of the main problems older AI writing tool options had.
Changing the words in sentences can often change the whole meaning of a line or make it grammatically incorrect, which for a content writer is certainly something to avoid. 
However, Article Forge proudly says that their automatically generated content will be unique, high-quality, and will sound like it has been written by a human.
Sound too good to be true? Let's find out.
The Main Features of Article Forge
Article forge includes a range of features to help you produce the relevant, unique content that you require. The main features include:
The ability to compile accurate and relevant titles for your articles automatically.

Media can be automatically added to your articles, both images and video can be inserted in locations chosen and optimized by Article Forge to improve your Google SEO.

Article Forge has the ability to insert both internal and external links. This feature also helps you with Google SEO.
It uses LSI keywords, which ensure your content is on topic and interesting to read.

Article Forge enables automated SEO, with scheduled posts published on your WordPress websites. It also has an excellent API that enables integration with all major SEO tools and can provide a 'set and forget' service for your SEO.

The software is able to produce content in seven languages. This gives you access to a lower competition keyword sector. International keyword competition is lower and can open the door to new business.
How does Article Forge Work?
Article Forge produces copywriting projects and fully completed web pages using AI algorithms.
An AI algorithm is a set of rules that evolve and learn, enabling a machine learning approach to be taken.
Article Forge uses this AI algorithm to take data from different sources and apply it to your writing projects. In effect, the software learns to operate over time and becomes more efficient at writing your articles without time-consuming intervention.
Here's how it works:
Sign up for an Article Forge account to take advantage of the free trial.

Enter your target keyword along with any secondary keywords into the system. You can specify your target word count and any other requirements at this stage.

Click 'Generate'. Article Forge will take about 60 seconds to create a unique article.

Your article is ready! Fact check and make final edits, and then it's time to publish.
To put it simply, Article Forge allows you to use AI technology to create articles rather than needing to manually write something yourself.
By entering your main keyword and subheadings you can steer the article in the right direction. This ensures that the content it creates matches exactly what you need.
It generally creates an article in less than 60 seconds, although it can take longer for articles of up to 1,500 words. You may also need to tweak things like subheadings and key phrases if the first version doesn't quite match the direction you wanted the article to take.
Integrations
Any AI software that you use is likely to have some limitations to what it can do. However, by offering integrations, problems can easily be overcome.
Article Forge has two main integrations that allow the option to rewrite existing posts & to schedule content direct to a WordPress blog.
You'll have to set them both up separately within Article Forge, but once you have done so it can help to make life easier and for you to get even more value out of the AI writing tool.
1 – WordAI Integration
Article Forge is a focused piece of software that enables you to write fresh content. It is not optimized for the rewriting of existing articles.
Cortx, Article Forge's parent company, offers a different solution for article rewriting called WordAI. Article Forge has direct integration with WordAI.
You will require an account with WordAI and your own unique API key. This will require subscriptions that are billed in a similar structure to Article Forge.
This symbiotic relationship between Cortx's two products gives you the best ability to not only write fresh content but also rewrite or rework existing articles and information pages on your site.
You can take existing content written by Article Forge and seamlessly create numerous individual variants for use either as replacements or on an alternative website. This is a very useful feature to have when you are choosing and finalizing content that works for you.
2 – WordPress Post Scheduler
Article Forge provides integration with self hosted WordPress blogs in the form of a post scheduler. When you have your completed posts written by Article Forge, you will want to post them. This is made simple by using the WordPress tab on the web application.
For posts you are scheduling, you can decide to add individual URLs or groups of sites selected by the username.
A default blog can be selected as your primary destination for content. This feature saves the time it would have taken you to export the content manually to a WordPress site. Of course, for complex individual articles or posts, you still have the option to use native WordPress.
Other useful integrations:
SEO AutoPilot

Cyber SEO

RankerX

GSA Search Engine Ranker

SEnuke TNG
You can connect to any of these easily using the Article Forge API key.
Together, these integrations can help you ensure your articles and money sites are fully SEO-optimized.
Customer Support
The idea behind Article Forge is that their AI writing tool does most of the work for you. This means that there will hopefully be not too many times that you need to contact support.
They don't currently have a helpdesk number or live chat listed on their website. Instead, you will need to fill out a form on the 'Contact' page of their website.
For most common problems, you can probably find the answer you're looking for in the blog. This is accessed via the footer menu.
The blog provides an extensive knowledge base that covers most topics and any issues you may come across.
Training in the use of Article Forge is facilitated through specific videos and documentation. They are reasonably active on Facebook & Twitter, both are open to receiving direct messages. However, there is no timeline as to when you are likely to get a reply. 
How Easy is it to Use Article Forge?
Overall, Article Forge is very user-friendly. The dashboard is clear and easy to understand, and everything is clearly labeled to walk you through the process of creating your first article.
Log in to your Article Forge account and simply enter the keyword or phrase you want to write about. In about a minute, you'll have a high-quality finished article that you can use right away.
The most recent update of Article Forge has the added bonus of being able to create long-form articles of 1500 words or more. Whatever the length of the article you want to create there are two main options.
First, you can simply enter your key phrase and click to create content and see what the software comes up with.
The second option is to add your own subheadings to give the software a little more direction on what should be included.
Article Forge Test Article
So you can get an idea of the type of content it creates, I ran a basic test article for the purpose of this Article Forge review. I chose an easy topic, 'The Basics of Hamster Care' which is the main keyword, and I selected 500 words for the article length.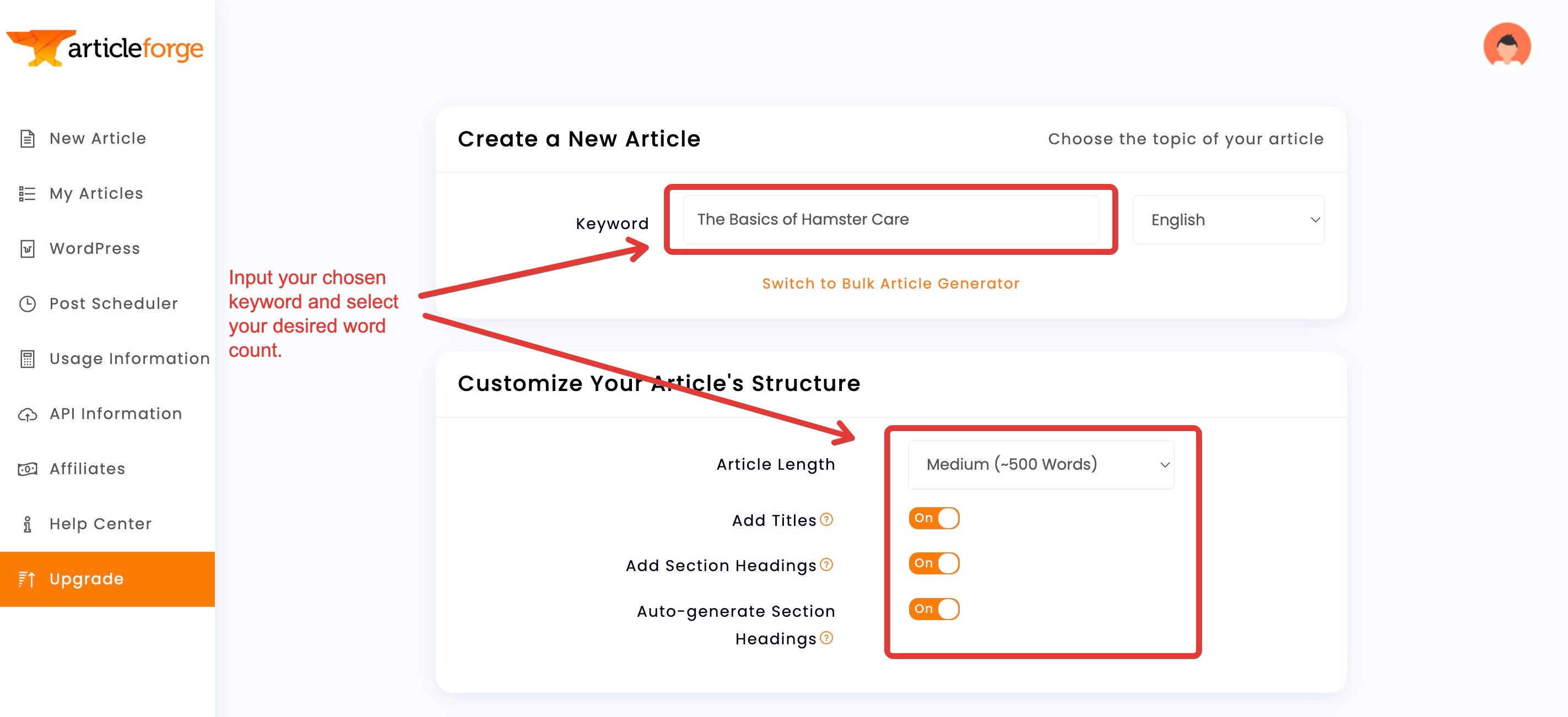 I decided to let Article Forge choose the H2 headings, to see what it came up with. Here are the results.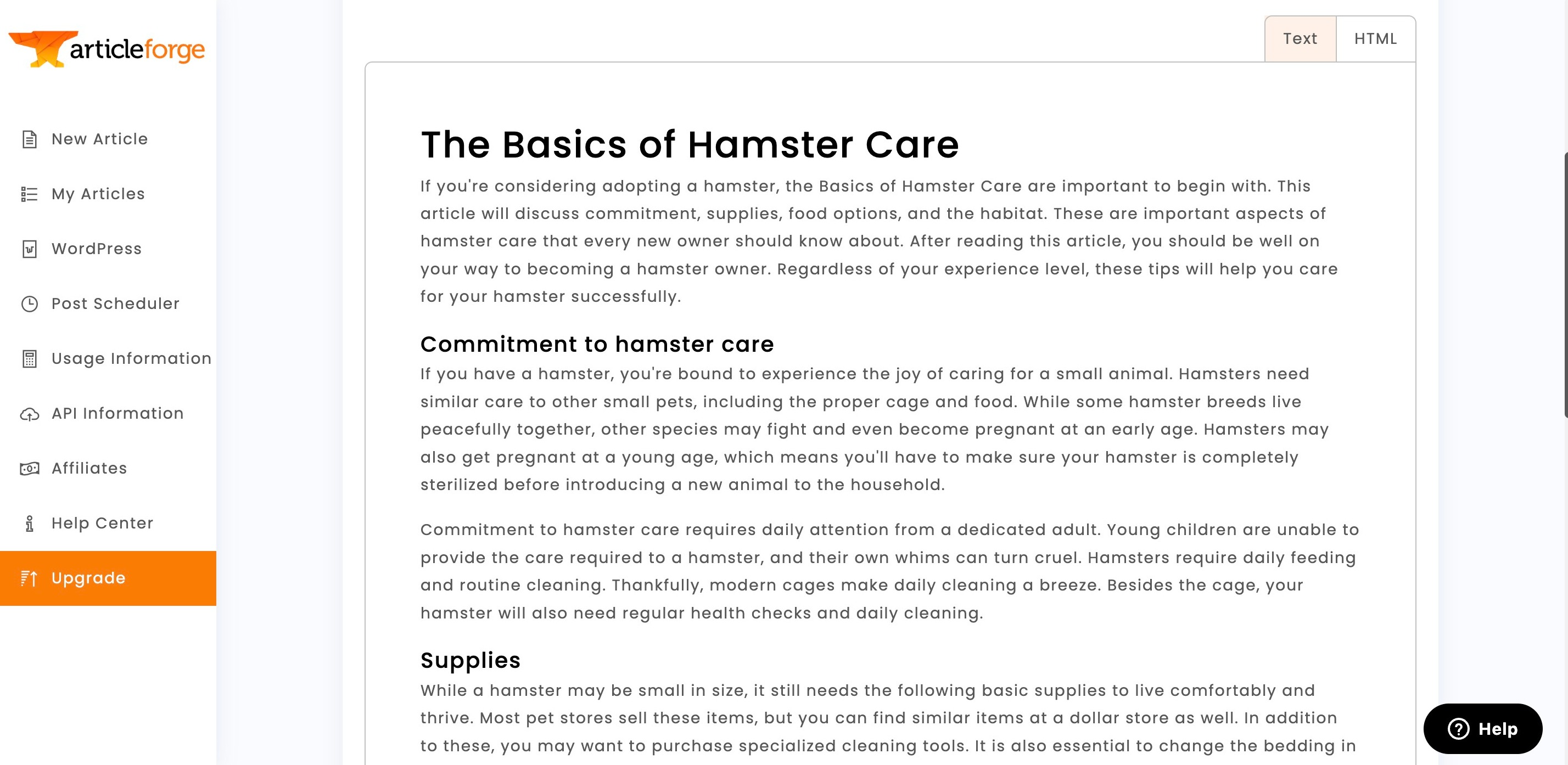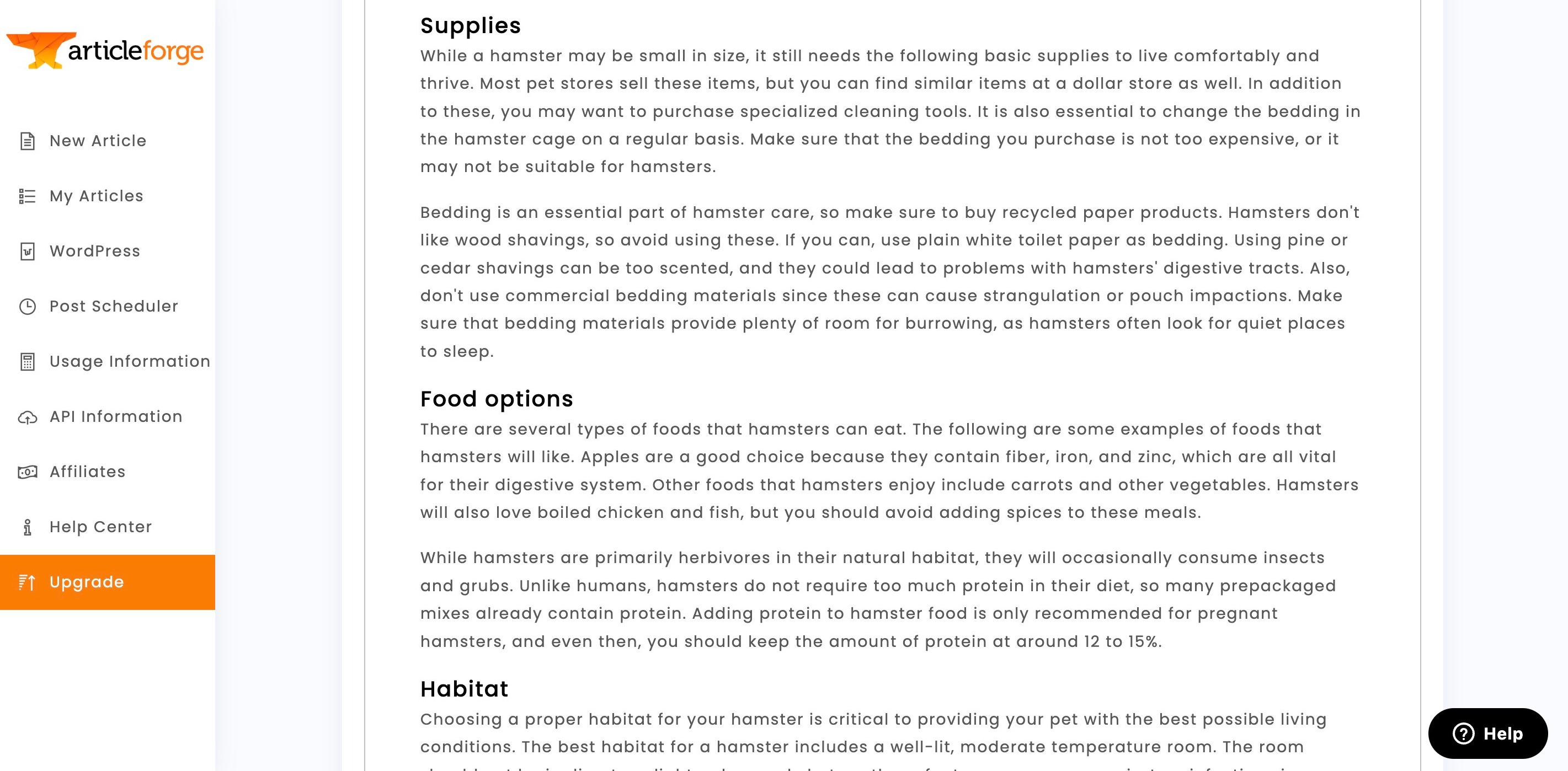 As you can see, it's pretty basic, and will definitely require some fact-checking. Nevertheless, it's impressive that it can produce this amount of content in just one minute.
I also ran it through Grammarly's plagiarism checker, and it came back with a score of 4%. Not bad, although higher than the 2% it states on the website.
Tips For Using Article Forge
Article Forge recommends that you use clear keywords and subheadings. These should be related to the main topic in order to make it clear to the software what sort of content you want to produce.
There is some advice on their website surrounding this too. It advises that you ensure your keyword phrase covers the intent for your article and the keyword you want to rank for.
For example, simply putting in "bedroom floor" doesn't give the software enough of an idea of what you want to create. Instead, examples you might use are "What material is best for a bedroom floor" or "how to choose the right type of bedroom floor".
Without giving Article Forge a clear idea about what you want to write, there are many different directions your article could take. This means you could end up with a well-written article that has pretty much nothing in common with what you needed.
It suggests that you add subheadings so that your article can take even more direction. You can create content without subheadings and it can even generate them for you.
However, the software is set up in a way that it will stop writing if it has run out of things to write about rather than repeating and re-writing the same information. This is something to keep in mind if you are looking to create a longer article.
In general, the software isn't complicated to use and the more information you give it at the start, the better your article is likely to be at the end. 
How Does Article Forge Compare to a Human Writer?
Comparing Article Forge with a human content writer is a complex analogy since human writers can vary wildly in the quality of their output.
A simpler question is whether Article Forge produces good, readable, relevant articles.
The simple answer to this is yes, at least some of the time. The content is about the same quality as an inexperienced non-native language writer. The basics are there, but the content will need reviewing and heavy editing before it's ready to publish.
Article Forge excels in its speed. For a blog or website that requires a lot of fresh content, possibly even fresh content on a recurring theme, Article Forge can churn out articles at short notice.
The costs of these posts are significantly cheaper than using a human writer. Especially with Article Forge's unlimited output package if you are producing more than 250,000 words a month.
However, if you care about the content quality on your website or blog, you will still need to hire an editor, or heavily edit the content yourself.
Although search engines might be happy with the content, an actual human may not feel the same way if you publish unedited AI-generated content.
For individual deeply researched articles, Article Forge can be used to provide document structure.
Ultimately the quality of research put into an article can have a greater effect on its success than the choice between Article Forge and a human writer.
A good way to use Article Forge in this instance is to have it write individual paragraphs, and then with human intervention, produce an article that has the best of both human and AI writing capabilities.
Article Forge Pros and Cons
As with any software of this nature, there are going to be features that someone loves about it that someone else will hate.
The best thing you can do is research everything that the software does to ensure that it ticks as many of your requirement boxes as possible – Article Forge is no exception.
Article Forge Pros:
Create a detailed article quickly at the press of a button

Time-saving

Allows you to create more content than if you were manually writing it

Can create SEO-friendly content

Writes content related to Google algorithms

Content is user-friendly and easy to read

You can add subheadings to keep the article on track

Automatically post to any WordPress site
Article Forge Cons:
The monthly cost can seem expensive if you're not using it often

The articles aren't really ready to publish and will require fact-checking and heavy editing

It is known for repeating content
As with anything, everything is subjective. For example, repetitive content could be avoided if you take the time to enter relevant subheadings.
You can also do separate keyword research to make everything as relevant as possible.
AI content writing tools are adapting and improving all the time, and Article Forge 3.0 goes to show that the development team behind this software is listening to feedback and improving things consistently.
Article Forge Pricing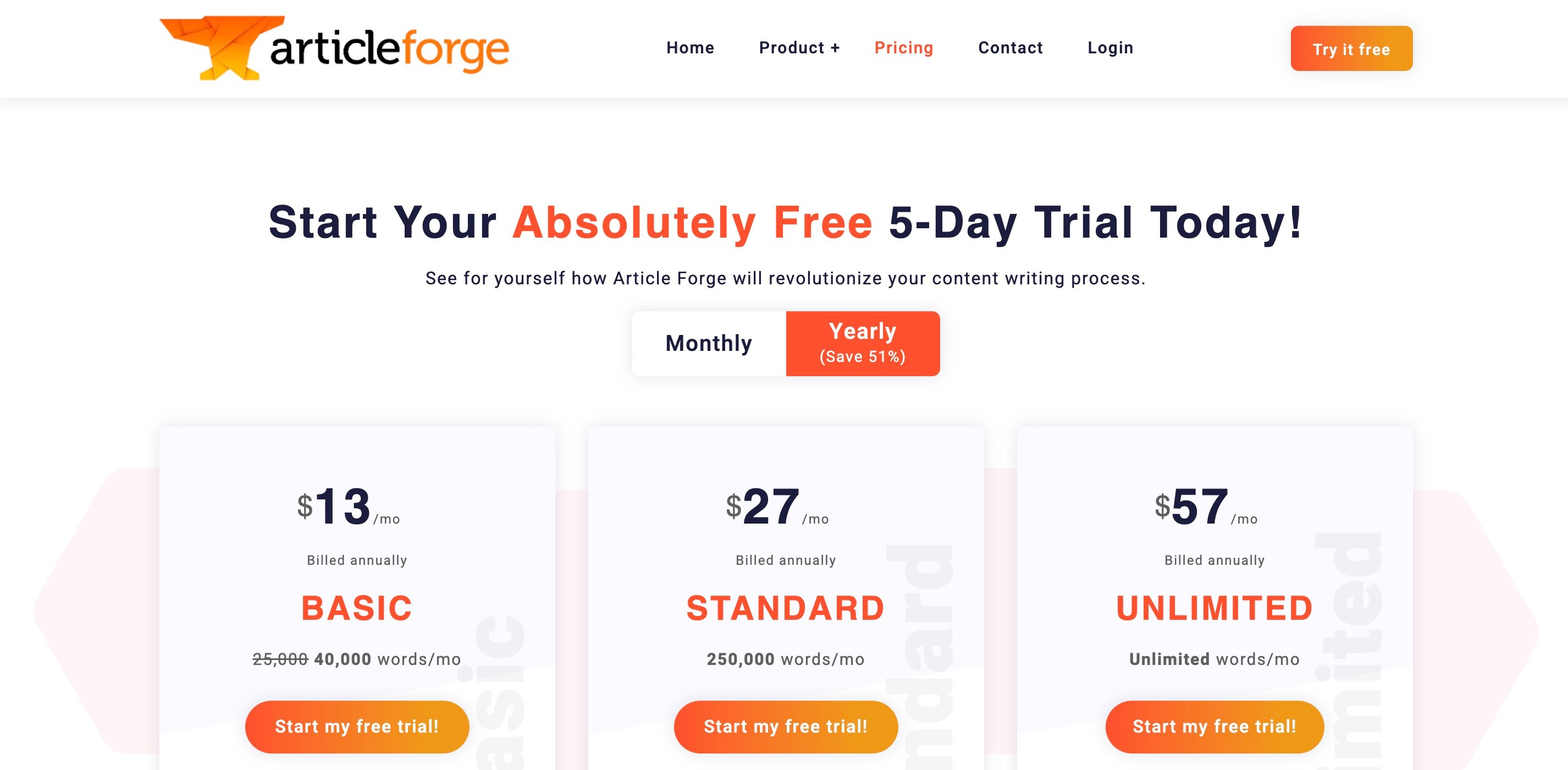 Article Forge offers three different pricing plans and packages for you to choose from. This is great news because it means that you can choose the right plan for you and your content writing needs.
On top of that, there is also a free 5-day trial which allows you to try out the software for yourself and ensure that it meets your needs.
There are three pricing points when it comes to picking a plan for Article Forge, depending on how much content you expect to be writing each month.
Up to 40,000 words per month – $27/month (if you pay this annually this is discounted to $13)

Up to 250,000 words per month – $57/month (if you pay this annually this is discounted to $27)

Over 250,000 words per month  – $117/month (if you pay this annually this is discounted to ($57). This is the best option for anyone looking for a bulk article generator.
If you have been looking at other AI writing tool options then you'll have noticed that this isn't the cheapest option out there. However, Article Forge says that this software will completely change the way you write and create content. This is because of the level of AI development they have put into place.
In fact, they're so positive that users will like and benefit from their software that on top of their 5-day trial, their website boasts a 30-day money-back guarantee.
Their pricing page states that if you use the software for up to 10 articles and you don't love it, you can ask for your money back. They will provide you with a no-questions-asked refund.
Article Forge Review: Is it Worth The Money?
Overall, it's fair to say that Article Forge is worth the money. It's important to note that it's not going to give you top-quality content that's ready to publish, though.
It will never be able to replace an experienced writer and editor but can certainly help speed up the writing process. This, in turn, will save you both time and money.
You will still need to do your own fact-checking too. However, if you're already outsourcing your content to non-native English writers, you will probably have to do a fair amount of editing and fact-checking as it is.
For writers, Article Forge can help you to overcome writer's block, and create content much faster than you could without—even it if does require heavy editing.
That being said, with any software, there are always going to be mixed opinions and reviews, particularly when there are people who have strong opinions about AI writing software already.
One thing for sure is that Article Forge has gone through some significant changes in recent releases which means that it definitely offers better value for money than before.
Whether Article Forge is worth the money is an open-ended question because everyone will have different levels of value out of any piece of software like this.
The good news is that you can take advantage of the 5-day trial option. This means that you can test it out and ensure that it is going to be worth the money for you.
Most people who use Article Forge or any similar AI writing tool find that when the article is created they need to do some editing to ensure that it perfectly fits the bill of what they need. However, this is often much quicker than creating an article from scratch.
Should I Buy Article Forge?
Hopefully, this Article Forge review has helped you to decide whether or not it's the right tool for you. With the 5-day trial that their website offers, if you're looking at the possibility of using an AI writing tool, then you definitely have nothing to lose when it comes to giving it a try.
The pricing plan of Article Forge can seem on the high side when you first start to investigate your options, but the developers will say that this is because it has much more intricate technology compared to other offerings of this nature.
If you're thinking about investing in Article Forge to speed up your content creation, make sure you read all of the information provided, do your research, and give the trial a go. This will give you the best indication as to whether Article Forge is the right choice for you when it comes to AI writing tools.
Try Article Forge Here for Free
Still undecided? There are some other great AI content generators out there, each with different features. Jasper is one of the most popular options – you can read our in-depth Jasper review here.