WordPress alternatives are more plentiful than you might imagine. Although WordPress offers a lot of benefits in terms of their built-in tools, easy-to-use editor and additional WordPress plugins—it's not a one-size-fits-all solution.
There are instances when you may be looking for WordPress alternatives to build your own site. So, whether you're looking for an easy way to create simple sites fast, or something that will allow you the flexibility to use your coding skills and create a custom website with more advanced features—there's something for you on this list. 
Things to Look Out For When Choosing a WordPress Alternative
No one is going to tell you that WordPress is a bad option. In fact, more than 40% of the internet is run on WordPress, so obviously, the platform gets a lot right.
However, there are a few drawbacks to using WordPress that might mean it isn't the best solution for your website needs. 
Looking for the best WordPress alternative for you will largely depend on what your needs are. Some things to consider when searching for an alternative to WordPress are:
Cost: WordPress is technically "free" to use but you will have to look for web hosting which will cost you. Also, if you're looking for an all-in-one solution, it will likely cost you more. Depending on your budget, you may only want to consider a free WordPress alternative. 
Ease of Use: Probably the most important factor to consider is how easy or difficult different website builders can be to use, especially compared to WordPress. This also depends on your own skills in web development. Are you looking for a drag and drop editor or the opportunity to input custom code and build something more unique?
Data Portability: Consider how portable your data is to stay flexible for future growth.  
Customer Support: One of the best things about WordPress is the massive global support community. If you're looking for WordPress alternatives it's worth considering what your support levels are going to be like if you run into any problems. Is there dedicated customer support available 24/7? Is there an online community to turn to?
Top WordPress Alternatives For Bloggers
WordPress.org was originally built as a blogging platform. Although it has since developed into a suitable open source CMS platform for a variety of needs, WordPress websites are still often the number one choice for bloggers. 
That said, there are WordPress alternatives to consider if WordPress just isn't your cup of tea. Some of these website builders also come with free web hosting which can make things easier if you're a beginner. 
If this is your first blog site, then check out everything you need to know about launching a new blog.
1. Squarespace
Squarespace is a fully-managed website builder complete with an easy to use drag and drop editor, built-in SEO help, and a wide range of advanced features.
This all-in-one platform is particularly suited to creative bloggers with image-rich sites. The integrated blogging tools make getting started with your first blog posts really easy and their beautiful templates are great for showcasing high-quality images.  
In addition, Squarespace offers:
Free web hosting
Unlimited storage and bandwidth
Mobile optimization
eCommerce features
24/7 Customer support
Social media tools
Free custom domain
With that in mind, Squarespace does cost a little bit to get going. Though they offer a free 14-day trial, personal plans start around $12/month. 
Squarespace is also limited in the ways that you can customize your site. You won't have any access to the source code so your design is limited to their templates. In addition, while Squarespace does offer extensions (plugins), their library is nowhere near as extensive as WordPress'.
2. Ghost
Ghost is an independent, open source CMS that is wholly funded by its users and specifically designed for bloggers. With that in mind, Ghost is NodeJS-based and offers an uncluttered experience for writers and readers alike.
Like WordPress, the Ghost software is free to download. You can opt for your own hosting provider or use Ghost's own hosting. Whichever provider you choose will dictate your costs for running a Ghost website.
As far as a lightweight CMS goes, Ghost is ideal for bloggers. The platform offers a range of SEO tools and an immersive writing experience.
Additionally, you can take advantage of detailed engagement analytics which allows you to track the content that is resonating most with your audience. 
However, the highlight of Ghost is the ability to capitalize on subscription commerce.
With Ghost it's easy to set up memberships or subscriptions to turn your traffic into revenue. You can offer premium content to subscribers and simply integrate your Stripe account to start generating income. 
3. Medium
Another clean interface specifically designed for writers can be found at Medium. Medium is an online publishing platform that was originally launched in 2012 as a place for readers to enjoy content without ads and other distractions. 
While Medium could be considered one of the WordPress alternatives to turn to if you're a blogger, understand that it is not a full CMS solution. There are no themes, plugins, or in-depth customization opportunities here. 
What Medium is, is a free publishing platform. All you need to do is set up an account, spend a few minutes uploading a photo and writing a short bio and your "website" is ready to go. 
However, the lack of customization capabilities means it's harder to stand out, you can't brand your own site, and you can only publish under Medium's domain which makes your SEO a lot more difficult. 
The main benefit to publishing on Medium is you get to take advantage of their built-in audience.
Basically, rather than having to circulate content yourself or drive traffic to your blog, Medium will show your content to other users. This is a great way to start building a small following if you haven't made a name for yourself yet.
4. Tumblr
For a mix of content-driven and image-rich sites, Tumblr is a great platform with blogging features that also includes a social networking aspect.
Again, Tumblr is a publishing platform rather than a CMS but it does allow for some basic customization.
You can implement some basic web design with customizable templates that allow you to choose the layout of your page and different themes that match your brand.
If you have any HTML coding skills you'll be able to take your customization one step further. 
Unfortunately, you won't be able to integrate an eCommerce aspect to your blog on Tumblr. But, there are lots of other ways to monetize with Tumblr.
Find out more about monetizing your Tumblr page and other great blogging platforms for making money!
Ultimately, the great thing about Tumblr is that it has a built-in community of readers that help promote and share each other's work. For that reason, it's a really wonderful place to start off. Plus, you can get started on Tumblr for free!
5. Blogger
You'd be forgiven for thinking that Blogger died a long time ago. Yet, the platform that was first established way back in 1999 is still alive and kicking. 
This blogging platform was acquired by Google in 2003 and has everything you need to start blogging right out of the box. 
As their name suggests, Blogger offers a host of blogging features and is a fully hosted website builder. 
Additionally, the platform offers some more advanced features than other free publishing platforms.
You can restrict access to particular content to specific Google users, manage your content with labels, and use Google AdSense to start generating some revenue. 
On the other hand, customization opportunities are limited and your content must abide by Blogger's community guidelines or you risk having your account suspended. 
Bonus: Instagram
We live in a day and age where you don't actually have to have a traditional website to run a blog. If you're more comfortable with social media pages, you can even start a blog on Instagram. 
How to Start a Blog on Instagram
Top WordPress Alternatives For eCommerce
The global pandemic saw a major boom in eCommerce sales as everyone turned online for their shopping. As a result, regular brick-and-mortar businesses moved online to eCommerce platforms.
Below are the best WordPress alternatives to create a simple online store.
6. Shopify
The fully hosted eCommerce platform that needs no introduction, Shopify is the most well-known alternative to WordPress for building an online store. 
Specifically designed for eCommerce stores, Shopify has a range of features that makes things like stock management, marketing, and online payments a breeze.
Plus, Shopify offers a helpful blog for small business owners on how to make the most of having an online store. 
Here are a few of the reasons why Shopify is one of the best eCommerce platforms available:
Modern, stylish, customizable templates
Easy product and variant management
Beginner-friendly (easy to set up)
Third-party app extensions
Support for multiple online payment methods
Tracking system for order fulfillment
The major drawback of using Shopify in comparison to something like WordPress is that you have to pay for even basic features. 
The platform offers a free 14-day trial, but beyond that, premium plans start at $29/month. 
If you want to know more you can read our Shopify review to learn all the ups and downs of this eCommerce solution. 
7. Web.com
Another great WordPress alternative for anyone looking to start an online store is Web.com. This option is particularly popular with small business owners looking for an easy and affordable way to build their own website. 
Their website builder is easy to use even for people with zero background in building drag and drop websites. Plus, Web.com comes fully loaded with a free domain, analytic reports, security solutions, and other standard features. 
Basic plans start at just $4.95/month but store owners will want to opt for one of the premium plans that offers eCommerce support. These start at $13.95/month. 
Still, all of Web.com's premium plans include a 1-hour session with free web design advice. Plus, if the very idea of website building is too daunting for you, Web.com also offers professionally designed websites. 
8. Zyro
With a website builder that is easy to use and requires absolutely no coding knowledge, Zyro is an easy starting point for an eCommerce store. 
Regular plans start at just $2.90/month while $15.90/month will gain you a ton of specialized eCommerce features to help you sell.
All of their plans come with a free custom domain name for 1 year, free email for 3 months, basic marketing integrations, and 24/7 customer support.
Plus, even their basic plan includes SEO and blogging tools to help you market your site.
Premium plans will also feature multiple online payment methods, the ability to create a multilingual site, product filters, abandon cart recovery, and full integration with Facebook, Instagram, Amazon and eBay. 
9. Domain.com
More than just a domain registrar, Domain.com also offers web hosting, web design and marketing services, and a website builder. 
Their plans are really affordable at $1.99/month for basic plans which include things like an SSL certificate, predesigned templates, lead capture forms, expert support, unlimited storage, as well as optimization for mobile and search engines.
Included is also a free image gallery with more than 500,000 images you can use for free on your site. 
An eCommerce plan is a little bit pricier at $12.99/month, but for that, you get a lot of perks. These include:
Secure online payments
Inventory tracking
Coupons and discounting
Integrated shipping
Order and tax managment
Sell digital product downloads
Transactional emails
Priority response support
10. BigCommerce
As their name suggests, BigCommerce is a fully hosted eCommerce platform alternative to WordPress. 
However, they also offer WordPress integration so you can actually use BigCommerce to power your online store while still using WordPress for all of your main site content.
It's worth noting that BigCommerce doesn't offer a lot of room for customization, but it does have a lot of built in sales tools, including SEO tools to help you rank better with search engines. 
Additionally, this website builder allows you to broaden your reach in the global market with the ability to create localized storefronts. The platform also has support for multilingual sites and multiple currencies. 
Ultimately, BigCommerce is a good pick for medium to large businesses with a focus on sales. Freelancers and small businesses might be more interested in the BigCommerce plugin for WordPress.
Read our BigCommerce review to find out more about this platform and if it's right for you. 
11. Sellfy
Sellfy is particularly geared towards small businesses that sell mostly digital products or generate income through a subscription service. 
In addition to digital file hosting and delivery for digital purchases, Sellfy also offers a print-on-demand service. This is where it really stands out against other WordPress alternatives for eCommerce. 
Compared to WordPress which is notoriously beginner-friendly, Sellfy is even easier to set up and get started. You can have a custom storefront up and running in, I kid you not, 30 minutes or less. 
Plus, with Sellfy you can sell directly on your social media pages thanks to full Facebook and Instagram integration services. 
Sellfy does offer a free version that you can use to sell a maximum of 10 products. After that, the website builder will cost you a steep $22/month for their starter package.
12. Shift4Shop
With a completely free version, Shift4Shop is one of the best WordPress alternatives for anyone with zero start-up money. 
Their free plan comes packed with all of the basic tools you need to kick-start your business. 
Unfortunately, when compared to WordPress, you won't get anywhere near the same amount of of flexibility. But, for a drag and drop website they do have a decent amount of customization options. 
Plus, of the website builders for eCommerce, Shift4Shop is possibly the most mobile-friendly. So if you're looking for a WordPress alternative to help sell that way, this is a great one to consider. 
In addition, Shift4Shop offers the ability to create membership and loyalty rewards programs for your store which is a great way to encourage repeat business. 
13. PrestaShop
Large eCommerce businesses might be looking for a WordPress alternative that is still flexible and easy to scale but easy to use for beginners. Shopify and other eCommerce platforms are more targeted toward smaller sellers.
PrestaShop is a self-hosted open-source solution that can meet the needs of big businesses. You will need to provide your own hosting, but the software is free to use. 
You can modify code however you like, similar to the way you can adjust WordPress or Drupal. Plus, PrestaShop comes with thousands of different themes and extensions to help get your site looking and functioning exactly the way you need it to. 
With a focus on helping you drive your business, PrestaShop offers an array of advanced features to help encourage growth. You can also create a multilingual site with support for multiple currencies around the world to tap into the global market. 
14. Magento (AKA Adobe Commerce)
Another eCommerce solution for large businesses, Magento, rebranded as Adobe Commerce, is one that is ideally suited to someone with some knowledge of coding. 
The learning curve for Magento is a lot steeper than other WordPress alternatives like Shopify. With that in mind, it can take longer to set up your store and get used to the array of features available. 
However, for anyone that is an expert in front-end design, or is willing to hire a professional, Magento offers the most flexibility and customization opportunities for big businesses. 
The core software is free, but you will have to pay for hosting and Magento extensions which are sometimes on the expensive side. 
Top WordPress Alternatives For General Websites
WordPress, and other open source CMS platforms, are particularly useful because of their flexibility. You can use WordPress to build an online store, a portfolio, a blog, or other kinds of basic websites. 
These alternatives to WordPress offer opportunities to use your imagination when it comes to website creation. 
15. Wix 
Offering a user-friendly interface and an intuitive website builder, Wix is a great place to start for anyone completely new to web development. 
Although plenty of bloggers have started out on Wix, most of them eventually migrate to other platforms because Wix doesn't offer the same integrated blogging tools that options like Squarespace or Medium have. 
This platform offers more than 500 beautiful pre-designed templates that you can easily customize using the drag and drop editor. 
In addition, Wix offers:
Mobile optimization
SEO features
Clear analytics
Free hosting
High-level security
Custom domain and subdomains
But, I have to say the most appealing thing about Wix for anyone looking to start a personal website or a small business just getting off the ground, is that they offer a free plan. 
Since Wix also includes hosting that means you literally don't need a single penny to get started. 
However, with that said, customizing your Wix website in a way that works for you might be difficult on their free plan. Also, you will have to have a business premium plan in order to take any payment through your website. 
16. Drupal
If you're looking for a WordPress alternative that allows for greater flexibility and can scale with your business, then Drupal may be the one for you. 
Drupal is the second most popular content management system right after WordPress.
Just like WordPress themes and plugins, you'll find a wide range of Drupal themes and "modules" to help you customize your site to fit your brand. 
However, compared to WordPress, the learning curve is a lot steeper when it comes to using Drupal. In order to take advantage of some of the more advanced features that Drupal offers, you will have to have at least some knowledge of coding. 
Still, with enterprise level security features and deeper customization opportunities, Drupal is a great choice for larger businesses to build their own website.
17. Joomla
One of the better known WordPress alternatives, Joomla offers a kind of middle-ground between WordPress and Drupal. 
It offers a lot of the advanced features and security that Drupal has while trying to maintain a more user-friendly interface like WordPress. 
That said, Joomla isn't a great option for beginners. Like with Drupal, you will need to know a little bit about programming.
Out of the box, Joomla has significantly more flexibility than WordPress and there is a large community online for anyone looking for some extra help getting started.
Plus, you can check out the free video training on Joomla's website for more information. 
As with other open source CMS solutions, Joomla is free to use but you need to pay for hosting. 
18. CMS Hub
HubSpot is perhaps best known for their CRM software, but are also a strong competitor among website builders. 
HubSpot CMS is fully hosted and combines powerful building tools with access to all of HubSpot's marketing features as well. With that in mind, CMS Hub is best suited for anyone looking to build their own website with a focus on marketing. 
Additionally, CMS Hub offers adaptive testing. This means you can build several variations of a page and let HubSpot detect which version performs best. 
Users can also take advantage of HubSpot Academy which is a great learning resource for anyone new to working with HubSpot's various tools. 
19. Gator by HostGator
You may already be familiar with HostGator if you've worked with self-hosted CMS solutions before, however, they also offer a website builder that comes with free reliable web hosting. 
Gator by HostGator offers an easy drag and drop website builder with ready-made designs and different themes to get your site up and running quickly. 
Plus, Gator offers the necessary features and tools to work well for blogging sites or eCommerce. You just need to select the appropriate plan. 
All of their plans come with a free custom domain and SSL certificate, plus mobile optimization and access to a stock image library. Starter plans are $3.84/month and go up to $9.22/month.
20. Webflow
Webflow is a unique WordPress alternative that allows you to modify HTML, CSS, and JavaScript without actually having to write any code. 
Though not as powerful as WordPress, Webflow is the next level up in page design. If you are looking to build a content-rich site with visual appeal, Webflow is an easy website builder to work with.
Their canvas editor feels a lot like Photoshop so designers and visual creators are likely to feel comfortable pretty quickly. However, the learning curve for beginners is steeper than WordPress or other alternatives. 
In addition, the website builder is completely free for as long as it takes you to get your site looking exactly the way you want it.
Once you're happy with the design you can pay for hosting and a custom domain name plus extras like security and mobile optimization starting at $12/month. 
21. Weebly
This hosted website builder is a great WordPress alternative for anyone looking for easy to use building tools.
Weebly features a drag and drop editor that is fast and intuitive. You can also take advantaged of predesigned templates to make your website look professional in a matter of minutes. 
Although Weebly is similar to Wix, they do differ in some key ways that make Weebly better suited for bigger business sites. 
Websites that require more flexibility in layout design will function better on Weebly. You'll also be able to create as many sub-levels as necessary and take advantage of automatic mobile optimization. 
A great way to try Weebly is to take advantage of their free plan which is ad-supported before committing to one of their premium plans. 
22. Ucraft
A free website builder alternative to WordPress for beginners, Ucraft makes use of user-friendly tools and things like bundled SSL encryption to make creating your own website easy and stress-free. 
Their free version allows you to connect to your own domain and build a responsive website in a matter of hours. However, paid plans start at $10/month and includes built-in SEO tools and eCommerce support. 
Ucraft also offers a blogging platform, logo maker, and customer support tool to help you make the most of your business. Furthermore, the platform supports third-party tools by allowing for full integration with major apps. 
In addition, Ucraft is a great learning resource for people who want to know more about how to build and grow their brand online. 
23. Zoho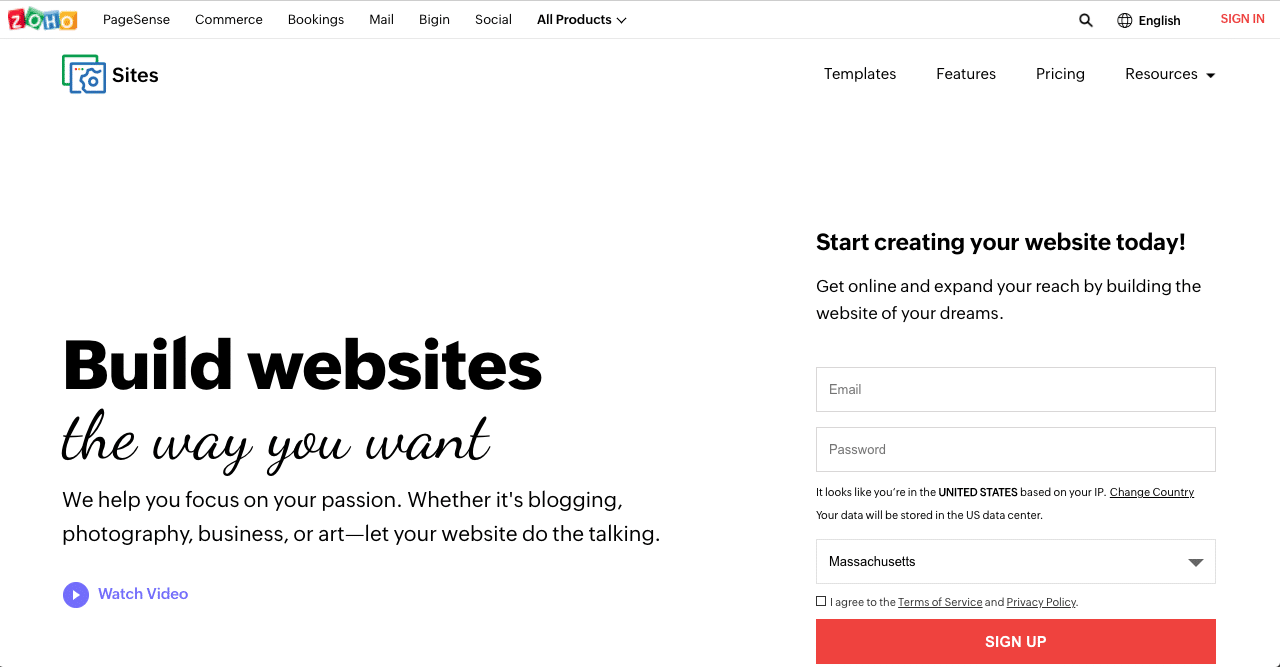 Starter plans for Zoho are comparatively pricey at $5/month. However, they offer a responsive website builder and custom domain hosting plus sales IQ integration, CRM forms, animation capabilities, a message bar, and more. 
Their visual editor is easy to work with and you have access to all of your page versions if you ever need to undo something. You also have access to advanced SEO tools and site analytics.
It's worth noting that Zoho is one of the few WordPress alternatives with bandwidth limitations on their paid plans, so it's not an ideal solution for big businesses.
Zoho is best suited to freelancers or small businesses that are looking for a no-code web design solution and want to take advantage of Zoho's other tools. 
In addition to their website builder, Zoho also offers Zoho CRM, Zoho PageSense, and Zoho SalesIQ.
24. Webnode
This website builder allows you to modify and update your site on the go. You can use your mobile phone or tablet to redesign things like your page layout and add content wherever you are. 
Webnode offers a free plan to get started. But if you want to use a custom domain you have to opt for a basic plan which starts at $3.90/month.
Additionally, the free version is ad-supported which means that any of your site visitors will see ads.
This platform is a good solution for freelancers or small brands. Their sign-up process is super simple and setting up your own website is easy with their building tools. 
25. TYPO3
Specifically designed for enterprise-level businesses, TYPO3 makes it easy to manage multiple sites in different languages. 
Like WordPress, TYPO3 is an open source CMS that is full of features and created with scalability in mind.
It's well suited for teams thanks to the ability to assign more than 1 administrator and create multiple groups with different access. 
TYPO3 offers flexibility and security for you to create your own website. The software comes with plenty of features ready to go out-of-the-box, but you can also make use of the 6,000+ extensions available.
Unfortunately, TYPO3 does have a significant learning curve for people who are unfamiliar with programming. The upside of that is that seasoned coders can comfortably modify the site to create a truly bespoke product.
Finding the Right Solution For You
Deciding on which WordPress alternative will work for you is dependent on what you need it to provide. Lots of the different WordPress alternatives offer benefits that WordPress might be lacking. However, they will also have drawbacks that WordPress doesn't. 
Consider if you need a fully managed solution with free hosting, or are looking for a flexible CMS that you can scale with your growing business. Once you've decided what you're looking for, you'll have an easier time narrowing down your options.