Because of rising interest rates, high-yield dividend stocks are worth less. That's because they're seen as bond proxies. Additionally, rising interest rates also increase borrowing costs, which would be a drag on companies, particularly ones that have large debt levels.
In the last week, we added to a high-yield dividend stock, Medical Properties Trust (NYSE:MPW) in our RRSP retirement account.
The healthcare REIT is experiencing more headwind than rising interest rates.
MPW is being shorted and downgraded
It was announced on April 13 that Hedgeye was shorting MPW. We waited a few days for the stock price to settle before adding to our position on April 19. Of course, we didn't have a crystal ball to tell that an analyst would downgrade MPW a few days after, triggering another sell-off.
Specifically, "the analyst has cut his 2022 FFO estimate to $1.82 compared with $1.84 in the prior forecast and the consensus of $1.86. For 2023, Peterson sees FFO at $1.86 vs. $1.89 in the previous view and the Wall Street estimate of $1.94."
Assuming this analyst is correct in estimating the 2022 FFO to be $1.82, that would imply an FFO increase of 4%. And a 2.1% increase in 2023. So, essentially, MPW is expected to experience a slower growth outlook.
The business
Recall that MPW is focused on collecting rent from hospitals across 438 facilities and 9 countries. About 60% of its portfolio is in the U.S. and 20% in the U.K. Here's a snapshot of its portfolio diversification based on facility type.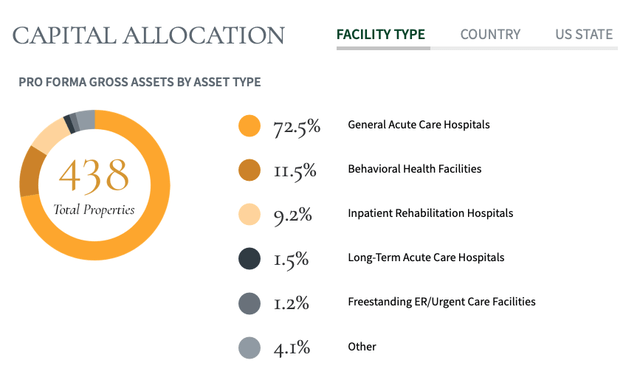 It has a weighted average lease and loan maturity of about 17 years. Therefore, investors can expect its cash flows to be highly stable. 
Decent valuation for juicy income
Currently, Yahoo Finance shows a 12-month analyst consensus price target of $24.43, which suggests the stock is undervalued by 23% and can appreciate 30% over the next 12 months. However, near-term downgrades may not be reflected yet, so we expect this price target to come down a bit.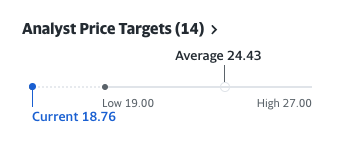 F.A.S.T. Graphs has near-term consensus price target of $23.80 based on a long-term normal P/FFO of 12.80, which suggests the dividend stock is discounted by 21% and can appreciate about 27% over the near term.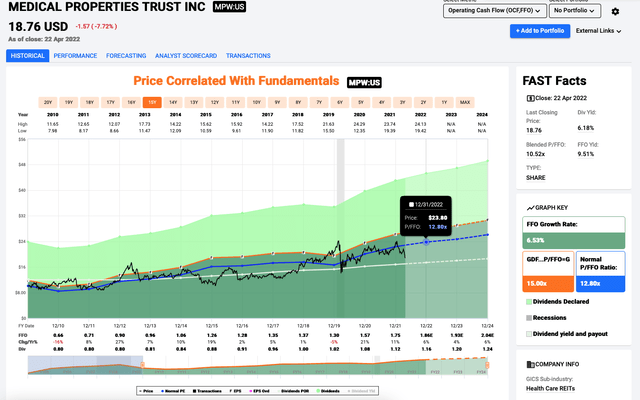 Dividend safety
MPW's FFO payout ratio is estimated to be about 62% this year. This provides a margin of safety for its dividend. It yields almost 6.2% at writing, which is an attractive yield for investors seeking current income.
The investor takeaway
As interest rates are rising, high-yield stocks become less attractive. So, a part of the sell-off in MPW is due to rising rates. That said, high yields are also worth something.
At the end of the day, investors need to decide if MPW (and other high-yield stocks) are investment-worthy on an absolute basis. If you need current income or stable returns from income as a part of your investment strategy, it may still be worthwhile to hold some.
If you like what you've just read, consider subscribing via the "Subscribe Here" form at the top right so that you will receive an email notification when I publish a new article.
Disclosure: As of writing, we own NYSE:MPW.
Disclaimer: I am not a certified financial advisor. This article is for educational purposes, so consult a financial advisor and or tax professional if necessary before making any investment decisions.
Get Exclusive Articles from me on Seeking Alpha
Access my portfolio of high-quality U.S. and Canadian dividend stocks.
Real-time updates of when I buy or sell from this portfolio.
Get best ideas of the top 3 dividend stocks from my watchlist. Updated each month.