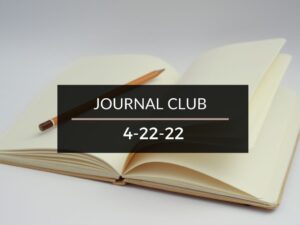 Here's Journal Club 4-22-22! Every week, I hold a JOURNAL CLUB. After filtering through the articles on the web, I present a few that impacted my life this week. Be safe and stay well!
---
Have you heard the phrase "compounding interest is the eighth wonder of the world?" Well, the saying is true for a host of reasons, and if you're relatively new to investing, then compounding interest can be your best friend. Interested to learn how compounding actually works?

The Female Money Doctor

talks more about it in –

What Does Compounding Mean When We Talk About Money?
Do you feel fairly compensated for your work, experience, and expertise? If yes, that's wonderful. If not, why do you think that's the case, and is there a way to turn things around?

The Loonie Doctor

has a mission to help fellow physicians thrive and shares actionable tips to find success, balance, and satisfaction in what you do in the article –

Do You Earn What You Are Worth?
Juggling the responsibilities that come with being a mother and a physician is anything but easy. Top it up with societal pressure and mom guilt, and what you have there is a "recipe for burnout." Fortunately, the

Tired SuperHeroine

has learned to drown out what doesn't work for her. Instead, she focuses on creating a rewarding life for herself and her family as a doctor-mom and shares more about it in –

How my being a doctor really affects my kid

.
That's all for this week! I hope this week's journal club was helpful.
Read any interesting articles? We'd love it if you could please take a moment to share them in the comments below!
Thank you for reading and sharing,
Peter