Podcasts are becoming more and more popular, and podcast production companies seem to be springing up everywhere.
It's a known fact that most people would rather listen to something than read it. It's a captive audience of listeners. And an easy-to-listen-to, entertaining podcast can make your message that much more powerful.
The most important thing to remember is that your listeners have just about all the power – if they don't like your podcast, they'll switch off and probably won't come back.
Good podcast production companies can help you produce compelling material to keep your listeners riveted and waiting for the next episode.
Professional podcasting production companies have the knowledge and tools to make your podcast memorable.
However, if the people making your podcast don't know what they're doing, you'll be wasting your money. Read on; we can help you find the expertise you'll need.
Talking About Podcasts
Podcasting has expanded to the point where around 197 million Americans are aware of it. That equates to roughly 70% of U.S. citizens being aware of podcasts.
The future of podcasting is loaded with so much excitement and innovation that it's almost impossible to keep up.
What Defines Good Podcast Production Companies?
What defines good podcast production companies really depends on why you are making your podcast.
Who are your listeners? Are you using it for marketing your product? Teaching? Entertainment?
Are you going to be producing episodes? And of course, the big question is – what is your budget?
Understanding what you're getting from podcast production companies is critical.
Some specialize in business podcasting, while others focus on narrative episodes.
Hiring a podcast production company can save you a great deal of time. Time saved lets you pay attention to your podcast's content and promotion.
When you're still deciding which podcast production companies to use, check on who will be working on your podcast.
It is sometimes the individual who sells you the service. Sometimes it isn't.
Some businesses keep service in-house, while others hire editors from other countries.
Some companies will send dedicated people or teams to work on your show. Others will put your episodes in a queue, and whoever is available first will edit them.
Here are a few questions for you to ask potential podcasting companies before you decide:
How much audio producing experience do they have?
What have their previous successes with branded podcasts been?
What will they do? 
How will you collaborate with them?
What do you need to provide for them?
What is their production schedule for recording podcasts?
Who has final decision-making authority?
And the final set of questions to ask yourself before deciding which podcasting company to use:
Do you think you can work with them?
Do you like the way they treat you?
Will you get along with their teams?
Do you agree with the company's ethics?
Our Choices of Podcast Production Companies
Here are 27 great choices for podcasters who need excellent service from podcast production companies.
1. Cadence13
Formerly DGital Media Inc., Cadence13 is a New York-based media company.
Cadence13 generates, distributes, and monetizes audio content, especially podcasts. Spencer Brown, the company's chief executive officer, launched it in 2015.
Cadence13 is a major podcasting network that has created podcasts and episodes for actors Joseph Gordon-Levitt and Lauren Conrad, and Journalists Neil Strauss and Rachel Hollis.
Cadence13 collaborates with several companies, including Goop, Crooked Media, and Tenderfoot TV.
2. Castos Productions
In early 2020, PodcastMotor integrated with the Castos platform. The integration provided users with built-in production capabilities through Castos Productions.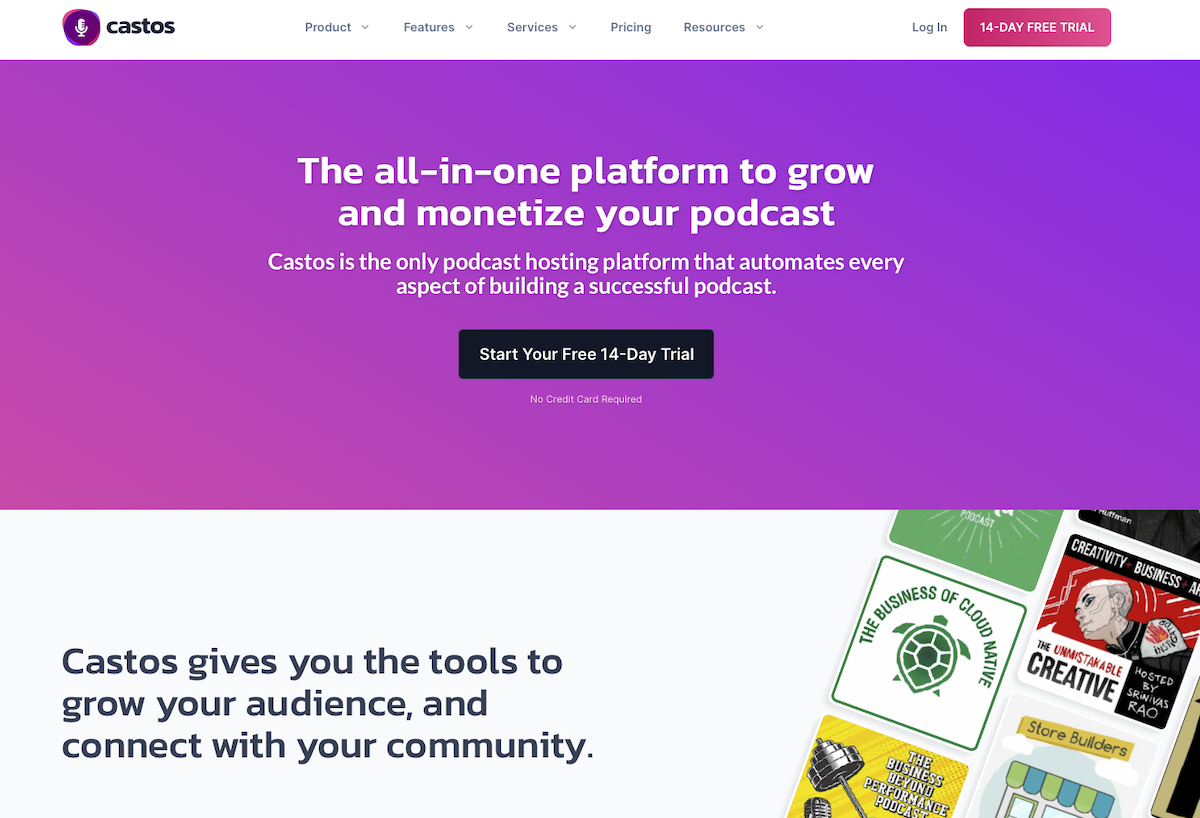 The Castos team employs skilled audio engineers that can assist you with the most time-consuming aspects of episode production, such as audio recording and editing.
They will also help with SEO optimization, show notes, and full-episode transcriptions.
3. Content Allies
Content Allies is a full-service podcast production company specializing in B2B companies. They have over 8 years of experience in podcasting and extensive industry knowledge.
All production and editing crew members are experts in recording and developing entertaining material. The teams excel in technical domains and are known for their attention to detail.
Content Allies also understands how to use podcast networking as a crucial revenue generator and a driver for developing trust-based long-term connections.
They place great emphasis on guest outreach and scheduling. They will do all the legwork to bring who you want onto your show.
4. Content Monsta
Content Monsta uses its recording, editing, and marketing skills to help you raise your content to the next level.
They can also prove that your episode content is generating the desired response. The teams are constantly monitoring strategies for feeding your audience and keeping them linked to you on a daily basis.
5. Crooked Media
Crooked Media's commitment to fostering open dialogue on the nexus of politics and culture in America is admirable. Former Obama employees founded this podcast production company with an unabashed left slant.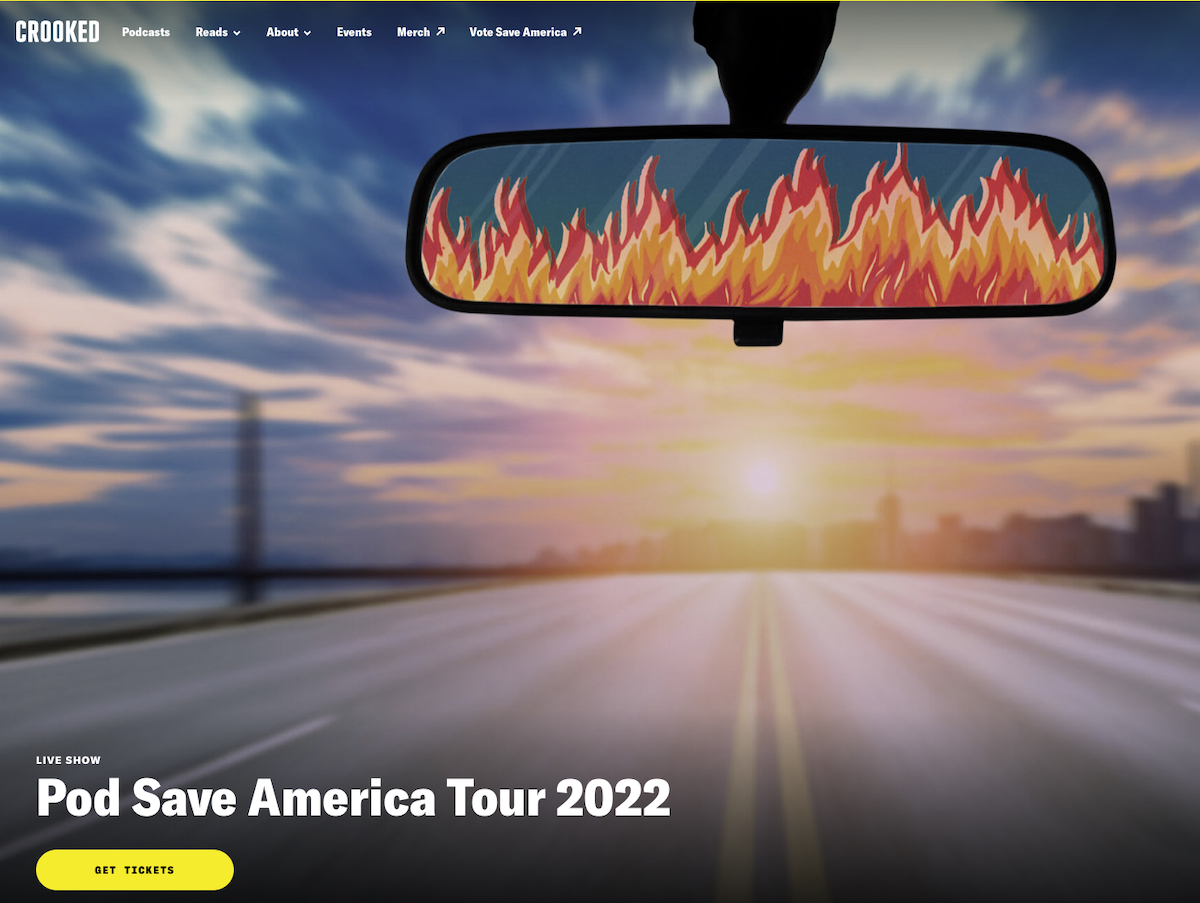 The team at Crooked Media believes that we all need better conversations about politics, society, and the world around us. We should be focusing on what we can do to fix it rather than what's broken.
Crooked is a media network that features stories, voices, and activism opportunities. These inform, entertain, and inspire action since it is up to us to do our part to make the world a better place.
6. Evergreen Podcasts
Brilliant podcasters and storytellers, the people at Evergreen Podcasts provide different episodes intending to unify audiences. They create original content, branded podcasts, audience distribution, and professional analysis.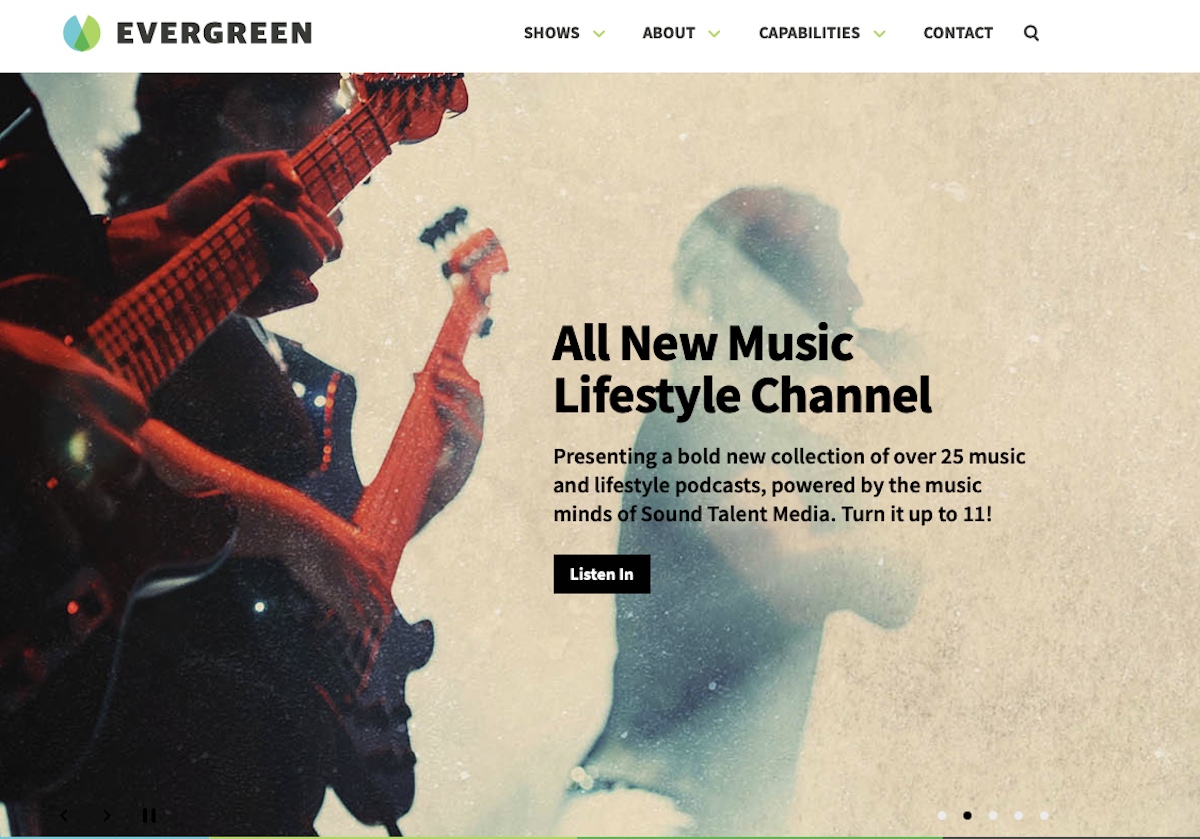 Evergreen Podcasts has a diverse production and marketing team with varied creative backgrounds and boasts a distinguished clientele. These range from founders and thinkers to jazz musicians, artists, and designers.
7. Fame
Fame is the top B2B podcast production company in the podcasting sector. Specialists in the organization are always ready to assist in launching your show and making you famous with your listeners.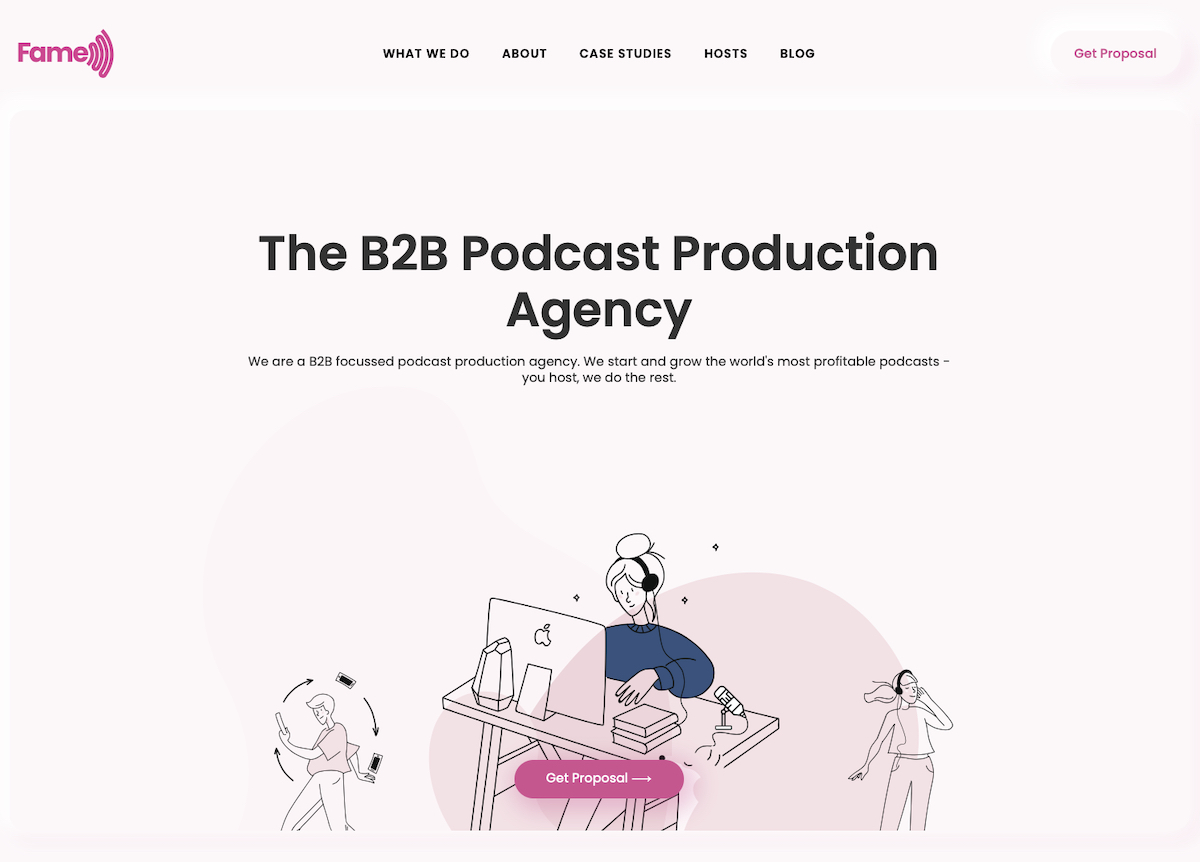 The Fame method is straightforward. They develop unique content for your podcast episode and get you some attention from notable folks in your niche. Any B2B firm looking to generate more leads may consider choosing Fame.
8. ​​Freedom Podcasting
Freedom Podcasting will give you consistent, superb audio quality for your world-class show to excel. Freedom Podcasting production service advises you on how to buy special equipment.
With Freedom Podcasting, you'll learn to follow strict protocols for noise reduction, equalization, leveling, etc. Freedom Podcasting will help you transform your original recordings into something special for your listeners.
9. JAR Audio
JAR Audio aims to establish branded podcast episodes. The company employs journalists, audio specialists, and marketers – specific specialists who know the importance of podcasts in brand storytelling.
Based in Vancouver, Canada, JAR Audio works with clients across North America.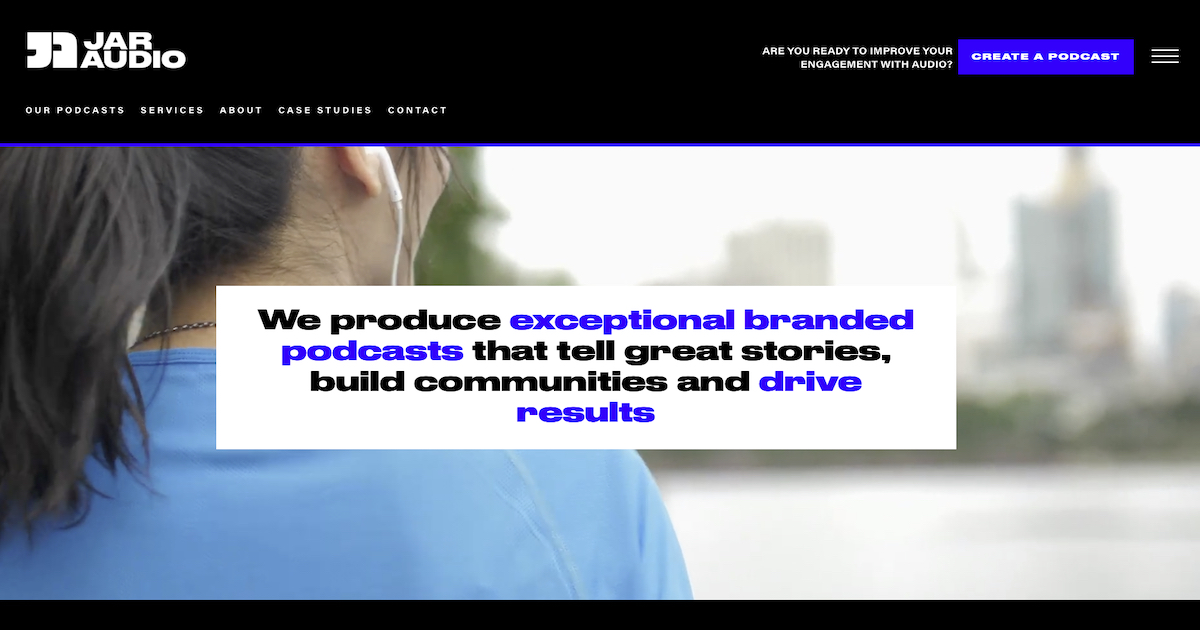 They value the client experience and project management above everything else. And their professionals produce podcasts that foster meaningful connections between podcast users, listeners, and brands.
10. Kast Media
Kast Media uses podcasting to amplify conversations and connect content providers with marketers. This is one of the fastest-growing and most fascinating podcast networks and publishers.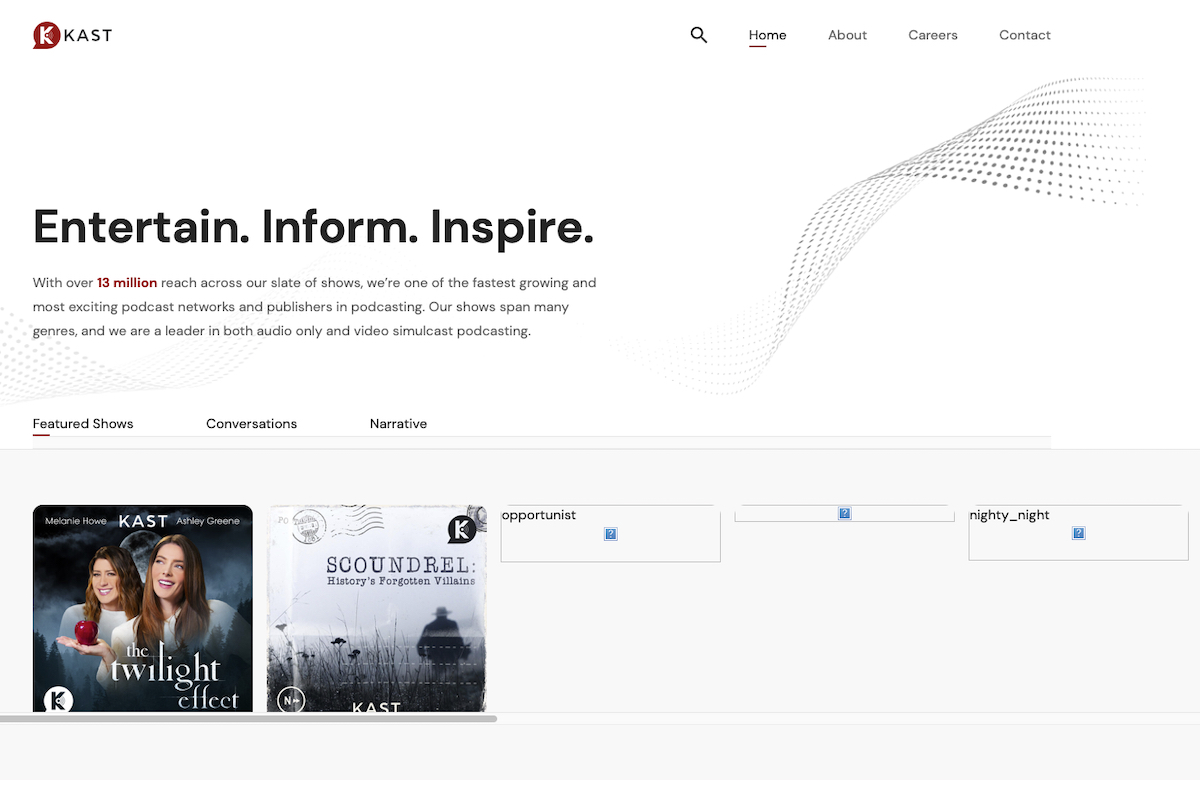 With over 13 million listeners across its slate of episodes, this multi-channel podcast network offers a variety of programming.
Programs range from murder, crime, and the paranormal, to humor, love, and the entertainment industry.
11. Lower Street
Lower Street collaborates with businesses of all sizes and across various industries. They create events tailored to each company's target audience.
The Lower Street podcast production company emphasizes quality podcasting over quantity. To this end, they prefer to work on a small number of podcasts to create the finest content possible.
12. LWC
Formerly Lantigua Williams & Co and now LWC, this company commits to giving individuals and people of color a voice.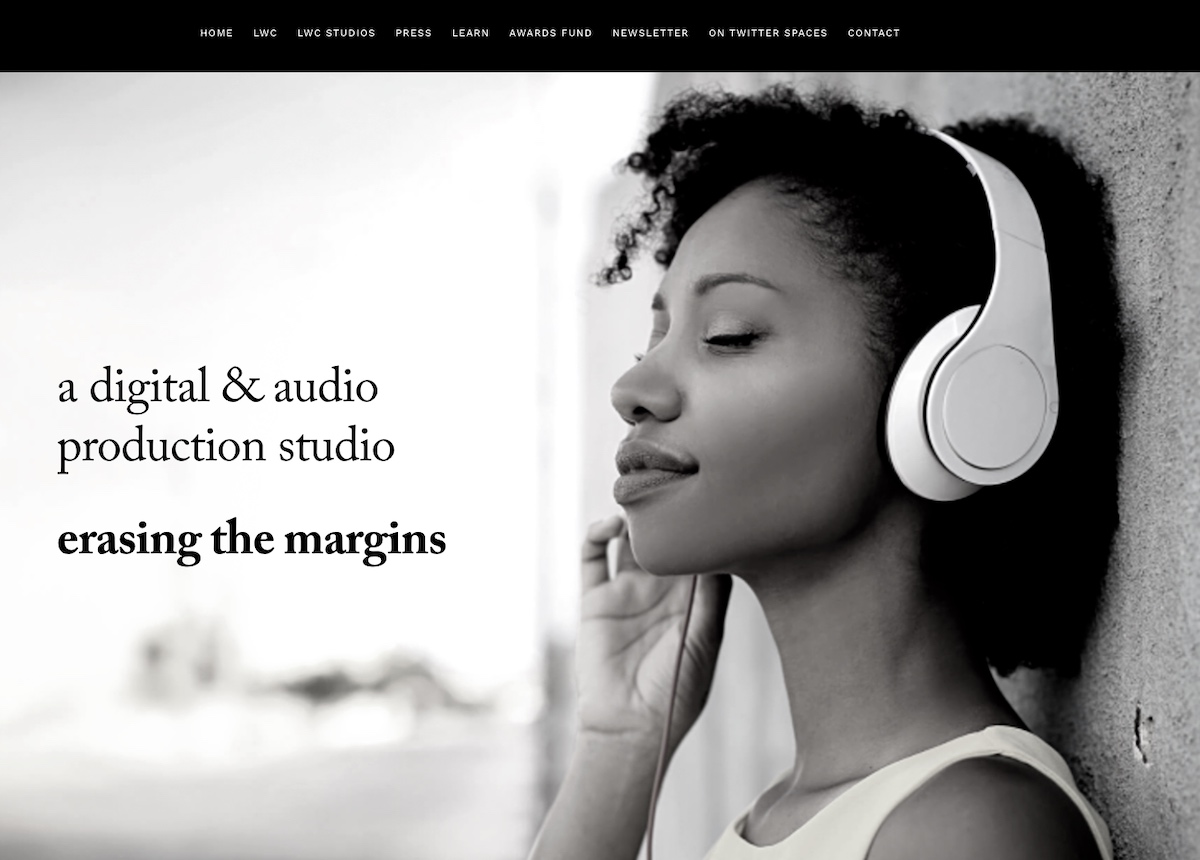 LWC uses one-of-a-kind audio recording, audio editing, and video experiences to help break down barriers. Their material seeks to share the tales of minority groups of listeners.
LWC's dedication to excellence is an inspiration to the podcasting industry.
13. Motion Agency
Based in New York City, Motion Agency is a video production company that specializes in podcasting and video.
What distinguishes Motion Agency from other podcast production companies is that they specialize in more than just podcasting.
This includes audio, music videos, advertising, audio editing, and other forms of media.
Motion Agency may be the one for you if you want to work with a company with experience with various media formats.
14. Pacific Content
Pacific Content is a leading podcast services provider. They support some of the world's most well-known companies in producing and marketing engaging audio stories.
Packages include research, screenplay writing, guest booking, recording, audio editing, and sound design.
Pacific Content focuses on high-quality, premium audio storytelling. The organization also secures the protection of all music and other third-party rights.
15. Pineapple Street Studios
Pineapple Street Studios started in 2016 and operates in Brooklyn, New York.
This is a company focused on collaboration with the most innovative business partners to produce presentations with the finest audio quality possible.
When they collaborate with their podcasters and partners, Pineapple Street Studios takes a flexible approach. They also focus on offering different programs to the sector.
16. Podcast.Co
Podcast.Co provides practically everything you could need for a podcast. This includes hosting, distribution, and marketing services.
A full-service production house, they offer concept, production, recording audio, and audio editing.
Whether you're a total rookie or a seasoned veteran who wants to provide the best for your listeners, Podcast.Co is excellent for all prospective podcasters.
17. Barevalue (formerly known as Podcast Press)
Barevalue is a one-stop podcast production company for any podcaster wanting to outsource their audio editing and improve the quality of their production.
You can begin with their Barevalue Editing Package and upgrade to other capabilities. Pat Flynn, a professional podcaster, highly recommends this production service.
18. Podfly
Podfly provides a full range of podcast production services with various bundles. The agency has worked with brands in different industries, including politics, education, and non-profit organizations.
Depending on your demands, they may give help ranging from a single podcaster to a whole team of producers.
Podfly provides a variety of podcast recording and audio editing services. The production company also offers specialized equipment tailored for particular podcasts.
19. Q'd Up Audio
Q'd Up Audio is a full-service creative audio studio that adds real value and innovation to each project.
The teams have considerable audio experience, an excellent feel for sound, and strong attention to detail.
They also foster a creative environment. Creativity from them captures the sound you look for in your message in the best way possible through audio.
Their studios emphasize innovation and professionalism. Q'd Up Audio provides worldwide recording, post-production, music composition, voice-over, and restoration services.
They also mix digital and analog sound with a modern workflow to help client collaboration.
20. Quill Podcasting
Quill Podcasting is a one-of-a-kind participant in the podcast agency industry, having launched with a bang.
They acquired podcast production business Origins Media Haus in its first year of operation.
Quill focuses on bringing business podcasts to life by providing a full array of services. These range from podcast ideation to distribution and audience growth.
This podcast production company prioritizes audience growth for all of its clients. They assist their clients in reaching their objectives through excellent podcasting content for their listeners.
They also offer quality data-driven marketing approaches with a strong emphasis on audience growth.
21. Relationary Marketing
Relationary Marketing can help you create credibility and recognize critical customers. You can cultivate high-value prospects and advertise your major event.
Relationary's tailored podcast creation service enables you to supply engaging material regularly for your content marketing strategy.
With Relationary Marketing's podcasting services, you will develop your brand credibility with a signature podcast series. This includes your subject matter experts and industry leaders.
You will also be able to highlight your major clients or association members. Their success stories will build persuasive, authentic testimonials.
22. Resonate Recordings
Resonate Recordings' audio professionals provide production services for feature films and broadcast television.
They also offer multiple albums, top podcasts, and audiobooks.
Resonate has a straightforward pricing structure and can assist you with editing at any level of service.
They are responsive, courteous, and professional. Resonate Recordings will help you host your website and podcast episodes, create social media material, and edit films.
23. ScrubCast
ScrubCast is a podcast production company that provides various services to podcasters. They provide editing, voice-over recording, excellent podcast engineers, and other services.
This company has a fantastic customer care team to assist you with any questions or concerns you may have with your podcast. Their costs are reasonable, and they guarantee customer happiness.
24. Somethin' Else
Somethin' Else is a premium podcasting company. Founded in 1991, they are pioneers in creating high-quality audio content. The teams produce a diverse spectrum of unique podcasts with hosts, writers, and producers who are fiercely creative.
Sony Music Entertainment's Global Podcast Division includes Somethin' Else (SME). SME has a long history of delighting audiences by putting innovation at the heart of all it does. It is fully committed to establishing a world-leading premium podcast business.
This is a full-service podcast production company. Somethin' Else offers services ranging from development to production, distribution, and marketing.
They also offer subscription, sponsorship, and advertising sales.
25. Sweet Fish Media
Sweet Fish Media, a full-service podcast firm, is a significant player in the podcast production market.
This agency assists executives in becoming industry influencers through sector-specific podcasts. The organization also provides podcast coaching, audience-building sessions, and content marketing coaching.
26. Swell Podcasting
Swell Podcasting is a podcast production company run entirely by and for women. It specializes in assisting individuals in creating podcasts.
This company has collaborated with some of the world's most extraordinary podcasters and is well-known for producing high-quality work on time.
Swell is a great place to look if you're a woman trying to start a podcast and don't know where to begin.
27. Wondery
Wondery in Los Angeles is one of the world's most prolific podcast networks. The West Hollywood-based company is behind shows such as "Hollywood & Crime."
This company has collaborated with creators to develop episodes such as "The Fall of Rome" and "Innovation Crush."
If you know any of their shows, you'll see several of their sponsors, such as MeUndies, Stamps.com, and Loot Crate, in Los Angeles.
Conclusion: How to Choose Podcast Production Companies for Your Projects
People have been enjoying podcasts for a very long time; however, their surge in popularity means that listeners have high expectations.
With so many podcasts accessible, listeners will abandon you if your content isn't great.
A lot goes into podcast production, so find the right podcast production companies to give you the kind of service you need.
You can produce personal, one-person podcasts on your own with the least amount of equipment. But, if you want to produce a professional and well-marketed podcast, you will need professional podcast producers.
Finally, podcasting and social media complement one other. Because social networking is a powerful brand-building tool that may help you gain listeners and market your show.
However, it is not just about the show's brand. The host's brand is also important, and many podcast broadcasters are starting to profit from this aspect.