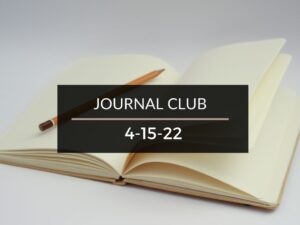 Here's Journal Club 4-15-22! Every week, I hold a JOURNAL CLUB. After filtering through the articles on the web, I present a few that impacted my life this week. Be safe and stay well!
---
You've surely heard words like Bitcoin, Crypto, and NFTs by now. The past decade has been a wild ride for those who have invested in these assets. However, what about those who are looking to get in the game but are unsure of where to begin? The

Physician on FIRE

shares it all in –

Crypto and NFTs: The Good, The Bad, and The Ugly

.
We're all too familiar with physician burnout and looking for ways to make it stop or go away. But is it really that simple to escape from it? The

Happy MD

thinks it's possible to avoid physician burnout and wants to simplify the solution to the problem by asking some critical questions in the article –

How to Prevent Physician Burnout as Simply as Possible

.
That's all for this week! I hope this week's journal club was helpful.
Read any interesting articles? We'd love it if you could please take a moment to share them in the comments below!
Thank you for reading and sharing,
Peter