Why do you need sales management software when Excel table or Google sheet can handle everything and everybody is already using it?
Time saving. In sales (as in other aspects of life) time is a precious resource. The last thing you want is for your sales representatives to spend their time linking tables, comparing inputs and doing manual data entries.
Sales management system will help your sales team focus on actual sales, rather than on various menial tasks around it. Research shows that sales reps. spend only 1/3 of their time actually talking to prospects, you definitely want to increase that.
Best Sales Management Software System
In this section I will review some of the great sales tools and discuss their features and pricing.
Monday.com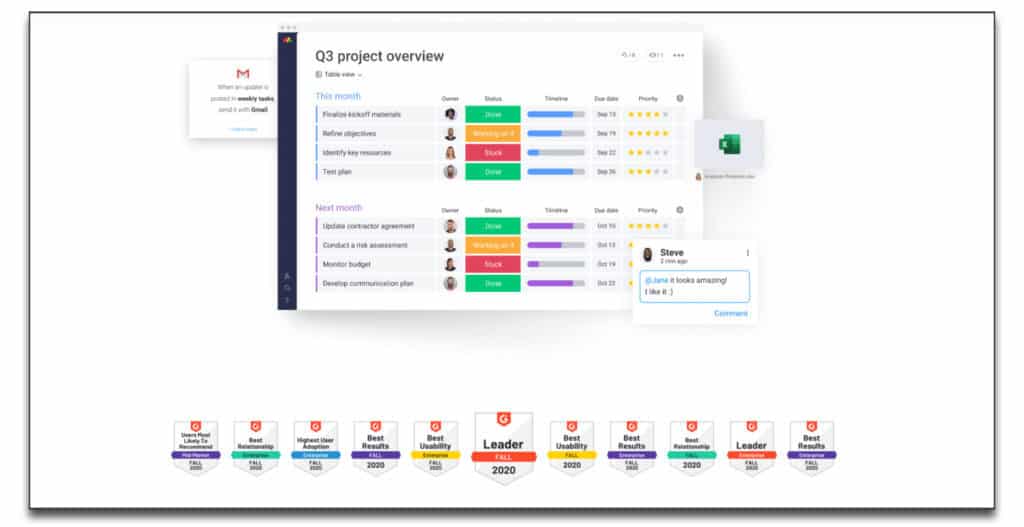 Monday is probably the best sales management software for sales and project management. What's great about this platform is that it allows third-party software integration. Together with email integration, you can have all the relevant sales tools in one place.
It is one of the best softwares for sales due to its simplified workflow. With Monday, you can save a lot of time during daily operations. The platform allows you to centralize sales data making your teams more efficient.
When you get a monthly subscription, you will get lots of amazing features such as multiple views (Kanban, Maps, and Calendar), enhanced security and Google authentication, great visual representation of sales, customizable dashboard, integration with Dropbox, Microsoft Team, Slack, etc.
One of the reasons why this sales management system is so good is because it allows you to automate certain tasks. For example, you can automate repeatable processes, thus saving a lot of time for everyone involved. Needless to say, Monday helps you track all the tasks as well as the deadlines associated with them. 
Given that it's a premium sales performance management software, you should definitely give Monday.com a try.
Monday.com pricing
Monday.com has 4 plans: Basic (€8 per seat/€24 per month), Standard (€10 per seat/€30 per month), Pro (€16 per seat/€42 per month), Enterprise (contact the company).
Salesforce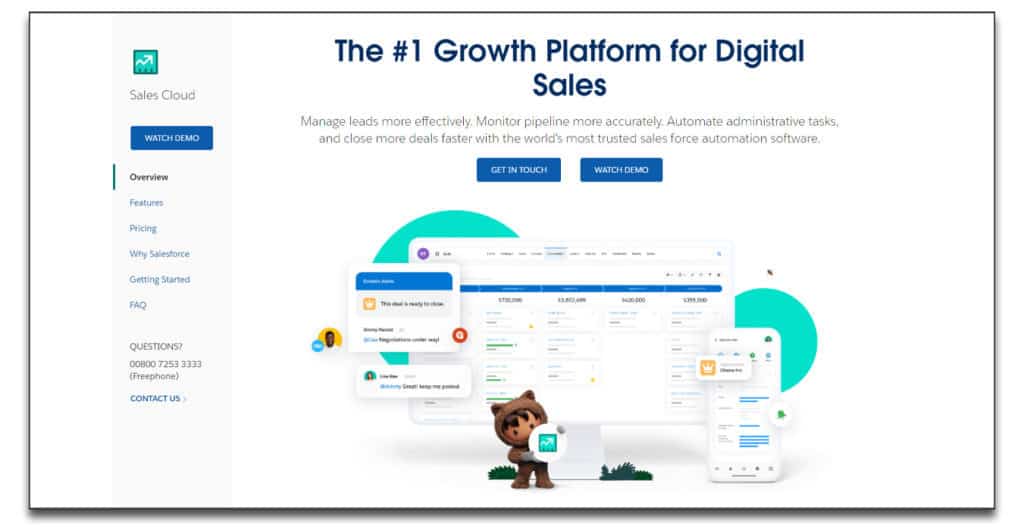 If you're looking for sales management system software that will fulfill all your needs, it doesn't get better than Salesforce. The software provides a complete experience to all users and companies regardless of their size.
Salesforce has various features meant to improve an organization's workflow. It unites sales lead management software, sales performance management software, and sales contact management software into one unique platform. It also allows a high degree of automation by relying on Pardot.
Companies also have Sales Cloud at their disposal for storing data online. With the cloud feature, companies' salespeople can centralize processes by storing all information in one place. You can use it to log in interactions with current clients and leads as well as to automate numerous tedious processes.
The sales management software is very well-rounded. Among others, you can use its marketing and collaboration tools to achieve better results for your organization. Its dashboard is highly customizable, and it can be used to store reports, for tracking orders, and making forecasts. 
All of the data is in real-time, making it ideal for larger teams that have to deal with lots of changes and updates. You can also integrate the tool with email apps such as Gmail to make your communication that much easier and straightforward.
Salesforce pricing
The company offers 4 plans to its users: Essential ($25 per user per month), Professional ($75 per user per month), Enterprise ($150 per user per month), Unlimited ($300 per user per month).
HubSpot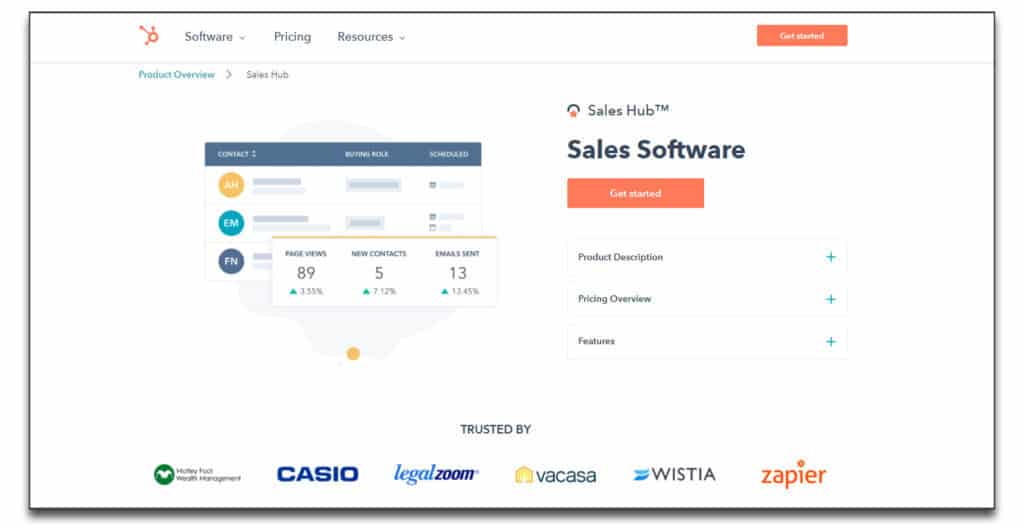 HubSpot is another very comprehensive platform that gives its users numerous options. It is best utilized for marketing and full-stack sales, although it is much more wholesome than that. The SaaS consists of several sub-services such as Sales Hub, Marketing Hub, Service Hub, as well as HubSpot CRM.
If you're a first-time user, this platform might seem a bit overwhelming. In the end, its main focus is on larger corporations and their needs. But, that doesn't mean that smaller organizations cannot benefit from it. The sales performance management software allows you to track all your actions and interactions with leads and clients. When all is said and done, you can use it to create reports.
HubSpot has a very nice dashboard that allows you to easily access all the relevant data. Here, you can find detailed reports, sales activity information, productivity and deal data, as well as all other relevant information.
Users have access to numerous add-ons that can be used for services, marketing, sales, and operations. The provider has a great customer support team that you can contact at any time. You also have call tracking and recording features, as well as advanced productivity tools.
HubSpot pricing
There are 3 plans you can choose from: Starter ($45 per month), Professional ($450 per month), and Enterprise ($1200 per month).
Pipedrive
If you have never tried sales management software, Pipedrive should be one of your first choices. The sales contact management software is really easy to use, and you will manage your way around in a few brief moments.
Unlike some other platforms on this list, Pipedrive doesn't try to be overwhelming. In fact, simplicity is its main selling point. Furthermore, it is cheaper than some other options making it ideal for small companies and teams.
The sales management system software gives you a bird's-eye view of all the data. You can see the whole pipeline in a visually comprehensive way.  Managers can utilize the dashboard to check team and individual performance, evaluate metrics, as well as to track and close leads.
This SaaS has become very popular because of its AI chatbots. There are also web forms, which are ideal for deal and lead management. What's really impressive is that you can integrate this software with more than 200 different products. Lastly, when you use Pipedrive, you can rest assured that all your company's data is well protected.
Pipedrive pricing
Here are the basic plans you can explore: Essential plan ($12.50 per user per month), Advanced plan ($24.90 per user per month), Professional plan ($49.90 per user per month), and Enterprise plan ($99 per user per month).
Freshsales
Freshsales (now known as Freshworks CRM) is a CRM system that is mainly focused on sales. You can utilize it for efficient viewing and managing of all customer data. The platform is great for centralizing processes, but it also has certain automation features that will make your life much simpler.
The tool can be good for both larger and smaller organizations. Among others, Freshsales allows you to track customers and leads based on demographic data. You can check their unique characteristics and make notes. The software gives you a nice, clear view of past conversations allowing you to stay in the loop at all times.
Perhaps the main reason why you should give this system an advantage over others is because of its AI-based features. You can use these functions to categorize leads, track activity, and record phones and emails. The platform is really great for keeping tabs on your leads. If you're falling behind with a task or follow-up, Freshsales will remind you in due time.
Freshsales pricing
You can choose between 3 plans: Growth ($29 per month), Pro ($59 per month), Enterprise ($99 per month).
Zoho CRM
If you're looking for sales performance management software, it doesn't get much better than Zoho CRM. This platform is simply great for increasing sales conversion rates. To make things even better, if you ever encounter issues while using the software, there is an amazing customer support team to back you up.
The platform provides lots of great features, including forecasting tools, integrated calendars, as well as workflow conversion. You can even create your own rules for utilizing the software that the whole team needs to abide by. That makes the platform very flexible. 
While the emphasis with Zoho CRM is on conversion, we cannot neglect its communication features. You can use the platform to connect with your clients either via email or phone call. This makes Zoho one of the best sales contact management software on the market.
One interesting feature that is otherwise rare for CRM software is social media tracking. You can use this function to check previous communication with leads on numerous social networks. By relying on their command center, you can create a customized journey for all your partners.
Zoho CRM pricing
Potential clients can take one of these plans: Standard ($14 per user per month), Professional ($23 per user per month), Enterprise ($40 per user per month), and Ultimate ($52 per user per month).
Keap
This is sales lead management software with some of the most advanced sales features. It is simply amazing for tracking tasks and interaction, performing advanced management, and streamlining communication with current and future clients.
Keap shows its full potential for larger companies or companies with lots of sales. Not only will it help you increase the conversion, but the platform will make it easier to track and automate.
While all this might sound complicated, the software relies on a really simplistic customizable system. You can drag and drop almost anything on your screen, making it much easier for new users. Needless to say, this makes Keap much more flexible than some other SaaS on the list.
Even if you're not a big company, the software will allow you to scale your business without missing a beat. Invoices are generated with just one click, and you have a great analytics suite that will help you analyze performance and build upon it. You can also get it as a mobile app.
Keap pricing
At this moment, there are 3 subscription plans for Keep: Lite ($79 per month), Pro ($149 per month), and Max ($199).
Taimer
Taimer is a platform that provides an all-in-one solution for companies regardless of their size. Some of its best features include contacts management, expensing, sales quotes, and team chat.
Although the software can be used by anyone, it is much better for smaller organizations. You can use it efficiently for media companies, consultancies, marketing agencies, accounting businesses, and numerous other service providers.
With this platform, you are able to replace numerous individual tools. It provides sales CRM (simplification and automation of all sales procedures), project management (allows you to streamline and manage projects in a much more efficient way), billing and invoicing (simple and quick creation of invoices and bills), time and resource management (helps you utilize resources in a more efficient way), reporting, and integration with various other tools.
Taimer pricing
The great thing about Taimer is that it has a free plan. Besides it, there is also Sales CRM plan (€13 per month), Project Management (€16 per month), and ERP (€26 per month).
Flowlu
Flowlu is a very detailed platform that can help you with all your business needs. It is especially powerful for managing various tasks and projects. The platform provides time tracking, checklists, reports and allows a high degree of customization. You can view the data in Gantt, Kanban, and GTD.
Perhaps the main reason to choose this software is because of its full-funnel breakdown. It allows you to analyze performance during various stages of a project.
Like many similar tools, you can use Flowlu for financial management. The software can save you a lot of time by creating automatic invoices. On top of that, it is great for generating estimates, performing analysis using data sets, graphic charts, managing numerous accounts, and optimizing your business expenses. 
Many businesses use Flowlu for communication and collaboration. The software can help you detect opportunities and convert leads. You can use it to automate the sales process and make better appointment scheduling. When you have to contact leads, there is a management system that will help you optimize the process.
Flowlu pricing
Flowlu comes with 4 plants: Free, Team ($29 per month), Business ($59 per month), and Professional ($119 per month).
MindTickle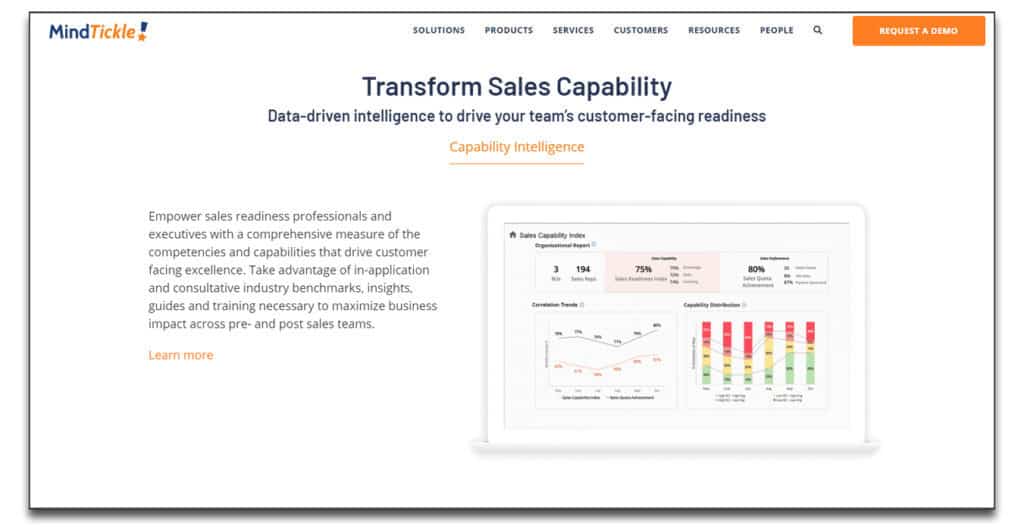 MindTickle is a great way to increase your revenues. The tool is categorized as a sales enablement platform. You can utilize it to onboard new clients but also for continued learning, coaching, and skill improvement. In fact, you can use it to embed coaching in your everyday processes.
The software can work well in conjunction with some of the other platforms on our list as it is completely different. MindTickle works well for all organizations regardless of their size as it mainly focuses on employee education. Among others, it will allow you to detect gaps in teams' and individuals' skill levels.
The platform relies on a high level of gamification to keep everyone involved. Give your team members points and badges to stimulate development. Stimulate competitive juices by relying on a leaderboard.
MindTickle pricing
You need to contact the company for pricing.
What are the features of sales management?
You would do right to test a couple of tools to see which fits you and your team the best. Here are some areas that you should consider when comparing.
Ease of use
The less features and clutter is there, the better. You want to spend minimal amounts of time in your sales management tool. Everything should be accessible in just a few clicks.
Analytics & reporting
While you need just the few main numbers to have an overview of the situation and performance, at times your might need a much deeper insight. Make sure that the final tool of your choice will be able to provide both quick high level and view and also more detailed analysis.
Multiple integrations
You are already using several tools to send out emails, automate marketing, schedule calls etc. Make sure that the ones that matter most can be integrated directly with the sales management system, or at least can be connected through Zapier if there is no other way around.
Security
If you are on the fence concerning putting your sales data into the cloud, ask yourself – is the data really safe on your servers? Sales management platforms will enable you a wide range of administration and monitoring tools as well as a high level of security.
What is sales management software?
Sales management software is a tool (usually online and refered to as Software as a Service tool) that allows you to manage your sales much efficiently.
It provides you with a range of tools and features at one place, so everything is centralized and accessible by your team anytime from any device anywhere in the world.
You might want to check my post on workflow management software as well.
FAQ
Why do I need a sales management system?
It will allow you to significantly expand the efficiency and scale of your sales funnel and business.