Knowing how to hide a page in WordPress is something you think you'll never need to know — until you do!
Honestly, almost everyone needs to hide a page at some point.
Thankfully, it's not that hard to do.
Let's get to it.
Why Would You Want To Hide A WordPress Page?
Before I show you how to do it, let's first talk about why you might want to hide a WordPress page or blog post in the first place.
Here are some of the main reasons:
You might want to hide a page from the search engines because of the lack of content on the page.

Sometimes, you only want only specific people to see the page.

If the page isn't complete, you might want to keep it hidden until it's complete.

The page might be irrelevant to the main content on your blog.

It could be a private page such as a download or thank you page.
5 Ways To Hide Pages In WordPress
The 5 methods below will help you out if you want to hide a single page, multiple pages, or even if you want to hide a page or related post from your navigation menu.
How To Hide A Page In WordPress From Specific People
Let's start with hiding a page from a WordPress website from specific people only. For example, you might have a particular page that only paid members should be able to see or a private page for one person only.
Either way, here's how to do it.
Step 1. Locate the login page, sign in to your WordPress dashboard, and locate the WordPress page to hide. You can find it quickly by looking at the page title in the list.
Step 2. Select Edit on the page or post you're hiding. You will then see the main WordPress page on the screen.
Step 3. On the right side of the screen, you will see a menu that displays settings for the Page and Block.
Make sure you are on the page option, and underneath, you'll see a section for Status & visibility — click the downward arrow to display this if it isn't already showing.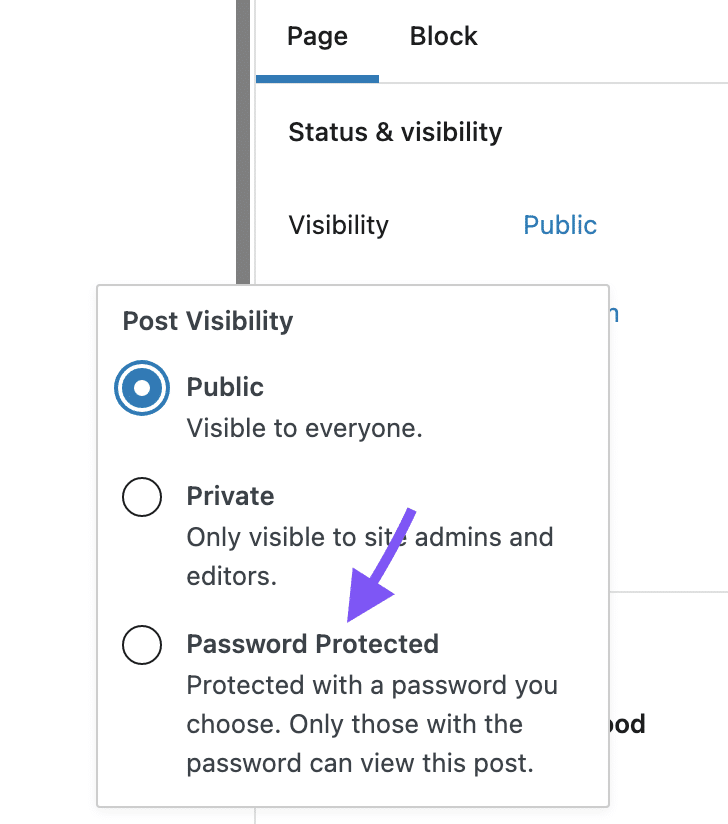 Select the Public button next to Visibility. A pop-up box will appear showing the following 3 options:
Public — available for anyone to see
Private — only available for WordPress admins and editors
Password Protected — This option is the one that interests you and will allow you to set a password for the post
Step 4. Enter the password you want the reader(s) to use when reading the post or page. Anyone who doesn't have the password won't be able to view the page.
Step 5. That's it! Whenever a reader tries to read this particular WordPress page, they will have to enter a password.
Hide A Page On WordPress That's Not Ready For Publishing Yet
This method shows you how to hide a WordPress page that's not complete. Although lots of people know about this simple setting, many don't, and they will publish the post before completion.
Doing this looks unprofessional and can turn readers away from your blog.
Here's a simple way to fix this problem.
You can do this when writing the page or after you have published it. If you're writing the page, but it's not finished, all you need to do is select 'Save Draft' and not the publish button.
Doing this will save the page to your draft files, so the next time you want to add content to the page (or post), you can locate your draft and click on the page title you're writing.
If you have already published the article because you didn't know about saving it as a draft, you can select the 'Switch to draft' option at the top of the page.
Doing this will unpublish your blog post or page and save it in drafts for you to add or edit.
The following method will show you how to hide a WordPress post or page from a website navigation menu on your WordPress website.
You can have multiple menus on WordPress, and the process applies to whichever menu you want to use.
It's a simple process. 
First, log in to WordPress and go to your dashboard. You then select 'Appearance' and then 'Menus' from the dashboard list on the left side of your screen.
Next, you select the menu you want to edit in the 'Menu Structure' box. You will see a list of pages and posts for the menu.
Then, you click the downward arrow for the page you want to remove and select the Remove option, and then the Save button.
That's it; the WordPress page will no longer display.
Hide A WordPress Page From The Search Engines
You may be wondering how to stop search engines from indexing a page in WordPress — for example, a download page for a product you sell or a particular offer page.
You have several options; however, I will show you how to do it by using the Yoast SEO plugin.
The Yoast SEO plugin is excellent with many benefits for ranking WordPress posts and pages. However, it has lots of other features too, and one of them is the ability to hide your content from Google, Bing, and other search engines.
The first thing you need to do is upload the Yoast SEO plugin from your WordPress dashboard. Once you have uploaded and activated the plugin, you search through your content for the page you want to hide from the search engines.
Click Edit for the page, and your page will show up on the screen. You then scroll down towards the bottom of the page, and you'll notice Settings for the Yoast WordPress plugin.
You'll see an Advanced option at the bottom of the settings box — click on the downward arrow icon, and an extra set of settings appears.
The setting that interests you is 'Allow search engines to show this page in the search results.'
You will notice that the default setting is 'Yes,' but you can change this by clicking on the downward arrow and selecting 'No.'
All you need to do then is click the 'Update' button.
Another plugin that does the same thing is the All In One SEO (AIOSEO) plugin. It's free to use and can hide your pages like Yoast.
How To Hide All Pages & Content In WordPress
The final method is to hide all your pages and content. 
When building your blog, you may want to do this because you want an adequate number of pages and posts published before launching.
The simplest way to do this is again by using a WordPress plugin. Using a plugin is easy; you don't need to be a WordPress expert or add any CSS code.
All you do is install, activate, and select your options.
The process involves adding a Coming Soon page to your website. Readers will see a Coming Soon page similar to the one below whenever anyone visits the URL.
Doing this will allow you to work on your website in the background, and when it's ready to launch, you deactivate and remove the plugin.
To upload a plugin — log in to WordPress, select Plugins, Upload, and Activate.
Below are several Coming Soon plugins to consider:
Check out this article that shows even more WordPress coming soon plugins.
Final Thoughts On Hiding pages In WordPress
You now know how to hide a page in WordPress, and the best thing about it all is how easy it is to do.
There are more complicated ways to hide posts and pages, like adding a code snippet to your robot.txt files or messing around with additional CSS, but these are the best methods for convenience.
The next time you need to hide a page in WordPress, use the methods above.