Wow, I can't believe I just spent about 5 hours yesterday preparing the information to be handed to my accountant for income tax reporting. Though, I'm grateful that I had all the information I needed at my finger tips with the help of modern day technology — computer, internet, and spreadsheets!
I still managed to buy a couple of dividend stocks last week. Although we love juicy dividends, we don't restrict ourselves from not buying a dividend stock because it pays a below-market yield, as long as its total return potential is attractive. One dividend stock we just bought was OpenText (TSX:OTEX)(NASDAQ:OTEX).
OpenText: Business Overview
OpenText is a global company that provides enterprise information management ("EIM") services. Below is a snapshot of the tech company. It forecasts that its addressable market is growing 8% and it has a large customer base.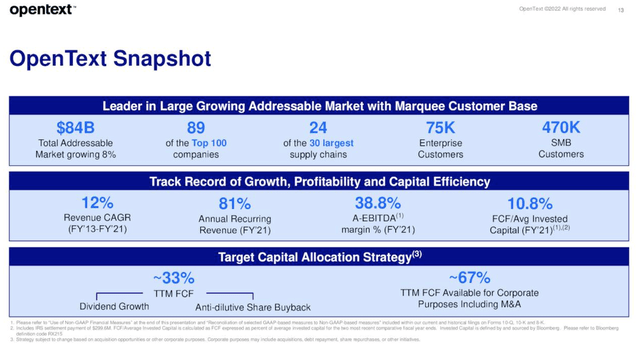 Technically
The stock has corrected meaningfully by +20% over the last 6 months, creating a good entry point in the dividend-growth stock. The 200-day simple moving average ("SMA") is acting as support for now.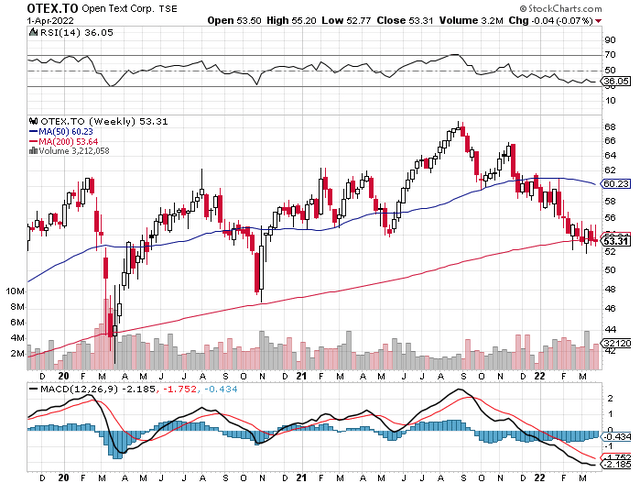 Growth

Management expects growth to primarily come from its Cloud segment, which contributes to about 42% of total revenue. M&A opportunities should continue to add to its growth.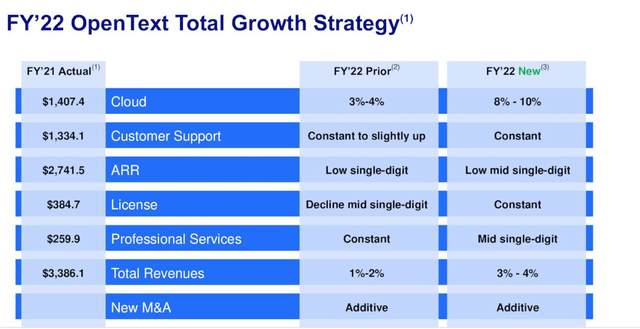 Observe the company's revenue diversification, which leads to a high gross margin range of 75-77%. The company plans to reinvest about 13% of operating expenses in R&D and 19% in Sales & Marketing, which hopefully will drive innovation and sales growth.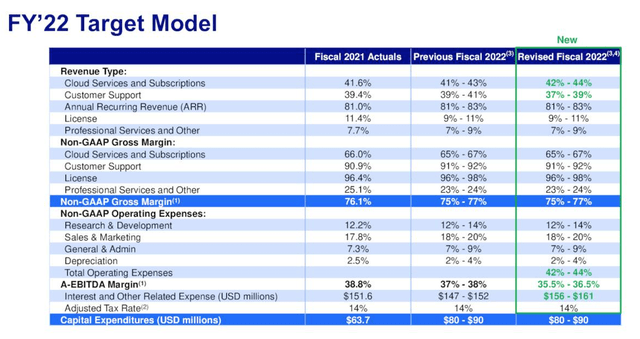 OpenText also aims to allocate about 33% of free cash flow to dividends and share buybacks, returning value to shareholders. The company closed the Zix acquisition for an enterprise value of about US$860 million in December 2021, so it'll likely lower its net leverage ratio to about 1.5 times before making another acquisition. In OpenText's press release, it describes Zix as "a leader in SaaS-based email encryption, threat protection and compliance cloud solutions for small and medium-sized businesses…reporting ARR of 90%."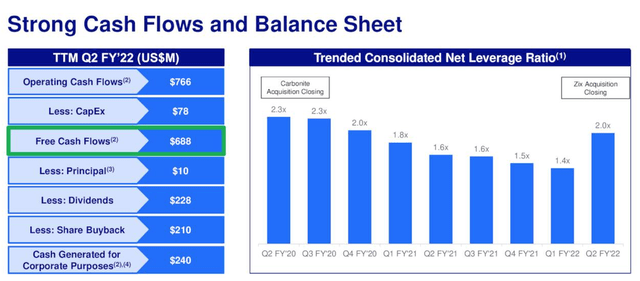 OpenText has a strong track record of persistently growing earnings and free cash flow.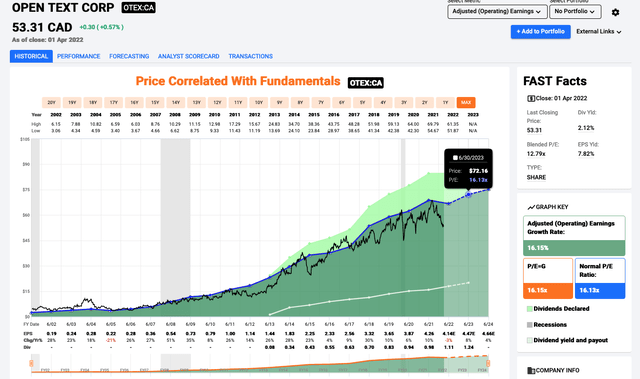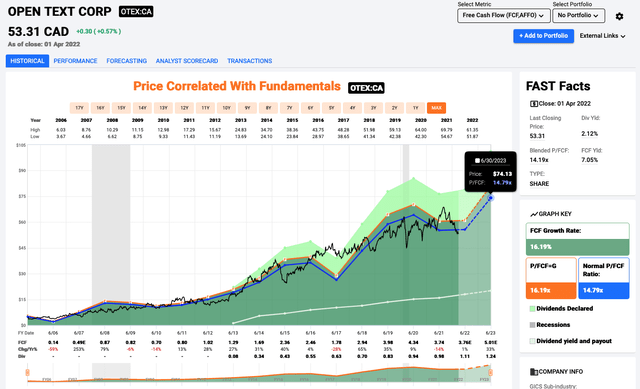 The graphs' targets align with the 12-month analyst consensus price target of CAD$74.73 (what we believe CAD$ and not US$ makes more sense), which suggests an upside potential of about 40% over the near term. This CAD$ price target, using the current forex, indicates a US$59.70 near-term price target.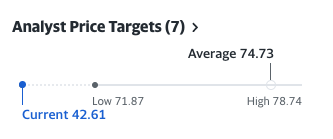 OTEX began paying a dividend in 2013 and has increased its dividend every year since. It reports in USD and pays out USD-denominated dividends. Its 5-year dividend growth rate is about 13%.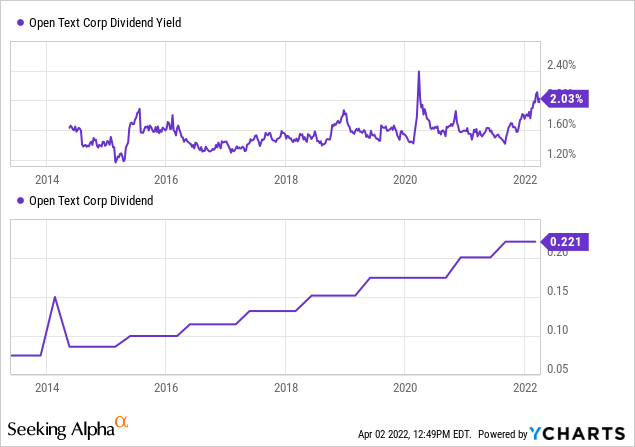 OTEX stock's Returns Potential
Value Line's most recent analysis report on Apr 8, 2022 gave OTEX a high safety rating of 2 (out of 5 where 1 is safest). It also gave the following metrics:
Company's Financial Strength: B++
Stock's Price Stability 95/100
Price Growth Persistence 90/100
Earnings Predictability 50/100
Value Line projects OTEX to deliver annualized returns of 13-22% over the next 3-5 years for price targets of US$65-90.
I suppose Value Line's data showing that Open Text's earnings are quite unpredictable comes from the unpredictable timing of OTEX acquisitions and the time and effort it takes to integrate the acquisitions.
We think total returns of 12-16% over the next 5 years is also in the cards, while OTEX continues increasing its dividend. If the stock becomes fully valued in 3 years, total returns of about 19% could be achieved in the period.
If you like what you've just read, consider subscribing via the "Subscribe Here" form at the top right so that you will receive an email notification when I publish a new article.
Disclosure: As of writing, we own TSX:OTEX.
Disclaimer: I am not a certified financial advisor. This article is for educational purposes, so consult a financial advisor and or tax professional if necessary before making any investment decisions.
Get Exclusive Articles from me on Seeking Alpha
Access my portfolio of high-quality U.S. and Canadian dividend stocks.
Real-time updates of when I buy or sell from this portfolio.
Get best ideas of the top 3 dividend stocks from my watchlist. Updated each month.