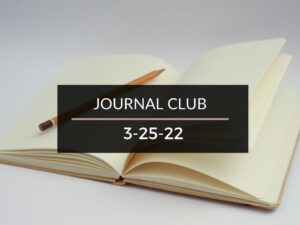 Here's Journal Club 3/25/22! Every week, I hold a JOURNAL CLUB. After filtering through the articles on the web, I present a few that impacted my life this week. Be safe and stay well!
---
Many real estate investors would agree that investing in short-term or vacation rentals is a great way to make money. However, very few pause to think if they really have what it takes to invest and manage vacation rentals successfully.

Semi-Retired MD

urges you to carefully consider your decision before investing your hard-earned money in vacation rentals, and shares key points for you to thrive as a vacation rental owner in the article –

Do You Have the Right Mindset to Invest in a Vacation Rental?
Are you familiar with the term – sequence of returns risk? It refers to the "risk of receiving lower or negative returns when withdrawing from an investment portfolio." According to the author of

Financial Samurai

, if you wish to retire someday, you should be aware of the sequence of returns risk. The author shares his recommendations and talks more about the topic in the article –

Sequence Of Returns Risk And How It Affects Your Retirement

.
The decision to pursue financial independence and early retirement is personal and varies from person to person. Per the author of

Retire Before Dad

, "the financial independence number is a generally accepted rule of thumb, and not a mathematical certainty." Why is that, and what does that mean? The answer to which you'll find in the article –

With FIRE in My Hands

. Here the author shares an interesting perspective by leveraging financial independence to create something meaningful and rewarding.
That's all for this week! I hope this week's journal club was helpful.
Read any interesting articles? We'd love it if you could please take a moment to share them in the comments below!
Thank you for reading and sharing,
Peter