Have you ever wondered how to earn money on Facebook ($500 or more every day)?
Well here are 9 different ways to make money on Facebook that we'll talk about in this article:
Affiliate marketing
Facebook Marketplace
Facebook Live
Instant Articles
Sponsored content
Subscription groups
Free Facebook groups
Selling your services
As you can see, there are a bunch of different avenues you can take, including selling products, services, marketing, or getting sponsored by brands, among other ways. 
You'll discover how to make $500 on Facebook every day using each of these ideas. Including how to get started, tips for finding your niche and target audience, and creating engagement.
We'll also cover how to make money with Facebook ads and Facebook videos.
Let's go!
How to Earn Money on Facebook [Make Up to $500 Every Day]
From selling digital products to offering your services online, becoming an online marketer, or flipping goods locally, there's more than one path to $500 every day on Facebook.
Check these out.
1. Affiliate marketing
Affiliate marketing makes you money when you refer products to your audience and those referrals result in a sale. When a sale happens, you earn a commission.
The industry is huge and is expected to grow to $8.2 billion by 2022.
Top affiliate marketers make up to millions per year. There are many ways to make money with affiliate marketing. You can use your website to funnel traffic, social networks like Facebook, YouTube, Instagram, and others, your email list, etc.
How does it work and how to earn money on Facebook?
First, you'll pick a niche. 
This can be a passion or interest you have like pets, golf, home decor, fitness, etc.
Next, your goal is to solve a problem your audience has.
For example, if you're in the cat niche, cat owners might have a problem with dealing with the stinky litter box.
It's messy, it stinks, it requires constant cleaning and if you can present a solution to this, your audience may be willing to buy.
If you sold a cat toilet training product that teaches cats to use the toilet instead of the litter box, this problem-solving product might be of interest to your audience.
So, you refer this product to your audience, solve their problem, and make a commission on every sale.
This is affiliate marketing!
With Facebook, here are some ideas for making money with affiliate marketing:
Publish Facebook posts that direct traffic to your website where you refer affiliate products
Use Facebook ads to funnel traffic to your website or affiliate partner
You can use one or both options to make money with affiliate marketing using Facebook.
2. Facebook Marketplace
Facebook Marketplace is a marketplace website built into Facebook where buyers and sellers come together. As a seller, you can sell products to customers locally or around the world.
Examples of products being sold on Facebook Marketplace include:
Cell phones
Furniture
Cars
Makeup
Clothing
Toys
Some sellers are making $500 a day on Facebook Marketplace by dropshipping.
How does it work?
First, decide what you'll sell. 
Will you sell things around your home? Are you planning on doing arbitrage where you source products cheaply and resell? Do you want to sell to your neighbors or ship globally?
Once you craft your business strategy, get to work sourcing your goods. Then, make your product listings on the marketplace and make yourself available to answer questions you get from prospective customers.
The money here can be in volume or the product niche. 
For example, you could sell dozens of Squishmallow pillow toys that cost around $15 each or you could sell a few high-priced items like electronics where volume isn't necessarily needed to make a lot of money.
List your products for sale on Facebook Marketplace and start selling.
3. Facebook Live
Facebook Live is a way to connect with your audience over live Facebook video. Going live on Facebook is a smart way to connect with your viewers in real-time to:
Make an announcement
Share a sale
Host a Q&A series
Host a sale
How does it work?
Going live on Facebook puts a face with a name. Interact with your audience one-on-one over live video and make money while you're at it!
Here are some ways you can make money on Facebook Live:
Selling your products or services
Affiliate marketing
Ad breaks
You can make money on Facebook Live by selling. This can be selling your own products or services or selling through affiliate marketing.
What are Facebook Stars?
Viewers can pay you during your live videos with Facebook Stars. 
1 star equals 1 cent
Stars can be bought in packs
You must enable stars to be able to accept them on your live videos
Setting a stars goal is recommended
What are ad breaks?
These are ads that run before, during, or after your Facebook live video. It's an additional opportunity to make money streaming live on Facebook.
If you qualify for ad breaks, you'll be able to add pre-roll, mid-roll, and banner ads during your live session. Go to your Facebook Creator Studio and visit "Monetization" to see if ad breaks are available on your account to see if you qualify.
4. Instant Articles
Facebook Instant Articles lets you publish articles to Facebook for readers to consume. Articles load quickly and present beautifully on mobile.
It works for all kinds of written content from short-form posts to long-form articles. Publishers get paid based on the views their content receives.
How does it work?
Publishers can post their articles on Facebook Instant Articles and make money based on the traffic the articles receive.
Here are some quick facts to know about Facebook Instant Articles:
You can create fast, interactive articles for Facebook users to read
Over 37,000 Facebook pages use Instant Articles
Facebook users open 52% more articles when they use Instant Articles
You can earn revenue with your content via ads, branded content, and subscriptions
It's important to note that you must be eligible to monetize your content with Facebook Instant Articles. Go to the Facebook Creator Studio to check eligibility to see if you qualify.
Sponsored content is about getting paid to share information about brands with your audience as an influencer. You'll partner with companies and write Facebook posts introducing them to your Facebook fans.
You can find companies to work with through:
Cold outreach: Reaching out to companies you have no relationship with, to work together on a sponsored partnership.
Warm outreach: Reaching out to companies that you do have a relationship with, to work on a sponsored campaign together, like brands you've worked within the past on projects, special events, networked with in the past, etc.
Getting contacted by companies: Get emailed by companies that are interested in working together.
Sponsored networks: These are websites that work to partner creators with companies for sponsored partnerships. An influencer can make money sharing a brand with their audience and brands get rewarded. Examples include Izea or Tap Influence.
6. Facebook Subscription groups
Facebook subscription groups help you monetize your Facebook group with paid subscriptions. If you're running a group where you teach or provide benefits to your audience in some way, you can monetize with a subscription.
For example, this group on Facebook consists of over 500,000 women entrepreneurs from around the world. It's a free group to join where entrepreneurs can network and connect with others in the business space, but no self-promotion is allowed.
Instead, they offer a subscription group alongside it where members can pay a monthly fee in exchange for promoting in the free group. 
This is an example of how you can make money with a Facebook subscription group.
Facebook subscription groups collect payment from members regularly. They can provide:
Exclusive content 
Live videos
Community building
Other perks
7. Free Facebook groups
If you're wondering "do Facebook groups make money?" the answer is yes, they can.
Free Facebook groups are free-to-join groups on Facebook you can start for your audience. While you won't be charging a recurring subscription like subscription groups, there are still ways to monetize your group:
Sell digital and physical products
Sell services
Drive traffic to a website that is monetized
Free groups on Facebook are open for anyone to create. They're an excellent way to build a community online and make money by providing value and offering products and services that align with the audience's needs.
8. Selling Digital Products
Digital products include e-courses, eBooks, online templates, printables, e-guides, and other digital goods. If you're selling digital products, using Facebook as a traffic source can be a smart decision.
How does it work?
You sell your digital products to your audience on Facebook. Here are some ways you can sell your digital products online using Facebook:
Run Facebook ads to your sales page
Post your products on your Facebook page
Create a free or subscription-based group and sell your products
9. Selling Your Services on Facebook
You can sell your services the same way you sell your products to your audience on Facebook. Whether you sell coaching, consulting, bookkeeping, design, or other services, Facebook is a great medium to choose for finding your target audience and selling online.
Facebook Marketplace also supports home services, if you offer this, for plumbers, HVAC professionals, house cleaners, and other home service businesses. It's another avenue to take on Facebook to sell your home services.
Plus, creating content and building engagement on Facebook are also important to running a successful business on Facebook.
How To Earn Money on Facebook Every Day 101 (The Road to $500)
You can choose one or more of the 9 ideas we described to sell your products and services online on Facebook. Before you explore those, it's important to identify your niche and target audience so you know the right people to sell to on Facebook.
Plus, creating content and building engagement on Facebook are also important to running a successful business on Facebook.
Here's more on that…
Define your niche
First, you'll define your niche. This is about clearly identifying a specific topic and group of people to target for your business.
This is about choosing the demographics, interests, and other identifying factors to get to know your audience and their pain points really well. 
Once you know your audience, it'll be easier to identify them and solve their problem with your product or service.
For example, your business could be running Facebook ads for dentists.
Targeting dentists means that you know more about this customer group than others. You have a good idea about what they might need, what's important to dentists, problems they have, etc.
So, when you're selling to dentists, you'll be better able to speak their "language" and sell your Facebook ad services easier as a result.
Create content
Next, you'll create content. You can do this most easily by posting on your Facebook page. Create engaging content and interact with your audience.
Poll your audience
Giveaways
Contests
Go live
Share your posts in a Facebook group
Engage with your audience every day
After you spend the time and energy to craft engaging posts on Facebook, don't forget to engage with your audience. If people post a message, respond.
Answer questions quickly, encourage people to post their feedback and comments, and keep the conversation going.
How to earn money from Facebook ads
Facebook ads are a unique opportunity to monetize your content and make money online selling your products and services. You don't need a big budget to start running Facebook ads.
Beginning with $5/day is possible. Once you see what works, you can scale your budget so your ads can be shown to more people in your target audience to amplify your results and earn more money.
How to Earn $500 from Videos on Facebook Every Day
Facebook videos are a lucrative way how to make money from Facebook $500 every day. You can monetize your Facebook videos with in-stream ads.
In-stream ads can be used on new and existing videos. They can also be used on Facebook reels.
You can compare this to YouTube ads that YouTube partners can place on their videos for monetization.
Eligibility requirements:
Must be at least 18 years old
Live in a country eligible for in-stream ads
Must pass and remain compliant with Facebook's Partner Monetization policies
10,000+ followers
600,000+ minutes viewed in the last 60 days
At least 5 active videos
Additional requirements apply for live videos and to see if you're eligible, you can check your Creator Studio.
What are Facebook reels?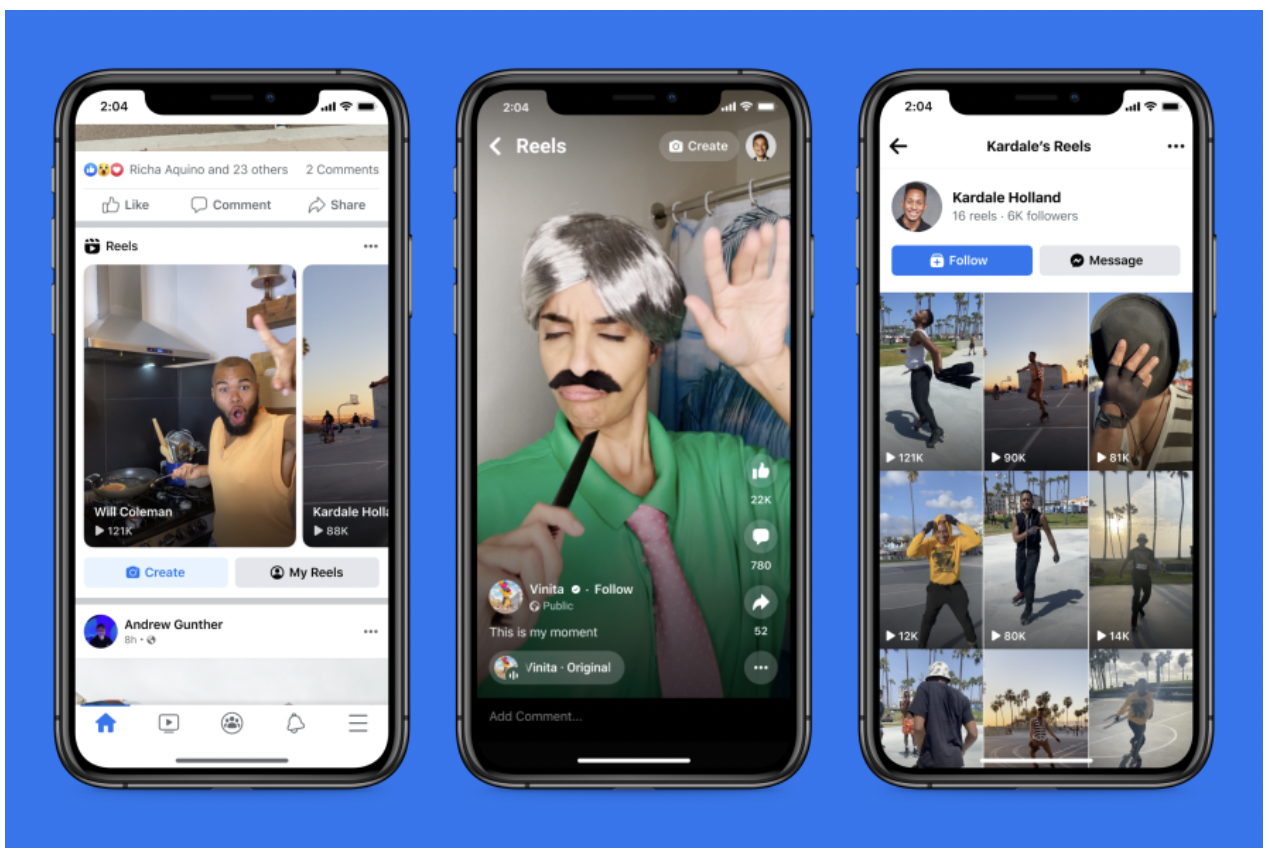 Launched in over 150 countries, Facebook reels are short-form Facebook videos you can post from your Facebook page to create and connect with the Facebook community.
You can share what you love online, like:
The Reels play bonus is going to pay out $1 billion to creators in 2022. Eligible creators can get rewarded for their reels, with up to $35,000 in bonuses available every month.
The 'Reels Summer' bonus enhanced my motivation for creating more Reels and my overall creativity as a content creator. It's also always great to see other content creators posting more and being the creatives that they are — it's inspiring! – @imjeremyclyde
How to earn money on Facebook every day (and how to make $500)?
When it comes to how to make money on Facebook $500 every day, it starts with identifying your niche and target audience.
Next, you'll want to start and continue creating content. Then, engage with your audience. This is how you create a solid foundation on Facebook for monetization.
Next, you can choose any one or more of the monetization strategies shared above to start making money on Facebook daily.
Final Thoughts on How to Earn Good Money on Facebook
Now you know how to make up to $500 on Facebook every day. I hope these ideas inspire you to take action. There's an opportunity to build and grow an online business with Facebook using each of these strategies.
Which idea will you use to start making money on Facebook daily?