Zoom is a SaaS that has become extremely popular in the time of the pandemic, but does Zoom make money if it's free?
The tool differs from its competition due to its ability to host up to 100 participants in one session. Furthermore, it is completely free in the first 40 minutes.
As you can see, this makes it ideal for all types of meetings. You can use it for educational purposes, business meetings, family communication, and everything in between. But, given that you can use the platform without ever paying for a subscription, the question remains how does Zoom make money?
Zoom's business model relies on freemium services. If you decide to subscribe, you will be able to host meetings with more participants, record them, and get some other nice features.
So let's have a closer look at it and get into the details!
History of Zoom and Eric Yuan
The story of Zoom is quite a remarkable one. The person behind the company, Eric Yuan, is a Chinese immigrant who got his visa request declined 8 times. Luckily, he managed to get it on the 9th try, and upon arriving in the States in 1997, he started working for WebEx.
WebEx had a rather large team of software engineers who worked diligently on improving the features of this video-conferencing application. Yuan quickly stood out due to his hard work and dedication, and he got promoted to VP of Engineering in 2007.
This same year, WebEx was bought by Cisco for $3.2 billion. As time went by, Yuan became disgruntled due to the fact that the company was unwilling to address some of the software issues. He continued working for them until 2011 when he finally left and started developing his own product.
One of the things Yuan disliked about WebEx is its lack of flexibility. The platform had a cumbersome identification process that took a lot of time. Furthermore, as more and more people joined the call, the platform was no longer able to handle it and would lose its audio and video quality.
In fact, the main reason why Eric left the company in the first place was their reluctance to address the problem. Although he tried to implore them several times to fix it, his requests have fallen on deaf ears. So, he decided to take matters into his own hands.
Yuan's first project was a company called Saasbee. He managed to attract 40 engineers from Cisco to his side, so he had the necessary talent to start the project the right way. But that doesn't mean there weren't any issues. Yuan struggled mightily in securing the initial investment.
They tried getting resources from various capital firms, but due to market saturation, nobody wanted to invest in Eric's idea. Ultimately, he managed to convince his former CEO Subrah Iya to provide him with the initial $3 million investment. This also included technological support. Later on, Saasbee was renamed Zoom Video Communications, Inc.
What are Zoom's main features?
If you ever used communication software, you will quickly learn how to use Zoom. This is a cloud-based platform that allows you to communicate with anyone in the world without affecting the video quality.
One thing that is often understated about Zoom is that you can use it as a Chrome or Firefox extension. If you go with some of the plans, you will also have access to cloud storage, which can be important for big corporations and teams. Furthermore, the company is planning to launch Zoom Events, thus creating a new form of virtual experience.
Zoom meetings can be hosted by anyone. Although reviewers often put emphasis on the platform's ability to host large meetings, the tool works equally well for 1-on-1 sessions. Like Skype and some other apps, you can use it to share a screen. Zoom also allows you to record sessions and turn participants' mic on and off (very important for larger meetings).
How to use Zoom?
Before we go through how Zoom makes money, here are some directions as to how to use it. You can start or join a call on a desktop computer or a mobile device giving it additional versatility. The app works on both Windows and macOS.
Here is how you can use it on a desktop:
1.   Start the platform on your PC
2.   There is a button Join a Meeting on the default screen
3.   Once a pop-up screen appears, you will need to type your Personal Link or Meeting ID. This is the only way to join a session. There is also an option to change your name 
4.   If you wish, you can choose whether or not you wish to join with a video
5.   When you press Join button, you will go straight to the meeting
Of course, you can also host a meeting yourself:
1.   Start the app on your mobile device or computer
2.   Start by signing in. If you don't have an account, make sure to create one well before a scheduled meeting
3.   On the home screen, you can see the New Meeting option. There will also be an option to disable video
4.   Now, you will go to the next screen with lots of options. You can set up a Host name, Meeting Topic, Password or Password with phone and room, Participant ID, and Invitation URL. There is also an option to invite other participants directly
5.   After finishing the session, you will have to click End Meeting. There is also an option of passing the host responsibilities to someone else by simply assigning someone else and pressing Leave Meeting
How does Zoom make money?
Given all these features and the fact that even the free version provides great quality, it seems people have no incentive to subscribe to the app. But, like with many other tools, when you pay some money, you get even more stuff. So, how does Zoom make money?
Zoom business model relies heavily on B2B. Everyone can try this freemium tool and use it for a while, but larger organizations might still need the paid version. You might think that Zoom is nothing more than a Skype for additional participants, but there is much more to it than meets the eye.
Here are the main methods that allow the company to make money:
Zoom Meetings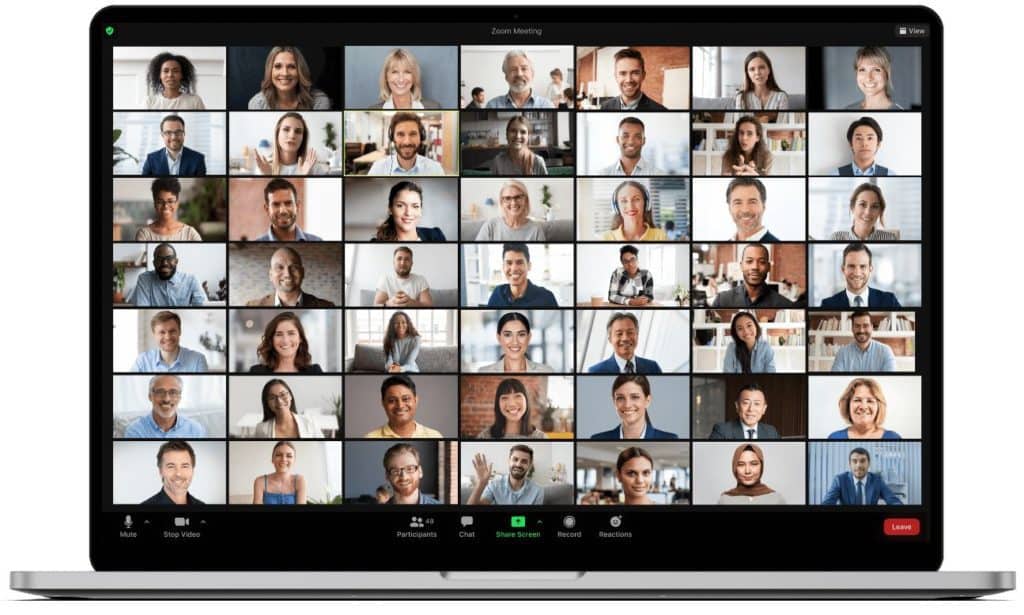 Zoom Meetings are the company's main source of income. It is a feature that allows people to connect via audio and video. You can choose between 4 different plans: Basic (free of charge), Pro ($149.90 per year), Business ($199.90 per year), Enterprise ($240 per year).
The majority of people use the free plan. Its main restriction is that your meetings cannot be longer than 40 minutes. So, if you're a business, there is a good chance you will go with one of the 3 paid plans.
Pro version gives you the ability to add up to 1,000 participants with Large Meetings add-on. It also has social media streaming, group meetings that can last to 30 hours, and 1GB cloud recording. Business increases the basic number of participants to 300, and if you use the add-on, you can increase the size of sessions to 1,000. The plan also has company branding, single sign-on, transcript recording, and managed domains.
Enterprise takes everything up a notch by increasing the basic number of participants to 500 and by providing unlimited storage. 
Keep in mind that Zoom Meetings also have Zoom Chat that allows you to share various multimedia and files.
Zoom Phone
Zoom Phone is a cloud-based calling service. In many ways, it works like Skype calls. You can choose between 3 plans: Pay As You Go ($120 annually), Unlimited Regional Calling ($180 annually), and Local Calling in 40+ Countries ($240 annually).
The basic plan can only be used in the US and Canada. It has some advanced features, and it also allows you to receive calls.
Unlimited Regional Calling is also for Canada and the US, but you have unlimited calls. If you wish, you can get an add-on that would provide unlimited calling features for up to 18 other countries. The last plan allows you to call up to 40+ countries.
Some of the main Zoom Phone features include auto-attendant, intelligent call routing, and call recording.
Zoom Video Webinars
Zoom Video Webinars are a type of event platform. This is something you can use for larger lectures. It comes in two plans; the first one allows up to 10,000 participants for $1,400 a year, and the second one allows 50,000 participants. For the second plan, you will need to contact the Zoom sales team for a quote.
Of course, this service comes with various features like polling, hand-raising, and chatting. The service is especially great for educators and other situations where one person addresses a big audience. In order to make the experience even better, Zoom Video Webinars can be integrated with other apps like Trello and Slack.
Zoom Rooms and Workspaces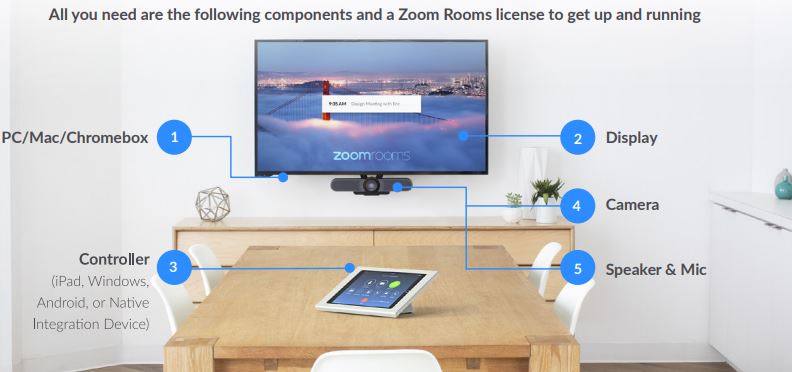 Lastly, we have Zoom Rooms and Workspaces. It is a conference room service that is popular among larger businesses when you want to connect several stakeholder groups in one meeting. A company pays the service per room so, if you wish to have additional rooms, you will have to pay much more.
Zoom Rooms and Workspaces has 2 plans: Free trial (30 days) and Paid version ($499 per year, per room). If you already have some equipment like Cisco, Polycom, or Lifesize, you can utilize the Zoom connector to start meetings from already existing systems. Alternatively, you can buy hardware from Zoom's partners, such as Logitech and HP.
How much money does Zoom make?
As you can presume, this is a very profitable company. They have experienced enormous growth, especially in the last year or so. According to their quarterly report from 2020, their revenues have increased by 169% compared to the same period in 2019.
But, what's interesting is that Zoom is also becoming more popular among large companies. For example, the number of clients who have 10 or more employees has grown by 354% compared to the same period in 2019. This makes sense, especially if we consider the COVID situation.
Although these figures are good indicators of the company's success, we still don't fully grasp how much this organization has grown in the previous period. Among others, the number of free users has grown even more compared to the commercial users, and nowadays, Zoom is probably the most popular communication app in the western world, surpassing giants such as Skype.
Although Yuan has attributed this growth to the pandemic, we have to consider the fact that the company already had nice results before that. It seems that the crisis has only accelerated that growth.
Is it safe to use Zoom?
A lot of users are concerned about Zoom's safety. Given the state of global communications and everything else that's been happening with social media, it makes sense that people would be reluctant to use a platform that can connect thousands and thousands of users in one spot.
Keep in mind that these issues are not unwarranted. There were several cases where users reported frauds and privacy issues. In fact, there are several lawsuits in which users claim that their photos and IDs were sold on the dark web after being stolen via the Zoom platform.
There were also cases where hackers completely took over Zoom accounts. This was done by installing malware on devices that have the Zoom app (a practice known as Zoombooming). In these cases, the hackers were able to attend meetings secretly and listen to private conversations.
Since then, Zoom has done a lot to improve its security. At one point they even went as far as said that they are stopping any other projects until the security matters are resolved.
Conclusion
Although the Zoom platform has its issues, it remains the best communication in the world. Its features are simply amazing as they can provide an incredible user experience without any reduction in video and audio quality.
The ability to connect numerous users via one app is simply amazing, and while the security issues cannot be neglected, most people are going to use Zoom nevertheless.
You might also like: How Does Discord Make Money?
FAQ
What is Zoom used for?
Zoom is web conferencing tool which allow you to communicate with individuals, teams and big groups completely remotely.
Is Zoom free?
Yes. While Zoom has paid options, you can use the basic version for free.
Do you need a webcam for Zoom?
No. Depending on your goals for that particular call you might even not need a microphone. But if you plan to speak and be seen, that is when you will need both.
Do I need to install Zoom if I got an invite?
No. You can access Zoom invites from the browser without any installation.