How does Venmo make money without fees? Venmo is an app often advertised as a mobile wallet. Truth be told, this software is probably the best iteration of that phrase. It allows people to send funds between each other and to pay for certain products and services.
A lot of people still don't know how does Venmo make money. It is a relatively new app owned by PayPal. While there are some concerns about Venmo, and in particular its privacy, the steady growth indicates that more and more people will rely on its features in the near future.  
What is Venmo?
Venmo is a peer-to-peer payment mobile app. It works on a peer-to-peer basis allowing its users to transfer funds to each other and perform other actions. With this software, you are able to connect a mobile phone directly to your account or credit card. In that sense, it has numerous similarities to Chinese WeChat.
You can use this app only within the US borders. To be precise, a person needs a registered account in an American financial institution. Keep in mind that a person can only use Venmo if the other side also has the app. Although it might sound like a strict, vanilla payment app, Venmo has a lot of soul. You can use it to chat with other users, and even add emojis. It has some features of a social platform, which makes it that much more interesting.. 
A user can integrate it with various other tools. As you can presume, it can work with PayPal Checkout as an alternative payment method. More and more companies are accepting the app, and as the number of its merchant partners increases, so does its influence within the US payment space.
How was Venmo created?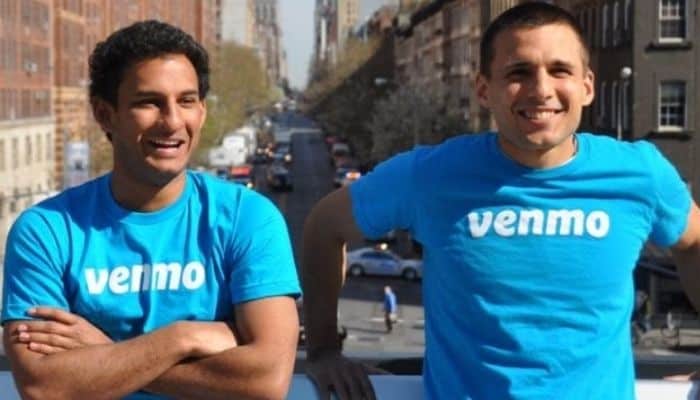 Venmo is not that old, not that young. The company was established back in 2009 by Iqram Magdon-Ismail and Andrew Kortina. For a brief period of time, the organization was located in Philadelphia, but the owners soon transferred it to New York.
Kortina and Magdon Ismail were roommates during their freshman years at the University of Pennsylvania. The idea for Venmo was conceived during the early days of their friendship. Funny enough, they were looking for a solution for a friend's yogurt shop when they realized the deficiencies of the traditional sales apps.
During a local jazz event, two of them were so impressed that they wanted to buy the performer's MP3. However, they didn't want to give cash but instead to do it with a text message. After some pondering, the idea started taking shape.
Needless to say, the idea of mobile payment was much better than anything we had at the time. In fact, it seems much better than even the traditional credit cards. After setting the basis, the two of them started working on a method that would allow phone payment. Initially, they wanted to make payments via messages, but with time and the development of technology, this slowly turned into phone apps.
The video below is the FIRST VENMO transaction which the team recorded (on a free version of Wondershare) in 2013!
Through numerous trials and errors, they finally made a model for their app. They used the name Venmo as a combination of Vendere (Latin for sell) and mo (short for mobile). As time went by, Magdon-Ismael and Kortina decided to add a social aspect to their software in an attempt to add a gamification aspect to the platform.
If you would like to read even more details on Venmo's history, Andrew Kortina has this huge post on his blog.
How does Venmo work?
As mentioned, users connect this app to their bank account, credit or debit card, or checking account. Then, they simply transfer funds from one of these points of access to other people and companies. In that sense, Venmo works as an intermediary between two financial institutions, and it only provides information that a transaction needs to be made.
Keep in mind that the other side has to allow this transaction to happen. A user sends a request to one of its contacts, and only if this request is approved can a transaction occur. If a person doesn't respond, the sender also has the option of reminding the other user of the request. Upon transfer, the receiver has the option of keeping the money in their respective accounts or adding it to Venmo Balance.
The app has some other interesting features that might prove to be invaluable during and after transfers. Like with many other apps, Venmo managed to increase its usefulness by having an API that allows integration with other software.
How does Venmo make money?
As you could've presumed, like all other peer-to-peer transaction apps, Venmo makes money by taking fees from transfers. They utilize affiliate commissions, withdrawal fees, interest on cash, as well as fees on cashing checks. However, the company has several other ways that allow them to make enormous profits. They rely on Instant Transfers and Pay With Venmo features.
Let's now break down every method that allows Venmo to make money.
Pay With Venmo
Obviously, Pay With Venmo is a feature that allows you to pay for products and services. It can be utilized for selected merchant partners who are connected to the company. The list includes various stores and businesses such as Forever21 and Foot Locker.
While Venmo might seem like a great way to purchase with your phone, there is a catch to it. The company charges merchants 2.9% on the total order together with base 30 cents per transaction. Always remember that these are the standard rates within the industry. Major companies like Visa and Mastercard have similar fees, for example.
This isn't a major problem for merchants, given that most people use payment cards as it is. So, Venmo gives them another option of making profits.
What's interesting about Venmo is that the company provides an analysis of their users. In other words, they disclose user transactions of their social feed. This information is also visible to merchants, and companies utilize it as a method of spying on consumers and tweaking their marketing strategies.
Interchange and Withdrawal Fees
Venmo also offers its users debit and credit cards. As long as you have an account, you can get these cards, and in that way, you will have all your payment products covered in one place. Venmo payment cards are connected to Venmo balance so, as long as you have funds, you will be able to use them.
There are several reasons why a person should take these cards instead of traditional products. First, it allows you to transfer money from several different places. Everything is interlinked in one big network. A user can also utilize the card to perform zero-fee withdrawals from Money Pass ATM. Lastly, the cards are touch-free and don't require swiping.
On the other hand, Venmo makes a profit whenever these cards are charged. Again, merchants pay a fee whenever a user purchases something. But, there is also a way Venmo profits from their clients. Although users can get their cash at no cost from Money Pass ATM, the other banks and ATMs will charge them for the service. The clients have to pay a $3 over-the-counter withdrawal fee and a $2.5 ATM domestic withdrawal fee. 
Instant Transfers
In 2019, the company introduced another feature that would allow users to transfer funds in an instant from their Venmo account to their bank account. Previously, they had to wait from 1 to 3 days for this transfer to occur. With Instant transfer, the money should arrive in the next 30 minutes.
Of course, you don't have to use Instant Transfer If you wish to avoid fees. However, it is invaluable for some clients. Whenever you transfer funds, the company will take a 1% fee from the total amount. Although this might sound scary for larger transactions, you will be glad to hear that the max fee is capped at $10.
Cash Interest
Like many other financial institutions, Venmo lends money. But, instead of focusing on physical entities, they borrow it from banks and other financial organizations that need an influx of resources. Their interest rate is 3.35% on these loans.
Cash A Check
Cash A Check is one of Venmo's more innovative features that was launched at the start of 2021. If you recall, during this time, there was a lot of talk about stimulus checks. Anyway, you can use it to cash in government stimulus checks or regular paychecks.
In order to utilize this feature, you will have to turn on your location. You also need a verified email address as well as a Venmo debit card. This is where the mobile aspect of the application shines. In order to access these funds, you just have to take a personal photo. Of course, the company has to verify this photo before you can get the money. The company makes money by providing verification services, and it costs users 1% of the transfer.
Cashback program
Here is a feature that most people love. With this app, you are also able to get cashback rewards. But, this feature will work only for selected merchants. So, make sure to check the list before making a purchase if you want to benefit from the Cashback program.
Anyway, a client can get a certain percentage of the price back after making a purchase. This feature is great for both users and companies that provide cashback. While users basically get a reduced price on products, merchants who provide this feature have the opportunity to generate additional sales from clients who would like to get this discount.
Buying  
Venmo safety concerns
Given the nature of Venmo, it makes sense that stakeholders would be concerned about the potential abuse of this app. Some of these transfers can be really massive, and the transactions go via a mobile device.
Of course, even in the past, we saw concerns regarding the first payment cards. But, these issues were connected to a loss of cards. The issues with Venmo run deeper than that. Given that this is an application that connects all sides via the internet, potential safety problems could present themselves on a much larger scale.
In other words, a security breach could lead to massive fraud that would affect numerous users. In 2016, the company was investigated for this specific problem by The Federal Trade Commission. Numerous users were worried as to how the company handles some of the transactions. The Commission has concluded that the firm did real damages to users as it wasn't able to make their money available upon request. This makes sense if we consider that the company lends its money to financial institutions.
As we've already mentioned, posting transactions on social feeds is another thing that is troublesome. Even though users have the ability to make their transactions private or public, the feature still breaches their financial privacy. To make matters worse, they even disclosed the transaction history of people who wanted to keep their information safe.
The whole issue was settled in fines. The company was forced to pay for violating the Gramm-Leach Bliley Act from 1999. According to this act, every financial company has to explain to their clients how they're sharing information. On top of that, a company is responsible for securing this data. Needless to say, Venmo didn't manage to do either of these two.
According to the company, they utilize bank-grade encryption and security. There are also PIN codes for further protection. And while the platform is used for transactions between friends and family, bear in mind that Venmo isn't responsible for transfers to wrong persons.
Venmo Scams
Venmo obviously has its issues. While the company is guilty of not providing enough data protection, you also have people who are performing various scams involving Venmo.
You should especially be careful of payment timings. Instant Transfers are great, but most people don't use them. So, you might think that your money was transferred within a day, but it would actually take up to 3 days, in which time you are completely vulnerable.
Here is a list of the most common scams involving this app:
Text phishing
Making purchases with stolen Venmo cards
Receiving money from unknown sources 
In-person texts
You need to do everything in your power to increase the security of your account. Some of the best Venmo security practices include:
Safeguarding your phone
Don't click suspicious links or share sensitive information
Don't use the money if you don't know its origin
Set up multifactor authentication
Don't use the app to sell products
As long as you adhere to these simple rules, it will be much easier to protect your Venmo account, and with that, other personal accounts connected to it.
You might also like:
FAQ
What is Venmo?
Venmo is a mobile app allowing to you to send and receive money in a matter of seconds!
How does Venmo make money?
Venmo has an array of small fees included in every transaction along with various cashback and other programs.
Who own Venmo?
PayPal bought Venmo in 2013.