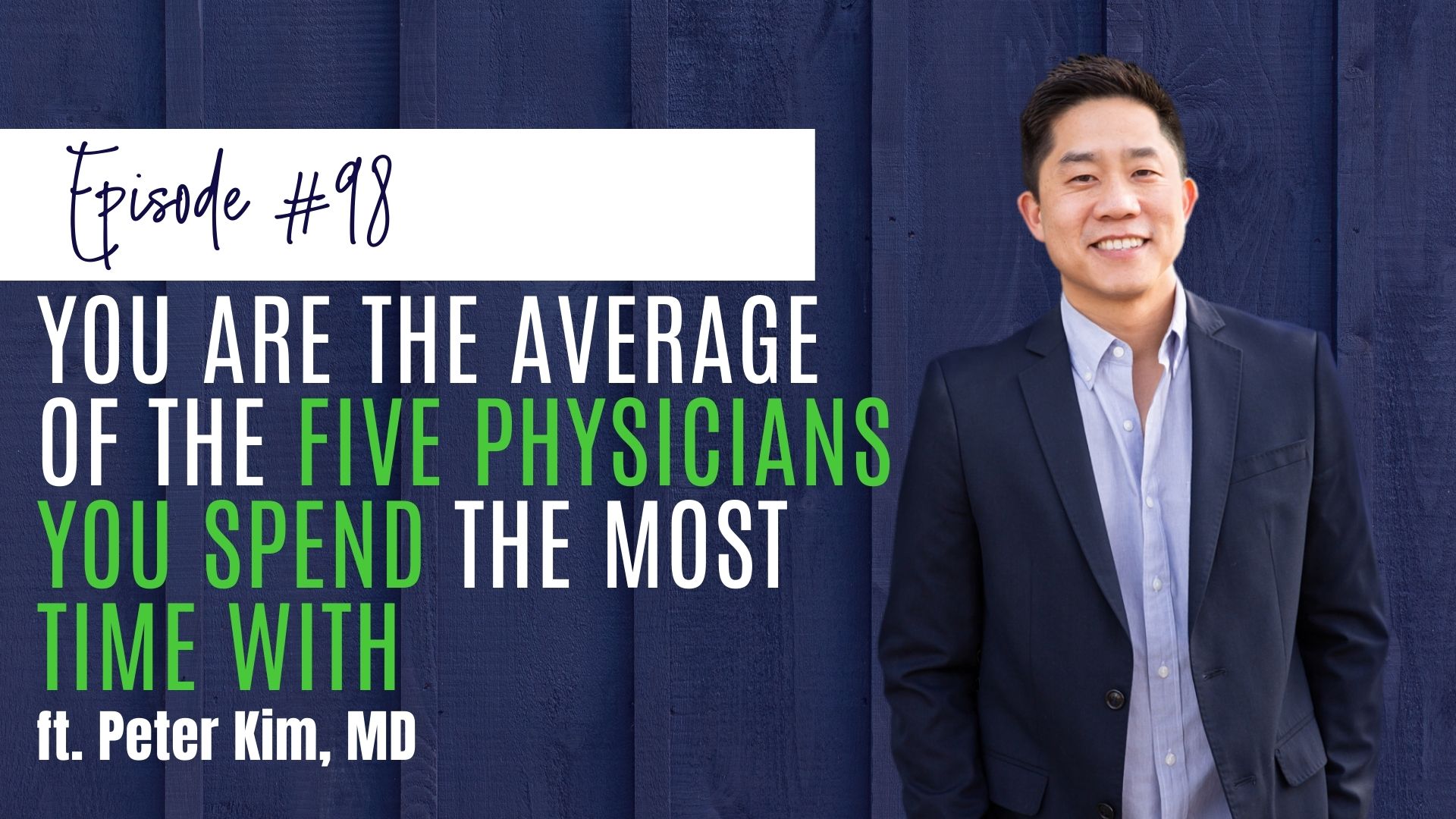 This past week I spent time with 5,000 physicians at the Leverage & Growth Summit who want to take better control of their lives. Thank you to all who joined me!
"You are the average of the five people you spend the most time with." – Jim Rohn
Jim Rohn refers to how we are all influenced by our lives and interactions with our closest friends and family. Tony Robbins says that "the quality of a person's life is most often a direct reflection of the expectations of their peer group."
In my financial freedom journey, I have sought out physicians who are where I want to be. The five physicians I spend the most time with; help me grow, learn, and push me to reach my goals. 
---
Join a community of physicians focused on growth, contribution, and taking control of their lives.
Registration is open now through March 15, 2022 at 8:59 pm PT!   
JOIN THE COMMUNITY AT LEVERAGE & GROWTH ACCELERATOR!
---
Now, let's look at what we discussed in this episode:
The people around you, impact you in how you live, learn and act. 

How the right community will help you fight burnout.

Reflect on the five physicians that influence you to make the most significant impact in your world.
Here's a breakdown of how this episode unfolds…
[3:56]
Who are the physicians that are where you want to be? Look for opportunities to spend time with "happy physicians" who practice for the love of it! Seeking out these people is the secret of those physicians who are content in their work. Fighting burnout includes learning what gives these physicians joy despite their pressures. 
[5:48]
Spend time with other doctors who are set on maximizing and valuing their time. Investing in these relationships has personally expanded value in my life by learning from each other's experiences. 
[7:03]
There are physicians pushing their lives in a direction found in medicine, business, and investing. These are the ones trying to up-level themselves in personal development and to contribute to the lives of others on a bigger scale. If you are looking for this type of community, check out our Facebook Group and Leverage & Growth Accelerator. 
[8:00]
Leverage & Growth Accelerator is where we help physicians grow and scale their businesses. Join us in the community to do life, push each other to develop, and improve our daily lives. We support each other on our "docpreneur" journey. 
[8:25]
Think about which five physicians you spend the most time with?  
Then ask yourself these questions…
What are their lives like?
Do you consider them successful?
Are they happy?
Do those people have lives that you want to emulate?
Are they a source of inspiration and motivation?
Do they push you and encourage you to have better relationships with your family and your patients?
Or do they drag you down? 
Take time to reflect on who you spend the most time with.  Then ask yourself, who are the five physicians who will help me grow, learn, and reach my goals?
CLICK HERE TO JOIN LEVERAGE & GROWTH ACCELERATOR
Subscribe & Review in iTunes
Hey there – are you subscribed to my podcast?
Click here to subscribe to iTunes! If you aren't, please show your support of the show by doing so now. I don't want you to miss a beat, so if you're not subscribed, there's a good chance you'll miss out on those.
If you're one of our super special listeners, I would be appreciative if you also left me a review on iTunes. Those reviews help other people find my podcast. Why not spread the insight to help other physicians and professionals on their passive income journey? Just click here to review, select "Ratings and Reviews" and "Write a Review," and let me know why you enjoy the show so much. Thank you!
Other Ways To Enjoy This Post:
Download a Transcript (coming soon!)  
Download on iTunes 
Join the Passive Income Docs Facebook Group
Join the Passive Income Professionals Facebook Group
---