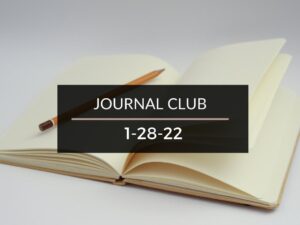 Here's Journal Club 1/28/22! Every week, I hold a JOURNAL CLUB. After filtering through the articles on the web, I present a few that impacted my life this week. Be safe and stay well!
---
For the past several years, stress has been a common underlying issue for most health concerns. Why do you think that's the case? Eastern medicine believes that stress affects our body's energy system and creates an imbalance. So, to help you better manage your stress levels, the author of

The Doctor Weighs In

shares

These 5 Simple Techniques to Manage Stress

.
That's all for this week! I hope this week's journal club was helpful.
Read any interesting articles? We'd love it if you could please take a moment to share them in the comments below!
Thank you for reading and sharing!
Peter