Choosing the best web hosting services for your needs is very important. Nowadays there are many hosting providers. This post will help you to choose the right one.
Web hosting is the foundation of your digital business. I am working with the same hosting companies for over 7 years, so it is definitely a long-term relationship. Presuming that everything works well of course!
In this post, I will provide my experience with some of the hosting providers and also add information about other website hosting options.
We will go over the important aspects of website hosting, prices, the technical side of hosting, and end it with a FAQ that will cover not only web hosting services but also related topics.
The goal of this post is very straightforward.
I will help you pick a web hosting service that will cover all your needs, provide great service, and would be the best value for the price.
This post may contain affiliate links. It means that if you purchase a product or service through it, I will receive a small commission. It is important to add that it is at no additional cost to you. I am promoting only services I had some experience with in the past.
Table Of Contents
Why Do You Need Web Hosting?
When creating any business, you need to be located somewhere. If you are selling services you might need an office, or you work from home. In case you are selling a product – you need a store.
In any case, you need a location where your clients can find you. In classic business it is brick and mortar place in digital business – it is web hosting,
Every site you ever visited is hosted somewhere. So when starting your online business, you need to be hosted too. This is where website hosting companies come into play. They provide you with their hardware so you can buy just a small portion of their capacities for your needs.
My Best Web Hosting Choice:
What Are The Best Web Hosting Services?
There are several aspects to consider when deciding on best web hosting services.:
Speed – you must make sure that your page loads as fast as possible. This is influenced by many factors and hosting speed is one of the main ones.
Uptime – if your hosting won't work, nobody will be able to access your site. Hosting services uptime is shown in percents. It is the amount of time that hosting servers are working with no problems.
Support – when you have a problem, you need help immediately. You can not wait half a day for a reply while you are losing money as your site is broken. Fast support is important!
Pricing – when you will be making many thousands of dollars a month, pricing will be more of a secondary priority. The top priority will be speed and uptime. But we all have to start somewhere. At the begging of your digital business every cent counts. Also, you do not have tons of visitors so it is better so start small.
other aspects that are important:
Security – website security is critical. It may sound unimportant now but when your website will start to pick up on traffic you will see many attempts to attack it. But you will be solving your security issues mostly through the website itself (not the hosting) and third-party services (as Cloudflare – which I can wholeheartedly recommend)
Ease of use – most of the web hosting platforms will have so-called C-Panel or another very intuitive front end that will help you to manage the site.
If you are starting out, and need hosting for your personal website or a small blog – any website hosting platforms for this list will do the trick. But it is important to look into the future, be prepared to scale, and have the needed support on your side for a reasonable price, so here are the web hosting top picks!
Best Web Hosting Services
Here is the list of some of the great choices for your hosting. You may give a shot to a monthly payment, and in case you will be happy with your hosting go for the a longer plan – as they are cheaper.
Dreamhost – (Cheapest Monthly Payments, longest Money Back Guarantee)
DreamHost is one of the best web hosting services available. This is due to their 100% uptime guarantee, pre-installed firewalls, and SSL certificates. Over 1.5 million sites use DreamHost servers, though it's most ideal for bloggers and WordPress users. 
This web hosting service has had a reputation for reliability since its founding in 1997. They have an uptime of over 99.9%, though they provide a 100% Uptime Guarantee. 
Loading times are an incredibly important consideration when building a website. DreamHost does not disappoint. Their loading time speed averags less than three-quarters of a second. Their consistent speed can be attributed to auto-scaled memory, multiple caching layers, and isolated servers. 
Plans start $2.59 per month for a 1-website 3-year plan, and basic email services can be added for $1.67 a month. All plans come with:
Free domain
50 GB SSD storage
Unlimited traffic
Unmetered bandwidth
Nonprofits will benefit greatly from DreamHost's special offer. Verified 501(c)(3) organizations are eligible for a free Unlimited shared hosting plan. This includes:
Unlimited storage
Unmetered bandwidth
Unlimited email hosting
A 35% discount on WordPress hosting. 
DreamHost offers a 97-day moneyback guarantee if you're dissatisfied with their service. Additionally, if you use DreamPress, you gain access to a static IP address and built-in server caching. 
There is also the option to upgrade to a better service via add-ons. Some of these include VPS, cloud hosting, and dedicated servers. 
DreamHost offers 24/7 customer support via email. Plus, there is an extensive knowledge base that answers most questions. They also offer a discussion forum so you can look for advice from other users and customer support. 
DreamHost is unusual here in that you have to purchase over-the-phone technical support for $9.95. If you prefer live chat, you can only contact the web hosting service during business hours. 
HostGator – 2 Mil. Customers, ($2.75/ Month)
HostGator was founded in 2002. Today, they boast over 2 million customers and 9 million websites. Their web hosting services are ideal for entrepreneurs, bloggers, and personal websites. 
When it comes to building a site, HostGator provides an easy-to-use drag-and-drop editor. Their platform makes it simple to build a site from scratch and is eCommerce friendly. Additionally, one easy WordPress install is included with every plan. 
If you have trouble at any step of the process, an extensive Knowledgebase is provided for all users. If there are any further questions, 24/7 customer support is also available via live chat and phone. 
Reliability and consistency are important to HostGator, as is shown by their uptime guarantee. Their actual uptime hovers around 99.98%. While you could find quicker hosting, there would be a notably higher price. So in terms of speed, Hostgator is a top pick considering the price to value.
Pricing begins at $2.75 per month for a 36-month "Hatchling" plan. However, renewal rates begin significantly higher than their introductory rates, at $10.95 per month. Each plan comes with a 45-day moneyback guarantee. 
Some features of the site are universal to all plans, including:
Unmetered storage and bandwidth
Unlimited pages and free email addresses
Free migrations (within 30 days of original signup)
Free SSL certificates
A free domain for a year (included only with annual plans)
Higher tiered plans also come with dedicated IP addresses and a host of SEO tools to optimize your website. Dedicated website hosting services are offered at steeper prices if you need more individualized plans. 
Use my coupon code for 60% discount: COSTOFINCOME
Bluehost – Popular Choice for WordPress ($2.95/month)
Bluehost is one of the best web hosting services hands-down. Founded in 1996, Bluehost's interface is beginner friendly and comes at a low cost for the product. They are currently the web hosting service of choice for over two million websites. 
Bluehost also maintains a reputation as a web host with a nigh impeccable uptime of 99.99%. Their speed is very strong as well, with webpages loading at an average of less than half a second.  
Furthermore, Bluehost integrates with Cloudfare, which is a content delivery network (CDN). This program works to protect against DDoS attacks. CDNs are also useful in increasing site speed by cutting the time it takes to retrieve data from a server. 
With a great reputation comes great customer support as well. Bluehost's web host plans include 24/7 live customer service via live chat, phone, and email. 
Bluehost offers a whole host of products for the discerning customer, including:
Domain names
WordPress hosting optimized for WordPress platform
VPS
Shared and reseller hosting
Dedicated servers
Pricing depends on your needs, but basic plans start at less than $3 per month with a three-year discount. The lowest tier plan includes everything needed to start one website. Amongst these options are 50 GB of storage and unmetered bandwidth.  
Additionally, all plans include free email accounts, SSL, and a 30-day moneyback guarantee. Instant activation is available so that you can get started immediately. 
If you need more than any one plan offers, you can purchase add-ons. Services such as VPS can go up to $60 per month, while adding a domain name starts at $18 per year. 
Although this website hosting service has plenty of pros, Bluehost has its downsides. While initial discounts make the plans incredibly cheap, the price jacks much higher after the premium period. Additionally, site transfers and mergers are not free in contrast to their competitors. 
Hostinger – Great and Cheap Hosting ($0.99/Month wit annual plan)
Hostinger web hosting services began in 2011, 4 years after their 2007 founding. They are an excellent choice if you want to learn the basics of developing code. Hostinger allows you to experiment with a host of systems and languages at one low price. 
Options available for trialing include PHP, FTP, cPanel, and MySQL in addition to WordPress capabilities. This makes them one of the best web hosting services for entrepreneurs and coders.
Due to their unique approach to website hosting and coding languages, they offer a truly enormous knowledge base. This online database is filled with comprehensive guides and answers to questions. The problems solved in these seminars range from building a website to SEO. These tutorials, as well as their 24/7 live chat function, is available in over 20 languages. 
Additionally, Hostinger guarantees an uptime of 99.9%. They are reliable in their loading speeds too, with pages taking an average of 0.2 to 0.5 seconds to load. 
Hostinger is currently offering stupendous discounts on all plans, up to 90% off on their cheapest option. A basic plan costs $0.99 a month for a single shared hosting plan with an annual or longer purchase. The renewal price is fairly cheap too, at $2.15 a month after the promotional period. 
A minimalist plan includes:
A single site transfer
One free SSL certificate
Thousands of website templates
One free WordPress site with 1-click installation
The tiered pricing increases both services and supply as cost increases. For instance, higher-cost tiers include a free domain and increased bandwidth from previous plans. Top tiers include unlimited email account access. 
If you need additional domains, you can purchase a package annually for less than $10 per year. If you want a dot com, dot net, or dot co plan, you'll pay anywhere from $10 to $25 annually.
Liquid Web – Best Web Hosting For Small Business
Liquid Web makes their name as a fully managed web hosting service. Their software and service allows customers to all but forget their site has to be managed at all. They offer several hosting options, such as dedicated services, cloud, and WordPress management. 
Those in the market for a new eCommerce host may want to look at Liquid Web's new WooCommerce service. They offer several options to help you get your site up and running. And, if none of their plans suit your needs, you can contact Liquid Web directly for a custom package.
This is made possible in part by their 24/7, 59-second answer support guarantee. That's right – every phone call is answered in less than 59 seconds, every time. You can also take advantage of their knowledgebase, live chat, and email support options. 
Liquid Web also guarantees an incredible uptime of 99.999%. If they fail to deliver on this promise, your account will be credited with 10x the price of your downtime. Their platform is built on PHP7 and Nginx, which keeps their loading speeds well beneath one second per page. 
Although every plan comes with its own prices, the Starter plans for basic web hosting services begin around $20 to $30 apiece per month. Most of these plans come with:
One website
5 TB of bandwidth
20 to 30 GB of SSD storage
Monthly backups
If you're interested in more high-performance options such as Cloud Dedicated hosting, you can expect to pay more than $150 per month. All of these plans can be customized with add-ons, such as email hosting for an extra $1 per month. 
Those unfamiliar with the world of web hosting might be in sticker shock from those prices. On the other hand, it's worth noting that Liquid Web delivers on its high promises. If you're in the market for managed website hosting services, you'll be hard-pressed to find a better option. 
Siteground – Web Hosting With The Best Customer Support!
SiteGround put out their hosting software in 2014. They are one of the best web hosting services if you desire excellent customer support. They also utilize Google Cloud-backed infrastructure for the best performance.
SiteGround has a high satisfaction rate – above 98% – and a reputation for the quick response. Their live chat and ticketing system also have above-average response times for the industry. Furthermore, their phone answer times average of mere seconds.  
Their server speed is also good, especially for the price. The average loading time for a single page falls between 0.6 to 0.7 seconds. Larger pages may experience a loading speed of around 1 second. Furthermore, their built-in caching system, SuperCacher, and SSDs work to enhance server speed. 
SiteGround also has several data centers around the globe, and they even let you choose the server location to best suite your needs. 
Security is incredibly important to every site, and SiteGround offers several options that make them stand out from the crowd. For instance, they offer site isolation and HTTP/2 technology. Additionally, they use a web application firewall to protect from security breaches. Their software is patched and updated regularly to keep their customers as safe as possible. 
Uptime is another essential piece of the puzzle. SiteGround guarantees an average uptime of 99.99%. Rarely do they dip below 99.98%, meaning that they keep their promise. When sites do go down, their team works to resolve issues immediately. 
Basic plans begin at $3.95 per month and include a one-time setup fee of $14.95. This plan comes with:
Unmetered traffic
Daily automatic backups
One free Let's Encrypt SSL
10,000 visitors per month
Free Cloudflare CDN
Managed WordPress and automatic installation is also available on every plan. All plans come with a 30-day moneyback guarantee if you are dissatisfied with the service.
AccuWeb Hosting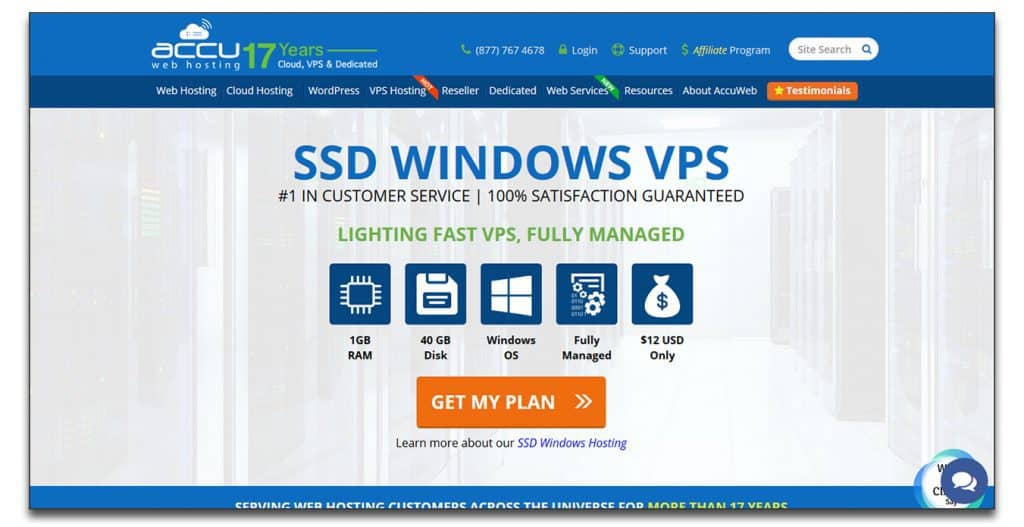 AccuWeb Hosting is a New Jersey-based company founded in 2003. They are one of the best web hosting services around overall. Accuweb is well-known for its Linux- and Windows-compatible options and has a reputation for reliability. Some of their products include VPS, shared, and reseller hosting. 
Some of the basic features offered through this web hosting service include:
Domain name registration
SSL certificates
Free site migration
There is also customer support available if you find yourself stuck during setup. The online chat and ticket systems are available 24/7, while phone support can be reached Monday through Friday, 10am to 5pm EST. 
AccuWeb is famous for their lightning fast speed and extra RAM. Thanks to their caching, SSD, and HTTP/2, among many other inclusions, work to decrease your site's load time. If you're willing to pay more per month, you can net guaranteed minimum port speeds of 1 Gbps. 
With an uptime over 99%, AccuWeb Hosting is one of the best web hosts if you're in the market for reliability (and who isn't?). Furthermore, their support times average less than 10 seconds in chat. For ticket submission, a response can take 15 minutes.
AccuWeb is an affordable option on the market that offers enough product to be worth the price. While some web hosts offer steep discounts that expire after a year, AccuWeb's plans are affordable for every budget. 
The tiered pricing structures are based on the type and number of features included. A shared plan begins at $2.99 a month and their basic VPS web hosting services starts at $10 per month. 
Depending on the specific plan chosen, there are dozens of customizations and add-ons. You can select your hard drives, data backups, and even the make and model of your processor. 
Security is another incredibly important piece of the puzzle in web hosting services. AccuWeb Hosting also offers complimentary backups, spam protection, and 24/7 tech support. You can check out their hosting here.
A2 Hosting
A2 Hosting is one of the best web hosting services on the market period. They have been dominating the speedy server market since 2001. They offer up to 15-20x page load time, which is incredibly beneficial when trying to rank on Google. 
However, these fast loading times aren't the only essential piece of your ranking puzzle. An offline site can damage your ranking and site traffic just as easily as slow loading times. A2 Hosting's uptime of 99.9% – about 4-6 hours offline a year – means that your site's downtime won't affect your traffic. 
Not only is A2 Hosting an incredibly fast web hosting service, but it's also secure. HackScan monitors your account 24/7 for viruses, bugs, and other issues that may affect your site. 
The data center for this web host also guards against DDoS, or denial of service attacks. These assaults attempt to flood a site's servers with unexpected traffic to down a site for a time. 
A2 Hosting offers hundreds of hundreds for users to peruse and find the answers to questions. Additionally, there are several options for live help with their "Guru Crew Support." Customer service options include chat sessions, phone calls, and their internal ticketing system. 
The actual price for a subscription depends on if you qualify for a discount or want shared hosting. Plans start at $3.92 a month and can reach $65.99 per month or higher, depending on your exact needs and services. Each plan includes a 30-day moneyback guarantee. 
Depending on your plan, this web hosting service offers free site migration to navigate the transition. To take advantage of this option, all you have to do is contact customer support, who will take care of the rest. 
In addition to all of these services, A2 Hosting offers:
1-click integrations and installs
Global servers
VPS and reseller hosting
A wide range of SSL certificates.
Cloudways
Cloudways utilizes a cloud platform that is designed for fast and easy navigation. As a web hosting service that uses cloud servers, Cloudways provides more dedicated resources than shared web hosts. 
Cloudways is one of the best web hosting services for website developers. The platform supports many high-performance options such as PHP7, Nginx, and HTTP/2. However, this means that the platform might be out of reach if you're not familiar with website development. 
Thanks to their cloud-based system, Cloudways boasts loading speeds around half a second. Their average uptime comes to 99.99% – about four to six hours of downtime per year. 
Software support is available 24/7 via live chat, report tickets, email, or phone. Their response time averages less than five minutes per response. There is also a knowledgebase with dozens of guides to aid users in using the platform. This includes everything from selecting templates to SSL downloads.
Tiered pricing plans are based on your server needs and the specific cloud provider. Plans start at $10 a month for the basic option. There is also a free 3-day trial to test the basic functionality of the platform. Every plan comes with SSL certificates and domain mapping to secure your site. 
There are also some "pay as you go" alternatives, which allow you to adjust product purchases to your needs. For instance, if you need more server space during the holidays, you can purchase only what you'll use. 
Additional features offered by Cloudways include:
In-depth server monitoring
Daily backups
Free site migrations
One-click recovery
Vertical scaling
However, prospective users should note that Cloudways does not offer domain registration. This is in contrast to most of their competitors, who do act in some capacity as registrar. In order to register a domain name, you'll have to pay a separate platform. 
Domain.com
Domain.com is one of the best web hosting services if you're looking for overall value. Founded in 2000, they specialize in affordable website hosting and marketing services. 
Their site is easy to use and incredibly functional, which makes it perfect for beginners and low-to-moderate traffic sites. They are geared toward small business and individual users. Because of this, they offer a more limited range of services. 
For instance, Domain.com offers no dedicated reseller or hosting plans. Instead, they focus on shared hosting and VPS hosting. 
Customer support is also limited to ticketing and live chat options for most plans. However, these support options are available 24/7, and there is a toll-free number for those needing sales help. Additionally, if you buy a higher-tiered plan, you'll gain access to premium support. 
As far as uptime is concerned, domain.com offers a 99.9% uptime guarantee. This translates to about 45 to 60 minutes of downtime monthly. Depending on location, site speed can range anywhere from 0.3 to 0.7 seconds.
Pricing for Domain.com's website hosting services is tiered and accounts for the operating system. Linux-based plans start at $3.75 for the basic plan and come with:
Unlimited storage
Unlimited bandwidth
Pre-installed plugins and themes
Drag and drop builders and editors
A free domain name (1 year)
The basic Windows-based hosting plan comes with the same options as the Linux package. However, this plan starts at $4.75 per month. These plans are only available for annual purchase, not for monthly commitments. If you go the VPS route, month-to-month billing becomes available starting at $29.70 per month. 
As with many website hosting services, domain.com offers SSL certificates. However, each certificate must be purchased. This add-on starts at $3 per month for a domain validation and ranges up to $22.50 for an E-commerce SSL. 
EasyWP
EasyWP is a website hosting service set up under the company Namecheap, which was founded in 2000. Namecheap services over 10 million domains globally. They offer options such as shared, dedicated, and VPS hosting. 
EasyWP is cloud-based hosting with options to have your sites fully managed for you. Launched in 2017, they are dedicated to simple and quick WordPress sites. Their landing page opens with a video that shows you how easy it is to use their products. An inexperienced user can have a site ready to go in less than five minutes. 
Although you don't have to be a website developer to use EasyWP, some familiarity in website hosting will help with advanced options. Such components include advanced backups and accessing your files and databases. 
EasyWP plans begin at $3.88 monthly and increase in tiers. These prices do not include add-ons such as domain names and SSL certificates. However, all domains can be managed under one EasyWP account. Depending on your plan, you can even get your first month for a single penny. This works out to an almost-free 30-day trial. 
Most plans come with free website migration and backups and a 30-day moneyback guarantee. The basic plan starts with:
WordPress pre-installed
Domain supports
SSL (free for some plans)
Free CDN
EasyWP provides a comparison table for their WordPress hosting load speeds, averaging around 0.7 seconds for a fully loaded page. This is due to their SSD cloud hosting which uses Namecheap infrastructure.
In addition, EasyWP also guarantees an "Always live" policy with an uptime of 99.9% or higher. 
If you encounter issues setting up your first site, all plans include 24/7 live customer support. They offer the standard online contact options including live chat and email tickets. Additionally, there is an interactive Knowledgebase section with answers to many common questions.  
FastComet
FastComet's web hosting services were founded in 2013. They operate as one of a few private companies in the hosting game. FastComet prides themselves on their exclusive SSD drivers, which increase website performance by up to 300%. 
A global server network and in-house caching systems work to keep website speed between 0.5 and 0.8 seconds. They guarantee an uptime of 99.99% (minus scheduled maintenance). It's worth saying that their uptime averaged 99.95% over the past two years. 
Prices start at $2.95 for a basic plan, which includes:
Free lifetime domain
Free migrations
A Cloudflare CDN 
Free daily and weekly backups stored for 30 days
One-click restorations
Easy install of CMS such as:

WordPress
Drupal
Joomla
OpenCart
All FastComet plans include a 45-day moneyback guarantee. Each plan is similar, with differences appearing in RAM storage and add-on hosting. Further add-ons such as SEO audition, Search Engine Submission, and domain privacy can be included. Annual prices range from $5.95 to $14.95 apiece. 
Furthermore, you can take advantage of their generous refer-a-friend program. For every friend successfully invited to the platform, you get three months of free hosting. Or, you can opt into their affiliate program. Every referral will be credited to your account for later use. 
In their top two plans, you also get access to advanced security measures to protect your site. For instance, your site will be guarded from malicious traffic by BitNinja. BitNinja is their globally distributed security system that supports site integrity. In addition, FastComet's firewall blocks 99% of aggressive security threats. Furthermore, free SSL certificates are included with every plan. 
FastComet's web hosting services provide expert 24/7 support. They can be reached via email, phone, and their online chat and ticket systems. There is also a wide swath of how-to guides and tutorials so you can learn the system hands-on. 
GoDaddy Web Hosting
GoDaddy is one of the most well-known web hosting services. They hold the status as the largest domain name registrar in the world with over 16 million customers and 44 million websites. 
GoDaddy boasts a half second load time and guarantees an uptime of 99.9%. Testing indicates they have kept their guarantee, with an impressive uptime of 99.97%. 
As one of the biggest website hosting sites, GoDaddy charges more for their services. There is a short free trial if you want to try their services. Paid plans start at $10 per month for a basic package, while their eCommerce plan begins at $25 per month. 
These prices do not include add-ons, which can range from $5.99 to $89.99 per month. Some of these add-ons include SSL, email accounts, and SEO tools. If you purchase a Business Plan, some of these SEO tools are already included. 
The basic plan includes an easy drag-and-drop portal and 100GB of website storage. GoDaddy Insight, the AI wizard, suggests website advice based on its built-in database. These tips also consider social media and email marketing plans as well. 
If you're looking to use a template to build your website, GoDaddy offers hundreds of options. However, if you're in the market for a more complex site, these basic designs may be too simple. Moreover, you can't switch between themes without losing your previous data. 
It should be noted that if you're in the market for a website transfer, there is no free migration service. Also, if you're looking to build an eCommerce site, you'll need to pay almost twice the price for a separate plan. 
GoDaddy's support service is available 24/7 via live chat, email, and telephone. If you need further help, there are hundreds of step-by-step tutorials in their Knowledgebase.
GreenGeeks
GreenGeeks is one of the best web hosting services for environmentally conscious consumers. Their services are ideal for green thinkers, bloggers, small businesses, and WordPress users. 
GreenGeeks are a part of the Green Power Partnership with the Environmental Protection Agency of the United States. This joint cooperative works to reduce the pollution caused by internet activities through the production of green energy. 
As a member of the Green Power Partnership, GreenGeeks does their part. They purchase 3 times their energy usage in wind energy credits annually. This offsets their environmental impacts while still allowing them to provide strong services. 
In addition to their reputation as a green web hosting site, GreenGeeks also boasts a robust service. Prices range from $2.95 to $11.95 per month for a three-year commitment. As with many sites, there is a larger discount for longer subscriptions. Renewal prices start at $9.95 and $24.95, respectively. 
Each plan includes an astonishing cluster of features, such as:
Unlimited band width and file storage
A free domain name for the account's lifetime
Unlimited domain hosting and email accounts
Unlimited data transfer 
Free Cloudflare CDN and SEO tools
Additionally, GreenGeeks offers a hosting account isolation setup wherein a VPS is used to provide a Secure vFS. This secured virtual file system protects against malicious activity and malware. 
Furthermore, there is an automatic WordPress installation option with included auto-updates. Daily backups combined with their advanced security features come together to keep your sites up and running. 
All of these web hosting services come at a very slight expense to speed and uptime. GreenGeeks sites have an above industry average uptime of 99.95%. Furthermore, their load times sit consistently under half a second. 
Their customer support is available 24/7 via phone, live chat, and an email and ticketing system. Representatives are quick to answer, with response times well below five minutes. 
HostPapa
HostPapa has been providing dedicated website hosting services since 2002. They fully expanded into the industry in 2005. They are one of the best web hosting services for small businesses, despite being a little more costly than some competitors. 
There are three main plans offered by HostPapa. Each is naturally geared toward site size and the options you'll need as your business grows. The Starter pack's promotional pricing starts at $3.95 a month and renews at $7.99 monthly. The Business Pro plan opens at $12.95 per month and renews at $19.95. 
There are a select handful of essential features offered across all plans, such as:
Free domain registration
Plenty of disk space (100GB for Starter)
Unlimited bandwidth
The Starter plan jumpstarts you with two websites. Moving to a higher tier brings you unlimited websites and disk space. Business Pro brings you enhanced security and performance features, which most small businesses won't need right away. 
It should be noted that components such as SSL certificates are not included in the price and can be purchased separately. However, in terms of domain registration, they are both a domain seller and registrar. This allows them to offer better pricing and a larger selection of domain TLDs. 
As far as uptime is concerned, HostPapa guarantees a minimum of 99.9% uptime on all of your sites and any plan. Additionally, they boast a "300% performance boost" in speed over their competitors. This is thanks to their low-density servers and SSD storage practices. 
Customer support is offered through a combination of online an knowledgebase. HostPapa's guides are fitted with a built-in translate feature to support multiple languages. In addition to written articles and guides, there are several videos provided. 
Further troubles can be addressed in any of four ways. Customer support is also available 24/7 via phone, postal mail, email, and even fax. 
InMotion Hosting
InMotion Hosting has built their platform on accountability and reliability since 2001. For the past 15 years, they have maintained a CNET certification and an A+ rating from the BBB.
InMotion Hosting is one of the best web hosting services if you are looking for a value option. They offer a wide variety of shared, dedicated, and VPS services, amongst others. They are also one of the best web hosting services for small business and individuals who need fewer choices and a WordPress hosting platform. 
Inmotion offers speeds of .8 seconds or less loading time and a consistent uptime of 99.95% or higher. This is made possible with their widespread data centers and universal SSD drives on all plans. 
InMotion provides three shared plan web hosting services: Launch, Power, and Pro. Launch is the beginner plan and starts at $3.99 monthly with a 36-month subscription. Each plan comes with:
Free SSD drives
Free domains with transfer
1-click installation on over 400 applications
Secure email accounts
One-click and automatic backups
This web host also provides an impressive 90-day moneyback guarantee if you are dissatisfied with your plan. 
In addition to these plans, there is a variety of add-ons available. For instance, with the purchase of an SSL certificate, you get a free dedicated IP address. Those who buy a WordPress hosting plan gain access to a Sucuri Security plugin for their site. 
There is also an option to purchase InMotion's web design service. They will customize a WordPress theme and build your site according to your specifications. 
All plans come with 24/7 support based in the United States. There are three options to contact customer service directly: phone, live chat, email. If you prefer technology, there is also an extensive knowledgebase and a community forum.
iPage
iPage is one of the best web hosting services for small business currently on the market. They offer comparatively low-cost products. Furthermore, their building and management tools are easy for all level of user.
iPage is optimized for eCommerce websites. They offer a free site, PayPal integration, and several shopping cart software options. The web host also grants access to either WordPress or Weebly. This integration makes it simple for even the technologically inept to build a store.  
However, it should be noted that their website builder limits users to six pages per site. On the other hand, there are hundreds of themed templates to choose from in building a crisp, clean site. 
iPage web hosting services offer some of the higher speed times on this list, with an average of 0.7 to 0.9 seconds per page. However, their uptime has been independently measured at above the industry average. For the past 24 months, iPage has maintained a solid 99.96% uptime. 
Their customer support system is robust in keeping with some of their more expensive competitors. As with most sites, they have online tutorials that covers the basics. There are also online ticketing system, live chat, and telephone options available. 
A basic shared hosting plan starts at $1.99 per month for a 36-month commitment, with renewal prices starting at $7.99 a month. There are some impressive features included with the basic plan for the price, such as:
Unlimited disk space 
Unlimited MySQL databases
Unlimited domain names
Scalable bandwidth (up to unlimited)
Additionally, all plans come with a free one-year domain registration, email address, and even an SSL certificate. They even offer a free listing on YellowPages.com and a free toll free or local phone number (in the United States).
If you're unsatisfied with the product after the first month, iPage has a hassle-free 30-day refund policy. 
Kinsta
Kinsta is one the best web hosting services if you're looking for WordPress support. They focus heavily on speed, stability, and security within the WordPress platform. Their goal to bring the best user experience – and they deliver on this promise. 
Their dashboard is intuitively built and neatly displayed, which allows you to track your site's statistics from one location. Furthermore, Kinsta works within the Google Cloud Platform. This means that a subscription with Kinsta nets you instant access to Google's systems.
Kinsta web hosting services offer an impressive average speed of less than 0.2 seconds per page load. Additionally, their uptime hovers well above the 99.9% industry standard. 
Customer support is another big factor in choosing a web host, and Kinsta does not disappoint. Although they don't offer phone support, they have a huge knowledgebase stuffed with guides and tutorials. They also have an easy ticketing system, and a crack team of live chat operatives. 
Security is another big concern for every site, especially eCommerce. Kinsta's platforms have several measures in place to keep your sites secure. 
In addition to automatic backups, you get a free SSL encryption and integration restrictions. You will also be protected by their blocking and GeoIP systems, which fight DDoS attacks. They even offer a "hack fix" feature to clean your site if you are unfortunate enough to be hacked. 
Kinsta has 10 tiers of pricing plans to suit businesses of all sizes and functions. A Starter Plan begins at $30 monthly if you go month-to-month or $25 if you pay annually. Features in this package include:
1 WordPress install
Free SSL and CDN
SSD storage
Free unlimited migrations
Daily backups
Each plan includes an increasing amount of storage space, websites, and monthly visitors. Additionally, if you don't want to tinker with site migration, the Pro Plan allows you to hire their website engineers to construct your platform for you. 
Lunarpages (Acquired by HostPapa)
Lunarpages is a web hosting service that has been around for over twenty years. They have been recently acquired by HostPapa. As a result, their range of services is now backed by HostPapa's enhanced customer support and infrastructure upgrades.
Lunarpages was founded in the 1990s and has only improved under HostPapa's ownership. They provide over 150,000 clients with the required services to run their site. Many of these are managed by Lunarpage's 24/7 Managed Web Hosting. 
Some of their more famous clients include Microsoft, Sony, Verizon, and Nissan. 
Other web hosting services offered by LunarPages include Linux and Windows hosting, scalable cloud hosting, and various VPS options. When you sign up for the basic program for either Windows or Linux, you get:
Plesk, cPanel, and custom LunarPanel systems
5 GB of storage
50 GB bandwidth
1 FTP account
MySQL databases
Free SSL certificates
With the Windows Hosting package, you gain access to a free domain name and 500 MB of mailbox storage per domain. Each plan comes with access to a business email account under the domain. 
A Starter Linux Hosting package begins at $3.95 a month, while Windows Hosting starts at $9.95 per month. All plans come with a hassle-free 30-day moneyback guarantee. 
It should be noted that if you choose a monthly billing cycle rather than annual, you will have to pay a setup fee. This is a one-time charge of $30. 
Lunarpages maintains a reliable 99.9% uptime (not including scheduled downtime). Their speed averages between half and three quarters of a second per page load. 
If you ever encounter issues setting up your site, Lunarpages offers robut support. You can contact customer service via ticket, live chat, and phone. 
However, their customer support is only available Monday through Friday, 7am to 5pm PST. Dedicated server and VPS accounts are the exception with 24/7 support. Questions outside of those times can be addressed through their knowledgebase. 
Namecheap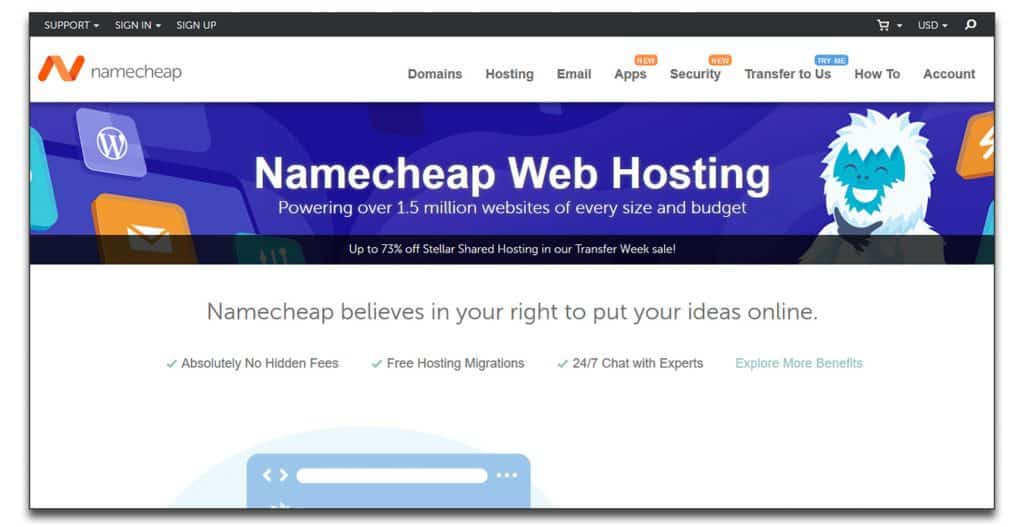 Namecheap was founded in 2000. Today, they host nearly 10 million domains with over 3 million customers. They have made their name offering a wide variety of services to their clients. One of these is EasyWP, another web hosting service on this list.
While Namecheap does offer web hosting services, they are better known as a domain registrar and manager. Additionally, they sell several security measures, such as privacy protection and SSL certificates. 
Namecheap is one of the best web hosting services if you're looking for an affordable plan. The basic package starts at $1.44 per month with an annual subscription and comes with 50 email addresses to get you started. 
Most Namecheap packages have a 30-day moneyback guarantee and come with:
Free website migration
A free domain name
Unmetered bandwidth
WordPress integration
Free SSL certificate for the first year
If you need more specialized options, they also offer WordPress hosting plans starting under $4 per month. VPS plans begin at $14.88 per month, while reseller hosting plans start at $16.99 per month. 
Namecheap has reliable service, though it isn't always the best, as can be expected with a real budget option. For instance, their uptime consistently hovers between 99.87 to 99.93%. Some months, independent testers have measured Namecheap's uptime at 99.80%, which translates to one hour of downtime monthly. 
Their speed averages 0.6 to 0.7 seconds per page load. While this is well beneath the 1 second visitor bounce threshold, it is slower than the standard of 0.5 seconds. 
Namecheap offers most of the customer support options for its customers. Users can start with their fully fleshed out Knowledgebase to answer their questions. For personal support, customers can contact customer support directly via live chat or an email ticket 24/7. There is no phone support, however. 
WordPress VIP
WordPress is one of the most well-known website hosting services in the world. So, it makes sense that the WordPress VIP program is another popular option. VIP is a managed WordPress hosting site that caters to large sites and businesses. The platform is dynamic, reliable, and highly customizable for your needs. 
WordPress VIP sites offer hundreds of app integrations and plugins. Their team works with you to build the perfect platform for your business, blog, or website. 
There is no public pricing page available. WordPress VIP functions similarly to "Enterprise" options on competitor plans. In order to get a quote, you'll need to contact the site directly with your specifications. The price ranges in the low thousands up to $25,000. For this price, you will get:
Up to 5 websites
Unlimited storage
Free CDN
Unmetered bandwidth
Dedicated support (and a $5,000 setup fee per site)
Due to the expensive nature of the site, WordPress VIP offers better service than other hosts. For instance, you get automated hourly backups and updates. Furthermore, your site is monitored 24/7 for uptime and performance glitches. Their support team works with you from start to finish and are on-call 24/7 to tend to your site. 
20 data centers around the globe mean that your site speed leads the industry at 0.2 seconds load time (or less). This is possible through their SSL security, DDoS protection, and caching and code optimization. 
Due to uptime monitoring and personalized attention to every site, downtime is almost unheard of for WordPress VIP. They maintain a consistent uptime of 99.99% across the board (less than one hour of downtime monthly). 
One downside to consider with WordPress VIP is the complexity of making changes to your site. All desired alterations have to go through your site's VIP team. Additionally, this process can be slow, as engineers cover every line of code to eliminate mistakes. 
WP Engine
WP Engine is one of the best web hosting services for affordable WordPress hosting. For example, their Enterprise plan competes directly with WordPress VIP for high-traffic sites. 
WP Engine focuses on security, speed, and scaling products to meet your needs. Because of this, they are best for customers who need premium website hosting options. Their specialty emphases sites with thousands to millions of visitors monthly. 
Site speed is one of the features WP Engine is known for. This is due in part to their built-in caching system. Their program is so personalized that other caching plugins are not allowed. Speeds hover between 0.2 and 0.5 seconds per page. 
Security is another specialty for WP Engine, and they offer several features to protect your data. Some of these options include automatic threat detection, patching, and daily backups. There are also one-click restorations and automatic updates available. 
Uptime is almost important to WP Engine. They guarantee a server uptime of 99.95% for all plans. For those who purchase plans with enhanced SLA, the site guarantees an uptime of 99.99%. 
Startup plans begin at $31.50 per month. While this is high compared to their budget competition, the price is worth the product, as their high reliability and consistency is almost unmatched. This package includes:
25,000 visitors per month
Free CDN and SSLs
50 GB of bandwidth
All plans include a 60-day moneyback guarantee if you are dissatisfied with your service. Furthermore, 24/7 support is available via phone, email, live chat, and tickets. Additionally, their Knowledgebase has the answer to most any question you could have. 
However, if you are looking for domain registrations or email hosting, WP Engine is not for you. They also disallow some plugins, do not offer cPanel, and have a complicated frontend developer. 
WPX Hosting
WPX Hosting is one of the most popular web hosting services on the market. They started in 2013 under CEO Terry Kyle. As the story goes, Kyle was frustrated with cheap hosting sites that promised the moon. When they couldn't deliver on their guarantees, the only obvious choice was to build his own site. 
WPX has since grown into another premium hosting platform. They offer high-performance tools built to serve businesses who don't have time to monitor their services. 
WPX Hosting boasts powerful servers and SSD storage. These work together to increase both security and speed. Each option comes with CDN pre-installed to reduce the strain of heavy traffic on your site. Daily automatic backups that store your data on a separate server also ensure you don't lose valuable information.
WPX Hosting offers an average load time between 1 and 2 seconds. While this fits within the industry standard, it is slower than many of the competitors on this list. 
Furthermore, WPX Hosting guarantees an uptime of 99.95% across the board. While this is lower than the "golden standard" uptime of 99.99%, it's rare that their uptime dips beneath 100%. 
Prices begin at $24.99 per month for the "Business" plan. The site recommends this plan for a small website or blog to start. The Business plan includes:
Free site migration
Free SSL certificates
Multiple domains included
Email service
A custom hosting dashboard 
All plans come with a 30-day risk-free trial and 24/7 support. Customer service is offered through WPX Hosting live chat, their ticketing system, and an extensive online knowledgebase. 
When creating your site, you have access to free site migrations, which is a nice bonus if you have a previous site. However, you can also build a site from scratch. If you choose this route, WPX Hosting offers comprehensive Staging features. These allow you to check your site before you activate the changes.
This wraps the part of the post that compares the best web hosting services. Do not get overwhelmed by the list. It is here just to show you the variety of hosting options that you can choose from.
Choosing a Best Hosting Service – Conclusion
As stated in the beginning, my personal favorites are Hostgator and Bluehost. At the begining of my online marketing journey I started with Hostgator, later doing some experiments on Bluehost.
If you are reading this, you are probably just starting out. Creating your first online business. In this case any of the top web hosting platforms will be enough for your needs.
If I would have to prioritize the aspects of best web hosting. It would be Speed, Price, Support. In this particular order.
Speed influenced the customer/visitor experience and also your SEO rankings. So it is in the first place.
Price is critical in the beginning. Not only I started with small amounts of money, so I tried to save wherever it was possible, I always try to keep my costs down and grow my revenues.
Support. You need it when you need it. Through over 5 years with Hostgator, they had never let me down. Sure, sometimes it takes a bit longer to explain your problem, but they will try to help.
What Is The Best Cheap Web Hosting?
You will see the "usual suspects here" – Bluehost and Hostgator. Maybe it is because they are owned by the same company but if you looking for the best value for the price deal – that is it.
Though if we would base our final decision purely on price, a winner in the cheapest web hosting is in my opinion Hostinger.
Let's dig in.
With a commitment for 48 months you can get as low as $0.99 / per month. That might be a definition of the cheapest website hosting!
Usually when something is that cheap, I start to worry but Hostinger is definitely one of the best web hosting providers. You do not have to compromise on speed or the capacity that you will be provided.
1 website, 1 email, and bandwidth of 100 GB will get you started! Hostinger is also adding a free SSL certificate (so you can have https instead of http – very important).
Great for the new sites, though in case you plan to grow quickly – you will have to upgrade possibly very soon.
I started on a Baby plan many years ago and was very happy with it. As discussed above. This great price comes with many features, lets have a look.
Sure the price is slightly higher than with Hostinger but that has its upsides and you will be committed for only 36 months instead of 48 on Hostinger.
Hostgator will provide you with unlimited bandwidth, free SSL certificate, and even a free domain if you did not buy one before.
You are probably going to run on WordPress, so of course Hostgator got you covered with a simple installation.
For a great discount use my coupon – COSTOFINCOME.
This hosting package will carry you for many years to come and you can easily upgrade to Baby plan or Business plan when the time will come.
Best Cheap Web Hosting Choice!
It can be argued that Bluehost is completely on the same level as Hostgator is in many ways (as mentioned, maybe it is because of the same owner). So even in the bracket on the cheapest website hosting plans – it also occurs.
Bluehost will provide you with a very similar deal as Hostgator. Unmetered bandwidth, free SSL certificate, and a free domain.
WordPress can be installed on any hosting very easily. But since it is the most popular platform for blogs and websites, Bluehost markets it as a one click installation. Sure it is good, but that could be said of any other hosting.
Best Cheap Web Hosting – Conclusion
I would go with Hostgator. It has all the ingredients needed for a great website hosting.
When you are starting, all the web hosting services can offer enough to fully cover your needs. The comparison is very difficult as on this level nearly all of them are offering the same quality of service.
In case you have a strong preference for a different website hosting company – go for it. I would start with Hostgator. (that is where I started)
Best Web Hosting For WordPress
In case you do not know WordPress is the most popular platform for creation on blogs, websites, and much more.
The open nature of the platform allowed people to create huge amounts of plugin, mods, themes and functionalities.
You can create any type of website in WordPress. The community is huge and you will easily find a solution to any problem you are having.
Every provider from the Best Web Hosting Services list will be able to host WordPress. The final choice predominantly still depends on our main criteria Speed, Uptime, Price and Support.
Some website hosting platforms will offer WordPress packages, but that does not make any real difference. You can take any "normal" hosting package and install WordPress on it.
In the interface of your chosen hosting provider you will have a Quick Install option that will do everything for you.
So the best website hosting for WordPress are our "usual suspects" Hostgator and Bluehost. They deliver in all the important criteria. Bluehost is marketing its WordPress availability quite heavily but Hostgator is on the same level (they are owned by the same company)
Hostgator and Bluehost – Best Web Hosting For WordPress!
Best Web Hosting For Small Business
If you are looking for the best website hosting for small business rather than just a personal project you might want to consider a web hosting service that is more tilted towards heavy use.
Hostgator, Bluehost, or Hostinger are all well suited to get you started and they offer shared hosting, virtual private servers or dedicated hosting (if you are wondering what is the difference, check the FAQ in the end of this post).
While any of the list of the best website hosting providers is a solid choice, a strong option that I would consider for web hosting for a small business is LiquidWeb.
LiquidWeb is more tilted towards performance and stability. Their price is a bit higher than of the compared pears but it is rightfully so.
They offer packages that will ensure that your small business web presence is fast, always accessible for your clients, and will provide you with full support.
LiquidWeb – Best Web Hosting for Small Business
Free Web Hosting Providers
Short answer – don't.
Before we move on. My strong suggestion is – do not go for free website hosting. If you are serious about your business (and you should be, otherwise what is the point?) free website hosting will just waste your time..
There is a popular saying "when it is free, You are the product". It is very same in this case.
Even the best free website hosting companies will limit your services, and push you towards the paid version.
If we would go over the main criteria for hosting services, the Price will be definitely be fulfilled but all the others (support, ease of use, speed) will be at its lows.
Web hosting is a foundation of your online business, so if your budget allows rather go with the cheapest web hosting options as Hostgator, Bluehost, or Hostinger.
Google Cloud Web Hosting
If you decided to go for free web hosting, make sure you choose a reputable provider.
Google web hosting is definitely one of those. They provide you with access to their private network that can be easily used for the purpose of creating a WordPress site (or a different site for that matter).
Cloud was a trend and still is, no wonder that Google is expanding its services to other sectors as well. The goal here is to have a one stop shop and Google cloud hosting is a part of a bigger puzzle.
Up-time is at 99.95% which is great. It is important to note that while the web hosting will be free, it will be so just for a limited amount of time. Google Cloud Web Hosting is providing you with a trial, so after some time you will have to switch to a price plan.
000webhost
These guys are powered by Hostinger, which is a good sign and their offer is pretty neat (though obviously very limited).
In your free hosting package you will get 300 MB disk space (which is really not much, but considering it is a free web hosting package still good) and bandwidth limited to 3 GB.
The next thing is up-time, they have in their disclaimer that there is a 1 hour of downtime per day. Having your website down for 1 hour is unacceptable for most projects.
In terms of free web hosting services definitely an option but maybe consider just going into a paid plan with Hostinger, it may cost more in the begging but will save you a lot of hassle later on.
(Should be added that in 2015 000Webhost had a serious security breach leaking 13 million passwords.)
Freehostia Free Hosting Solution
With 250 Mb disk space and 6 Gb Freehostia is yet another provider or free web hosting.
They also provide 24/7 support and quick install features. The limitations are quite obvious when you will be going over the proposal.
This is a package for a small starting site with limitation on file size (500 kb – which is not that much) you will grow out of this basic package quite quickly.
After that, Freehostia offers classic hosting packages. If you want to try them out, note that they offer 30 days period for their basic paid hosting packages.
Also, keep in mint that you need a domain to host your website. Freehostia may sell it to you or let you transfer yours.
InfinityFree
This hosting service can be considered quite small. So in order to change that they decided to pack their free web hosting package as much as possible.
So you are getting, no-ads, Free SSL, unlimited bandwidth and storage space. Or are you…?
Go through their terms of service. They have quite an interesting definition of "unlimited". They have quite a strict limitation on the disk usage and if you do not comply with that your website may be suspended with the possible deletion of your data.
Award Space
Another contender for free web hosting. So let's have a look at what the offer is.
Their free hosting package is ad-free, 24/7 customer support, one-click WordPress or Joomla installation, and a guaranteed 99% uptime.
Bandwith 5 GB and disk space 1GB. That might get your started but still is quite limiting.
Also, though they state that they will not sell your information they also state that they might share it with related third parties. If it is the business as usual or something that you should be wary of – decide for yourself. Here are their TOS.
There are also indications that the downtime is quite severe, logging in to over 1 hour a week.
Byethost
Another contender for best free web hosting.
Allows for 1 domain, disk space of up to 5 GB and unlimited bandwidth. So this will get you properly started.
They are a part of Byet Internet, which is a US-based hosting provider and domain service.
as with the previous providers, Free comes with a price. So limitation and loading times and an occasional downtime will always be an issue.
FreeHosting
This free web hosting platform will give you an unmetered bandwidth with 10 GB disk space. Support is done through tickets (no live support).
Multiple reports suggest very slow loading times with even some of the websites being deleted.
Why Should You Avoid Free Web Hosting Services?
Because there is significant risk included.
When you are running a website or starting your first digital business a reliable foundation is the key to your success.
Getting this ball rolling is q difficult task in itself. You can not be spending time-solving issues with your hosting provider.
We all started somewhere. Usually you are starting your side income project while keeping a full-time job (or maybe even two jobs) so you have a couple of hours a day to create an income for yourself.
Low Reliability
So your base, your business, your hosting – should be always available. What is the point in have a free web hosting service if you have to constantly check for limits and solve technical issues? Or get a downtime exactly at the moment of your content going viral?
Damaging to SEO
One of the search engine criteria is the speed of the website. Google wants to provide the best possible experience to its users. If you will be hosting on a bad hosting provider – your business will suffer.
Many Technical Issues
Free web hosting services will provide you with only limited support. You will have to deal with most technical issues yourself. In comparison to the paid packages, things are not so intuitive and you will have to be technically skilled to get something done.
As you could see in my short review of the best free web hosting services, no matter how good their offer is there is always some kind of a catch or a drawback. Usually quite a big one. Ranging from
Do not go for free web hosting.
Best Alternatives for Free Web Hosting
Hostgator, Bluehost, or Hostinger range from $0.99 per month to $2.98 per month.
You can easily have three years (!!) of hosting services for a price near $100. With all the support, services, and technological tools that you need.
If you are somewhat serious about the project that you are doing – choose any of the hosting providers in the Best Web Hosting Services section.
Time is limited for all fo us. Your goal is to get your project running and profitable as soon as possible. With free web hosting, you will just be losing time and moving nowhere.
What's next?
I hope this post helped you to decide on your web hosting. If you are looking a step further here are some of my guides that might help you!
FAQ
What is Web Hosting?
In simple terms – if you want visitors to be able to access your website 24/7 you need a computer that will run all the time. Due to heating, electricity bill, and technical factors – would be quite challenging to do it from your PC. Web hosting services rent you the hardware and software capacities to run your website and concentrate on your business.
What is Shared Hosting?
This is when your website is hosted along with websites of others. They do not interfere in any way. You are just sharing hardware capacities with other websites. Great choice to get you started. When you will grow you will move to more personalized solutions.
What is Cloud Hosting?
In contrast to shared hosting (where you share hardware) cloud hosting is spread through various hardware. It is usually more expensive and is better suited for advanced websites with traffic spikes.
What is VPS Hosting?
VPS stands for a virtual private server. In terms of hosting you can think of it as the next step from shared hosting. In this hosting package you are still on the same server (hardware) as other clients but now your website capacities are virtually separated. So a virtual part of the hardware is dedicated to your needs.
What is Managed Hosting?
This package has the hardware capacities dedicated to you. You are not sharing the hardware with other users (making your site faster and more reliable). The managed part means that the hosting team manages it for you. So you do not have to trouble yourself with the IT side of running a server.
What is Dedicated Hosting?
You get your own server (hardware) that you can manage in any way you find appropriate. This is a product for IT professionals or businesses with IT teams.
What is WordPress hosting?
Any type of hosting that was optimized to run WordPress. You do not have to buy this package, you need any type of shared or managed to host to run WordPress with no issues. Try Hostgator or Bluehost,
What is The Best Personal Website Hosting?
Any hosting provider from the main list will be great. I started with Hostgator and am a happy customer for over 5 years.
What is The Best Web Hosting For Beginners?
Choose any shared hosting packages. When you are a beginner you will be learning a lot. Also, keeping a tight business budget is very important. Get a heavily discounted shared hosting package – Hostgator.
Does Free Site Migration Matter?
A little bit. You can it yourself. If you are using WordPress you can backup your site with through a plugin and restore it on a different hosting platform. (Please note that term site migration in this context is purely about moving your site to another hosting service. There is a deeper meaning of Site Migration in SEO, but that is whole other topic.
Do I Need Email Hosting?
Every hosting package from the best web hosting services list will allow you to create email accounts for your domain. So you do not need to buy any separate email hosting services.
Why Uptime and Site Speed Matters?
Better uptime and site speed creates a better user experience. That has a positive impact on the visitors of your site but also has a positive impact on your rankings in search engines. With an inaccessible sites or low loading speed, you will not rank high and your site will not be found.
Why do Web Hosting Companies Offer Free Hosting?
As a marketing strategy and possible as a covered scam. Reliable companies use free hosting as a way to generate paying customers. When you will have your website with them you will most probably remain with the same hosting service. But beware there are many scams/frauds out there. The goal is just to get your information or resell it. There are also other methods. Do not use free hosting.